Following up on the earlier release for Xbox Live Indie Games, Antipole is now available for PC. Antipole can be purchased from Impluse for $4.99 at www.impulsedriven.com/antipole.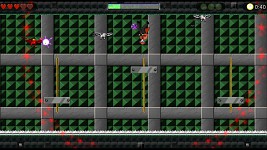 In Antipole players are equipped with the ability to alter the world around them by temporarily reversing the direction of gravity, affecting not only themselves but also nearby enemies and objects. Players can use this ability to run on the ceiling, jump incredible distances, launch themselves around obstacles, or fling enemies into deadly hazards. Players must manipulate gravity wisely, as reversing gravity can also create new obstacles to avoid.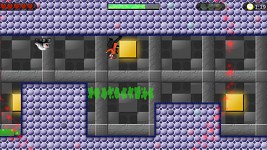 Features
Flip gravity for a short time and the world around you will react in response.
Solve puzzles by manipulating objects and enemies.
Multiple difficultly levels to challenge expert gamers.
Collect challenge coins to unlock bonus levels.
Earn awards by completing challenges.
20 level main game, with 12 unlockable challenge levels.
Take on challenging boss fights.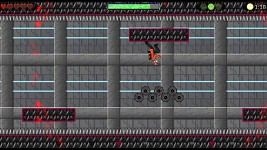 Press Comments on Antipole
"Anyone who enjoys a challenge and just has to beat par time should take a look."
- Joystiq
"With competent platforming mechanics, a reasonable stage variety, and Antipole just being good fun in a classical style, it's pretty easy to recommend for purchase. "
-Gamers Daily News
"Antipole is a superb game.... Saturnine Games haven't invented the mechanic of gravity manipulation, but they've certainly lovingly adopted it and utilized it expertly in this highly recommended game."
-Console Obsession
"If you like good electronic music and good hard platforming; stop reading right now and get it"
-Xbox Hornet
"For those of you looking for a more forgiving Megaman type game, I think you've come to the right place."
-Armless Octopus
"Antipole is a Buy. The game is approachable to those without the patience or skill to complete a hardcore platformer while still offering a hardcore option."
-GameMarx
"With a main game of considerable length for an indie game, as well as additional modes, I couldn't recommend this one more."
-Screensplitters