Time sure flies! It's gone two months since we finished a successful crowd funding campaign for our game, Through the Woods. We thought it would be interesting and possibly useful to others if we wrote a quick Kickstarter post-mortem, so here are a few things we could have done better and a few things we did right during our Kickstarter campaign:
WHAT WE COULD HAVE DONE BETTER:
Our community wasn't big enough.
Before we started the campaign, we were really unknown except among a small circle of Norwegian game developers. We have been to GDC, the Nordic Game conference and a few other small Norwegian game expos and we have been trying to put ourselves out there, but we were far behind where we should have ideally been when launching a Kickstarter. The effect of this is that we only felt comfortable asking for a small amount of money ($40,000) and were very unsure whether we'd even reach that target. We did in the end, but we would, of course, have gotten a lot further if we'd waited a few months for our community to grow.
We didn't have enough attractive rewards.
Looking around at other Kickstarters, we could see that we didn't have enough nice things to give people for their money. For $75, for example, Inxile are giving away five full games as well as The Bard's Tale IV. We just can't match that kind of back catalogue power. So, for the same price, we were able to offer a physical version of the game, a digital art book and some digital wallpapers. Doesn't seem to have quite the same effect!
We should have had an attractive $25 tier.
Apparently the $25 dollar tier is the most popular on Kickstarter. We didn't actually realise this until the campaign was well underway despite all the research we did beforehand (searching for 'most popular Kickstarter tier' yields unclear results). We were offering 600 Early Bird slots at a price of $15, and a then a slightly more expensive price of $18, $2 cheaper than the game will be at the time of release. We managed to clear all of the Early Bird tier. In hindsight, if we'd have had a really nice $25 tier with the game, wallpapers, maybe the digital art book and a forum badge, name in the credits, etc, we could have potentially made an extra $6,000 while still giving great value for money.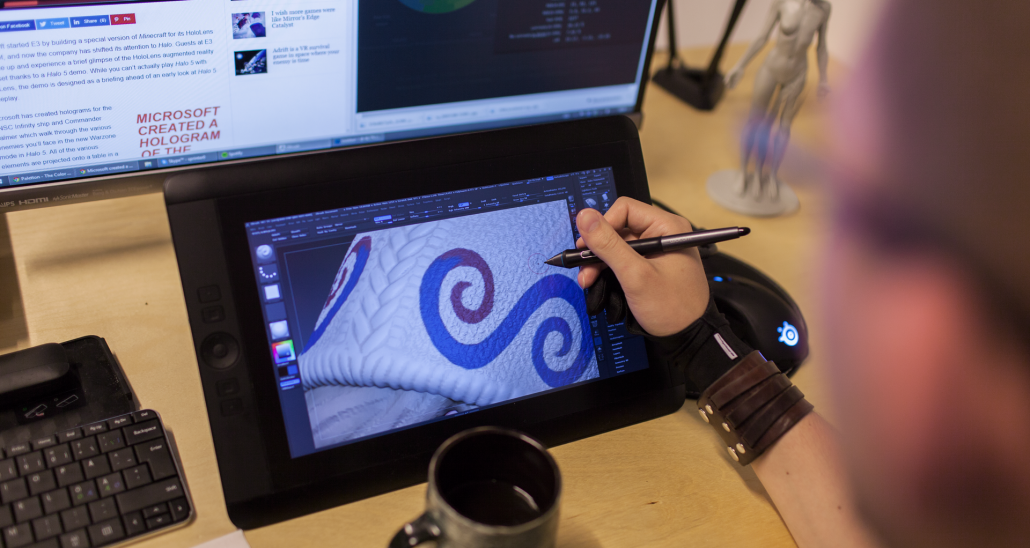 We could have had our Stretch Goals lined up from the start instead of revealing them two days before the campaign ended
We did have Stretch Goals planned, but decided we would only lay them out when we got funded. I see the argument in this, it looks a little silly if our target is $40,000, we have a bunch of Stretch Goals gong up to $400,000 and we don't even make it to our minimum goal. At the same time, I can't help but feel that what it demonstrated to people was that we had no real ambition to get more that the $40,000 we needed. We had a pretty big announcement we could have used as a bit of a trump card, but while we were trying to decide whether to use it or not it became too late. I think it could have helped us surpass our goal by a much larger factor than we did.
We could have been even more active on social media at the beginning.
We were very active on social media towards the end of the campaign, but I feel we were perhaps a little complacent after the first four days of the campaign. We all knew there would be a slump during the second two weeks of the campaign, as there almost always is, and when it happened, we just accepted it. I can't help feeling like there is more we could have done to avoid this; relentless promotion, live streaming, community discussions, etc. The rest of the guys on the team wanted to get cracking on the game itself and some of them have a limited knowledge of social media, leaving me and Anders, the producer, to take care of that stuff alone. This is to say nothing bad of the team, they were working hard on the game. But when we all started to pull together towards the end of the campaign, you could see the effect immediately.
Ok, those were our mortal sins. Before we move onto what we actually did right, here are a few graphs to show our funding totals over time and where the money came from, etc.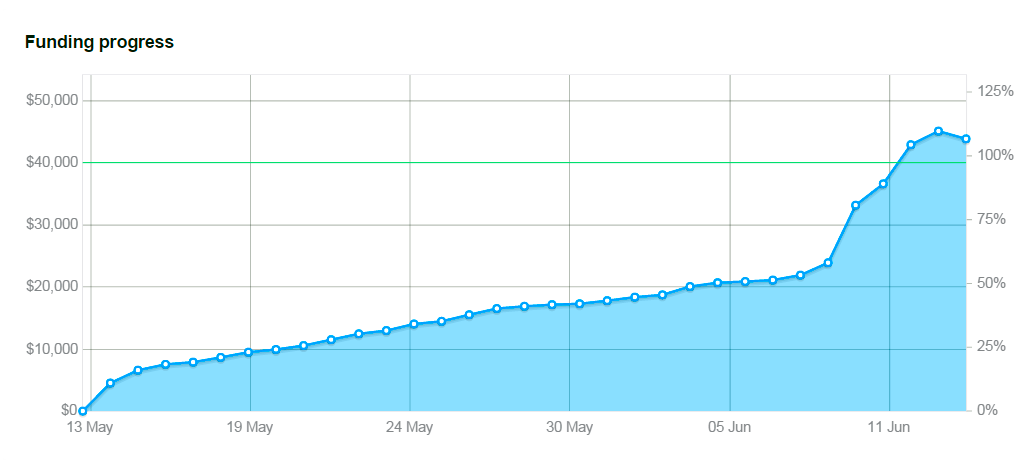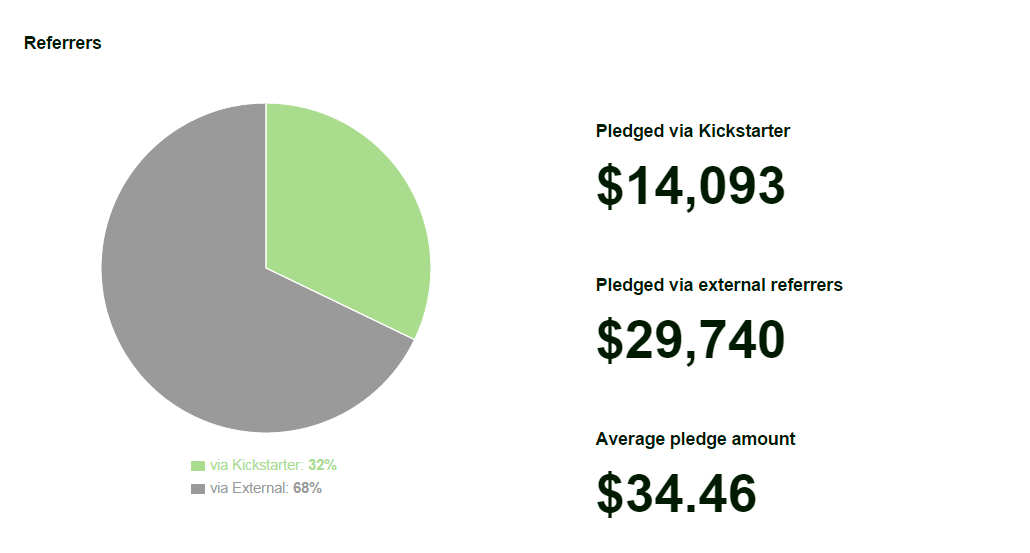 WHAT WE DID RIGHT:
We were very active on social media towards the end.
Tweeting, Facebooking, Redditing, Imguring, etc. This is kind of exhausting. Retweeting every Tweet, favouriting and liking each other's Tweets and Facebook posts, coming up with potential 'viral' images and such; it's so tiring! And you always run the risk of alienating your friends, family, contacts and community by posting too much about the same thing every day. It's a delicate balancing act, but I think we pulled it off towards the end. None of us had too many people unfollow us, anyway, and we were pretty self depreciating in our posts, which I think helps a little. If you include a little bit in your post about how sorry you are about all the spamming, and that you promise to tone it down after the campaign, I think it goes a long way to helping people to stay patient with you.
We made lots of videos to keep everyone up to date.
We made lots of Backer Updates with full on update videos and even a little comedy. Almost every day, especially during the first three weeks of the campaign, I spent almost all my time filming and editing backer update videos to let people know what was happening, to introduce the backers to the team, and just to keep in touch. This was a little stressful, but ultimately fun, and a lot of people commented that it was a very welcome addition to the updates and that we were running a really solid campaign.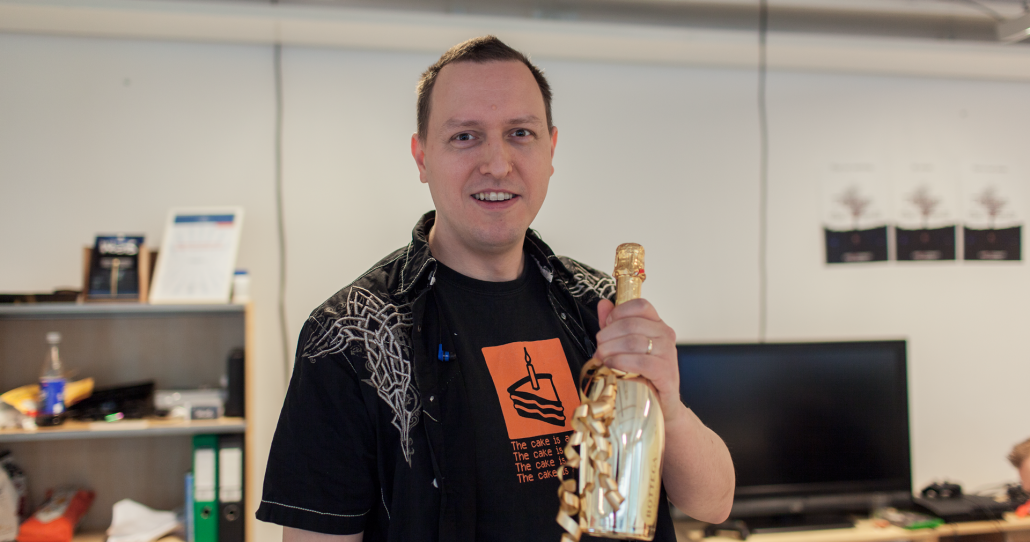 A little gift from our friend, Stein
We answered almost every question we were asked from backers and kept up to date with mail and 'thank you's'.
This is super important. We kept up to date with almost all of the messages from Backers all the way through the campaign. There were a few days where all the message answering people were away or busy and we fell behind a little, but we always caught up in the end. I think this showed the community that we are grateful to them and are up for a personal, individual conversation instead of sitting in our ivory tower. I think it's great when you can talk to developers about the game they are making, and have a dialogue about the game our Backers are so kindly helping us crate with their hard earned money.
We made our first live stream
This was super fun and is something we are planning on doing more often. We decided to live stream the last two days of our Kickstarter. The first evening, Torstein, our programmer and judicial swordmaster, and I played through Alien: Isolation. This was so much fun and allowed us to talk to the community while playing through a great survival horror title. I was talking mostly about how I suck at playing games, and Torstein was noticing all these lovely little details like mop-marks on the floor and discussing technical stuff about the game and game design in general. After I caught the last tube home, the rest of the gang played long into the night, talking to the awesome community that has gathered around us in the last few weeks.
We buddied up with other developers who were on Kickstarter
I actually overlooked this point until I replied to a comment below, so I'm adding it now. One of the most useful pursuits you can embark on during a Kickstarter is to partner up with other Kickstarters for some friendly shoutouts. I don't mean to spam every other Kickstarter until someone finally gives in, but to go to other developers who are making a game, who's fans you really think might enjoy your game, and figure out some kind of mutual promotion. This helps everyone along, and you never know who will be nice enough to help you out. We got some lovely promotion from the guys who made Among the Sleep, Perception and Dreamfall Chapters during our campaign, for example. That was nice, and you could see a small backer surge from each one.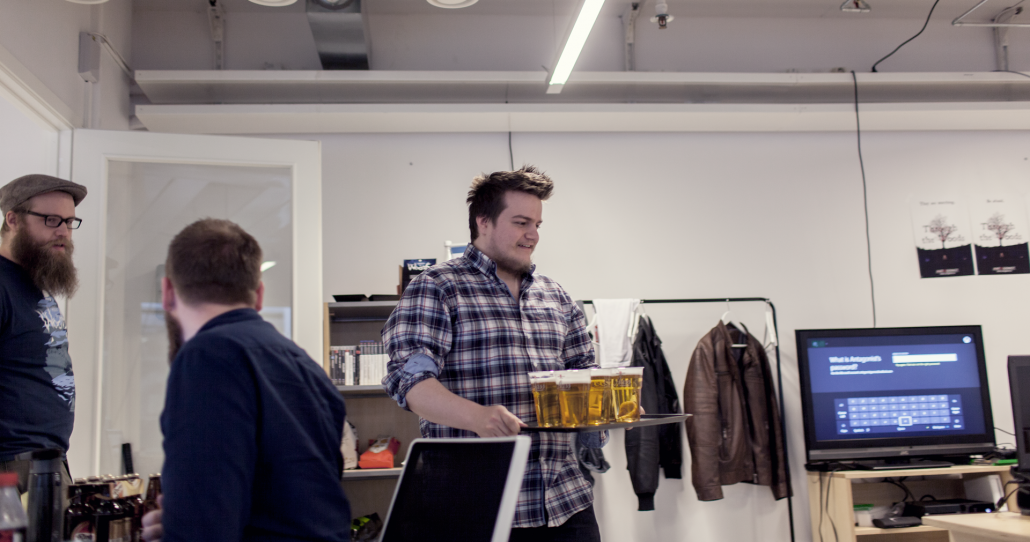 Lucky for us, the Beer Man was still doing his rounds
FINAL TIPS!
Set up Google Analytics on your websites, crowdfunding page and Steam/Greenlight page to see where the traffic comes from! This way, you can see where you're doing something right, or wrong.
Always have a plan for whether things are going right or wrong, and leave no stone unturned!
Make your Kickstarter pretty by utilizing your in-house graphics designer or hire someone to do it! But, for the sake of his or her mental hygiene, you should probably invest as much time as possible in making all the graphic ready before the campaign starts. Start by brainstorming all the kinds of media you need for your different websites, videos and profiles on different social media, and make a framework for them all. That way, your designer is able to produce new content in a very short timeframe while maintaining the same style for it all!
That's it. Hopefully there is something in here of worth to you guys, and , if you're thinking of starting a Kickstarter campaign of your own, or are in the middle of one right now, we all wish you the very best of luck!