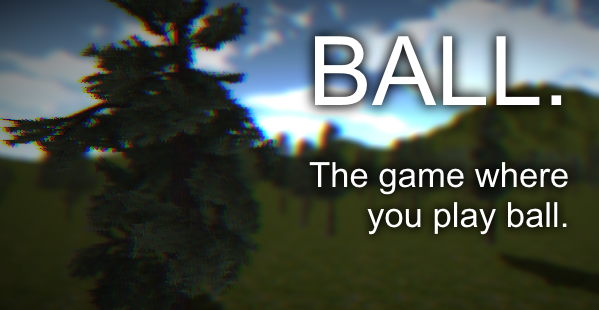 Another stupid update with more stupid news...
Okay, for those who are so concerned... No. Ball is not dead, it's still alive and well. Although I haven't worked much on it. Mostly because I'm more focused on my new project. And on the other hand, school is on the way which causes a lot of pressure and throws me back. But I'm still trying to work on Ball.
If the image effects seen above aren't in the full game, then that is clearly because I'm busy optimizing them.
There hasn't been any progress on the field as instead I was working on the scoring and timer system to make this work like an actual ball game. And I'm also working on the multiplayer connectivity and I'm also wondering if there are ways to make custom maps. I might try to experiment Unity's file system and see if there are any ways you can change the main files for the game, so that when booted up, you get something else. Although some instructions have to be followed to install custom maps like installing Unity, installing the Ball Source, and copy and replacing the files. It's possible, you know... I'll have to be sure that no assets used that require money will be included in this. Get your own stuff, m8.
So since my C# skills are slowly improving, I have more plans for Ball. I intend to make it good and fun, I just hope that there won't be any stupid rip off clones for Ball (Slender: Ball, Ball Simulator 2014, Flappy Ball, Ball of Duty, etc.).
There may be a mode where you play as Aiden Pearce. don't ask why.
-alldatcheese