Since last week, I've been determined to give Olvand as a Christmas present to the next test group, so I worked as hard as I could to get everything in. I finished it on the 24th, and thanks to the quick response of the people behind Desura (who apparently work during the holidays) and volunteer Johnlier I could actually send away the presents on the 25th. Besides the female clothing, which I postponed to the next update, I added everything I described [last post], and even more:
Fishing finally works in multiplayer, which means that other people will actually see it when you're fishing; until now it looked like you were staring at the water for minutes, which of course isn't a good first impression ;).
I renamed stations (the flags you have to go to while racing), because I thought that would be confusing when I add train stations. They're now called checkpoints.
During races, there is a lot more info available that explains what's going on, so you don't have to ask other people. For example, if you're organizing a race, you can see how many people have joined, and the game tab not only indicates in which direction you have to go, but also the distance.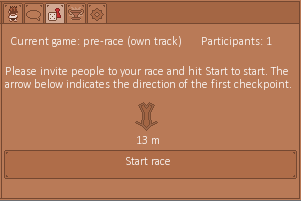 Before the game crashes, it tries to send the last 20 lines of your crashlog to olvand.com quickly before the windows closes itself. This means I now have a nice overview of all crash information. That really really really doesn't mean I no longer need bug reports, though - most crashlogs are useless without info on what the player was doing exactly, and then we're not even talking about the bugs that don't make the game crash. But it does makes me a little less dependent on the player base, which is nice.
I added a new tab and pop-up screen, dedicated to achievements. This is the first of a whole series of changes I'm planning, related to making a little clearer what the game expects you to do. This is based on a discovery I did recently (and which I should have done much earlier): most players really like what they see, but don't really understand what the game has to offer. There's a lot to say about this, which I'll do in next week's blogpost.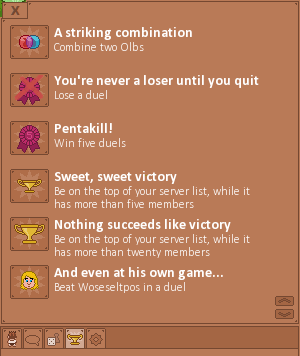 Dear community, thanks a lot for this great year. I'll see you in 2013!
If you want more development, see [twitter] or [facebook]. If you want to be a tester, you can subscribe on [olvand.com].