Hey guys
It's Jeffrey here. I'm the concept artist of Proven Lands. To me the major themes for our vegetation always have been twisted beauty on the one hand and omnipresent danger on the other. So I've been thinking that I'd like to talk in this dev update about the flora, the plants of our little gem.We refer largely to aquatic plants, alien fungi and carnivorous plants, drawing inspiration from settings with rich flora like the "Last of Us", "Earthbound" and "Avatar" and from artists like Eyvind Earle and Hiro Isono (especially the latter for his opulent jungle paintings) whose works focus so on textures, they transcends the visual realm to become almost haptic experiences.

During the early stages of development we thought of the environment as complex eco systems along with symbiotic dependencies and life cycles up to a point where the flora would almost seem to have a mind of its own and feel as alive as the creatures that live within it, much like the plant system in the game "Alpha Centauri", if you remember it. An interesting read on the subject are also studies on plant communication via networks of fungus and chemical signals, useful at warning neighbouring plants of pests or even attracting larger animals that prey on these pests. We also embraced the idea of growth as indication for self-contained life in form of small botanical isles which eventually spread through dispensing spore into the wind creating breeding grounds of colourful, fluffy overgrow for various plants and animals and also provide the players with seeds to cultivate their own crop.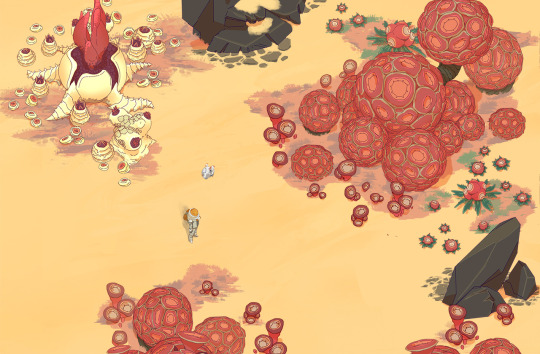 The overall idea is that you guys would have to study the environment closely in order to find out what plants can be lived from and which are deadly and for being able to harvest fruit in certain frequencies without attracting the attention of predators or destabilising the eco system. That is why some of our plants look a bit like snap traps being either closed during ripening or open when their fruit can be plucked while at the same time developing fierce thorns, leaves resembling pincers and vivid color patterns that signal danger. Since we want to encourage continuous gathering and research, almost every plant grows rather obvious fruits sooner or later to seduce the player into picking them.

Today we focus even more on organised biomes, grouping plants by form and color, clustering smaller ones or making them parasitic, including adaption of the environment in the creature design (though that will be subject of another blog post yet to come, I think). In these groves you find beauty combined with hazards en masse, for instance one tree could provide lifesaving nectar or ooze with digestive fluids, like some pitcher plants do, yet even the latter could prove to be a boon when you find the decomposed leftovers of otherwise hard to kill animals that carry valuable materials.

In the long term we have, of course, to see how far we get with such a flora concept in the game. "Heart of Darkness" by Joseph Conrad is a big inspiration for getting lost in the unknown, in nature, which influenced "Apocalypse Now" by the way. In our little game you can destroy a biome in many ways, like there's a basic "eco" system based on pollution in the game. The animals as well as the plants will vanish or get aggressive according to your behaviour. So we have to see how it goes, how it feels to you and to us after hours in-game, because it needs to stay simple and a background mechanic.