This week I've finished working on the environment for what will probably be level two of Substream. This is a game where the environment animates to music, so I'm designing dynamic levels rather than fixed geometry. The final third of this came together in about two days, most of the end sequence was a repeat or reworking of former melodies, which meant animations could be copied and tweaked which speeds up the process nicely.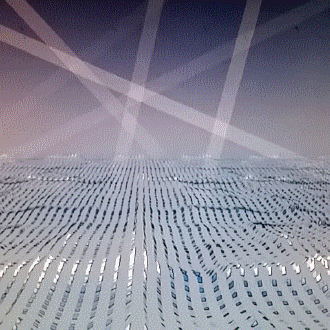 In a recent PC Gamer preview, it was mentioned that the gameplay feels slow. I've heard this from a few people in the past, some think it's ok, but most want it "faster" or "punchier". You have to be careful in game design, when someone says "faster" I don't think they necessarily want the ship to move or fire more quickly. There are a lot of things you can do to make the gameplay busier, or alter the camera or sounds to make the gameplay feel like it has more impact. It's this, and more group-based enemies that I want to focus on next.
A new trailer was uploaded recently. There's a shot from each of the five levels I've been developing so far, and the trailer is mostly gameplay footage...
Interested? Click to Watch This Game on indieDB, or give a thumb up on Greenlight...