The clever guys at 57 Digital have released a new app for iOS that lets you create and rate Minecraft skins from the comfort of your device. Minecraft Skin Studio also lets you upload the skin to Minecraft.net via your profile page. Very handy for the artistic among you, and surprisingly addictive to use.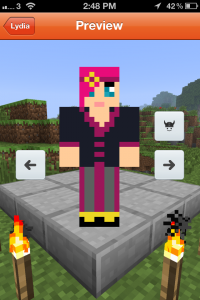 It's so easy to use that Lydia managed to download it and create her own custom skin in the time it's taken me to write this post. And it's the first she's ever made!
This is only the third app officially approved by Mojang, so you know it's top quality stuff that'll get regularly updated. The other two available for download are Minecraft Explorer Pro (also made by 57 digital) and Minecraft Seeds Pro (made by JN Interactive). They're also worth checking out if you're a Minecraft player with an iOS device.
If Minecraft Skin Studio sounds like your cup of tea, download and get creative! We look forward to seeing your work.