The fourth game in the pack was something that I had a hard time deciding on. Well, I've finally decided and bumped it up to the third game. Its construction is now underway ahead of the still untitled maze game.
The game is called Launchpad Leap. You'll need to jump out of your rocket ship and push all of the buttons on the grid until the casing holding the button turns a certain color. When all of the cases are the correct color, make your way back to your rocket and blast off to move on to the next level.
The screenshots above are from the single player version of the game. They show off the three different shapes that the button casings can be. There are two different textures for each of the cases, the second texture for each will be shown in the two player screenshots below. The position of the rocket ship and the buttonless blocks is randomized between a set of predefined locations to keep the game fresh and reduce the ability to simply develop patterns.
There is no background to the game yet, but there will be a floor where the base of the launchpad is to hide the part of the launchpad below that base. Because this game is mimicking a 2d game that was mimicking a 3d game, this is the first one in the pack where the camera isn't directly facing the game play area. That give me a little more room to play with the environments. Creating the background models will be the next step in the process.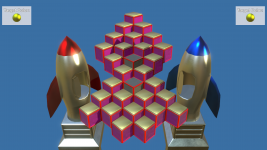 This is a screenshot of two player co-op mode. In this mode, players work together to turn all of the button casings the right color and then return to their individual rocket ships to take off.
Here is the two player versus mode. In this mode, players will race to be the first to turn all of their button casings the correct color and blast off.