Good news everyone! We've just launched Okhlos' pre-order and Steam Greenlight campaigns! The pre-order campaign is full of amazing tiered rewards and super cool 3D dioramas to explore! You can view it right now at Okhlos.com and vote for Greelight here.

Got Steam installed? Click here to open it directly on Steam!
What's in the pre-order campaign? Besides buying the game in advance, it's an opportunity for anyone to become involved with the game. Through the campaign's lower tiers players can gain access to Okhlos' closed beta, which we'll be announcing soon, and to its Original Soundtrack, created by A Shell in the Pit. Through the higher tiers you will have the chance to become one of the game's characters, either as an angry mobster or one of its leaders!
OKHLOS DIGITAL EDITION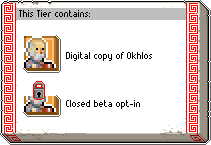 You will get a digital, DRM-Free copy of the finished game upon release (PC, MAC, and Linux) at a 33% discount plus a Steam key when Okhlos is made available on Steam. You will also get access to the game's closed beta which will be announced soon. (You're also getting an additional 0.3333333333...% discount which we weren't even going to mention, but we thought you should know just how nice we are. ;p)
OKHLOS ORPHEUS EDITION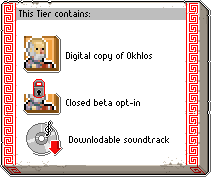 Turn up your speakers! Blow out that boom box! Wake up the neighbors with your 5.1 surround sound system! If you pick this option, aside from a digital, DRM-Free copy of the finished game, a Steam key, and access to the closed beta, you will also get a digital copy of Okhlos' Original Soundtrack by A Shell in the Pit. Take the sound of the mob along with you wherever you go! KAPOW!
OKHLOS THAT'S ME EDITION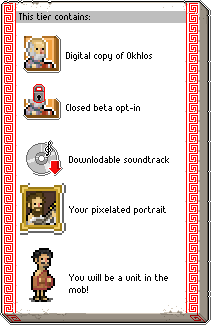 Have you always wanted a chance to stomp your foot in Zeus' big, ungrateful face? Well, here's your chance! Send us a photo and we will turn you into a game unit! You'll have the chance to become a citizen, fighter, defender, slave, or even a bureaucrat! You'll rampage your way across ancient Greece as part of the mob, delivering chaos and mayhem upon your enemies*, striving to defeat and overthrow the tyrannical gods! You'll be included in the game's Encyclopedia with your name and everything! Careful though, only 100people will be able to snag up this opportunity of a lifetime, so don't hesitate or it'll pass you by!


*Some chaos and mayhem, as well as some clobbering, stomping, and frying , may also be delivered onto you.
OKHLOS SOCRATES EDITION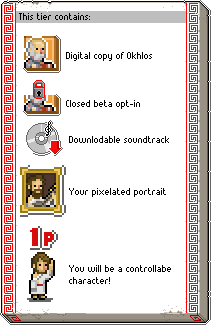 There is nothing more exhilarating than being a part of a righteous mob that delivers great vengeance and furious anger upon its enemies... or is there? Only one thing can top being part of a rowdy, devastating mob - and that's leading a rowdy, devastating mob! If you pick this option you will be one of the 30 lucky people to be included in the game as one of Okhlos' philosophers - the mob's leaders! Can you imagine the power? The pure, unlimited power!?*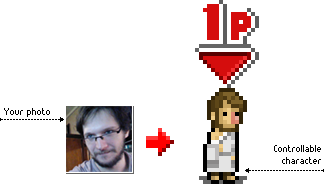 * Power limited by the mob, technical limitations and the rules and regulations of the state of Massachusetts. The chances of your character getting clobbered, stomped or fried will also be considerably high.
Do you have questions about the pre-order tiers? Check our FAQ page and/or contact us!