Before getting into the main theme of the announcement i would like to remind you that

I'M NOT THE
LEAD DEVELOPER

HERE!

I'M

ONLY RESPONSIBLE FOR THE

USER INTERFACE DESIGN/CODING

AND

STORY DEVELOPMENT

!

Hello everyone,

I promised (my bad) to bring you a video + pics of the finished UI ingame, some OST's and maybe some models! Of course you noticed that didn't happen and here's why.

Well, i THOUGHT that Akira_Shaga1 would reply to my messages and give the resources i needed since i gave him about 2-3 months to do so (Due to vacations and my job i was unable to continue working on the project).

When i came back, i found out that he didn't replied to my messages either on Skype or here... I apologised to everyone who supported our project for my lack of time trying to hide the fact that our developers were "sleeping" hoping that they would "wake up" sometime.

Last update from Akira_Shaga1 was on Mar 7th, 2014 with a 3d model. Last update ever made was from me on May 4th, 2014 with an update for my UI progress.

I check out the page every day to see if any other developer from Argus reply to the comments and guess what..... no one ever did...

A while ago a developer from the team posted on facebook and then left, in case you missed it here's the post:
---
"So, I'm planning to be very transparent, I'm not going to hide anything. Before, I had asked you all to not lose hope until I do. (even if I say that there's nothing done for weeks or that the project is going bad)"
And today myself and few fellow developers have lost hope, I don't want to be too hard on Argus, but I have to say what's really happening. There is really nothing much done, there is about 5-6 active member in Argus (Now less), and this project is lacking a lot of organization and leadership. Contact with Kingjo is completely lost, nobody in the team have ever even seen the NG. The team lacks skills in some important aspects of game development, e.g. any of the levels/floors, game code and networking etc. I'll just stop because I could go on and on but I don't want to sound like I'm dissing Argus. However, I just can't leave all of you in the dark. Still, I believe that SAO will become a reality eventually, but not from Argus (At least the way they are now)…
Maybe this post will be deleted but I feel like I had to let the truth out…
Sorry, I'm leaving,
=Owex="
---
I reposted this without editing anything.
Well, without further ado i will announce that i'm LEAVING the team and take my work with me (you can hate me now if you haven't already).Also i will declare the project DEAD since NO ONE except me are working.
Also some of my notes
Lance - Lead Boss Desginer (missing for like 1 and a half year)

---
Blacksword01
- Lead Static Object Desginer (did some outstanding work but i haven't seen him since the day i joined)
---
KiritoSA0 /JoyfulSushi - Lead Concept Artist/Artist (And where are the concept arts?)
---
Shekali - Lead Skill Programmer (Skill programmer? I thought that i had to do this too)
---
Tsunax12 / FinalBlast92 - Sound Editor (We had sound editors?)
---
Aliath - Lead Programmer (is the only one that i can say he's alive and replying to my messages)
---
Nebulastar - Lead Monster Desginer (never seen him/her or even knew that he/she was on the project)
---
Shaga1 / Flowflow - Lead level Desginer (Both missing, maybe they're locked in a bunker or had a hangover and are on a tropical island without internet) (Shaga or Akira_Shaga1 told me that he could start working on his own FDC but i haven't heard anything)
---
Techno_Magic (the only one i talked to recently but all i got is that "I haven't really been able to keep up with the project right now because I've been very busy"He was making the videos so i don't blame him for anything)
---
Kingjo - Lead Full Dive Equipment developer (Now is the good part! Kingjo got us all hyped up with his last post on Sep 24 2013 :"I have not tried it but 5 of the 15 people working with me on this have tried it and that's how we know sight, hearing, and smell works. There is currently one problem we forgot to put in a sensor to tell if ur brain is sending male or female brain waves so we just fixed that and we have installed emergency log outs and a battery inside that lasts a week we are also putting a wireless internet connection and wired in case the wire gets unplugged u are still save all good questions glad to answer them. tongue.gif"
i think he died after all the curses everyone threw at him because he disappeared afterwards without telling anything else ..)
---
Akira_Shaga1 please prove me wrong but either way i'm OUT.
---
I would like to thanks Gatreh for pointing out some of my mistakes and help, Astreus for his database and Yui_Lover for the ideas he gave me.
DaBlackSwordsmun, tsukiyomiikuto0 i'm really sorry for the time you lost trying to tell everyone that the project is alive (and maybe it is alive, just the devs are working into a bunker but lost the door key).
Sorry if i forgot anyone...
---
Also i would like to add the same thing that owex said:
The game will definitelly come out sometime soon but 90% not from Argus, moreover i'll say that THE TECHNOLOGY FOR A FDC EXISTS BUT NEED SOMEONE TO PUT IT TOGETHER.
I know you hate me but i would ask anyway :
If anyone is interested for a UI developer please tell me since i'll have plenty of time available from now on...
---
I will be happy to answer to any comments.
---
---
Your support made me happy and gave me strength to stay on the project but i'll stay no more.
I'm
Azuna

,

Former

member

of

Argus

and

Former

User Interface

Leader

and

Story Writer

for

Sword Art Online

Project

.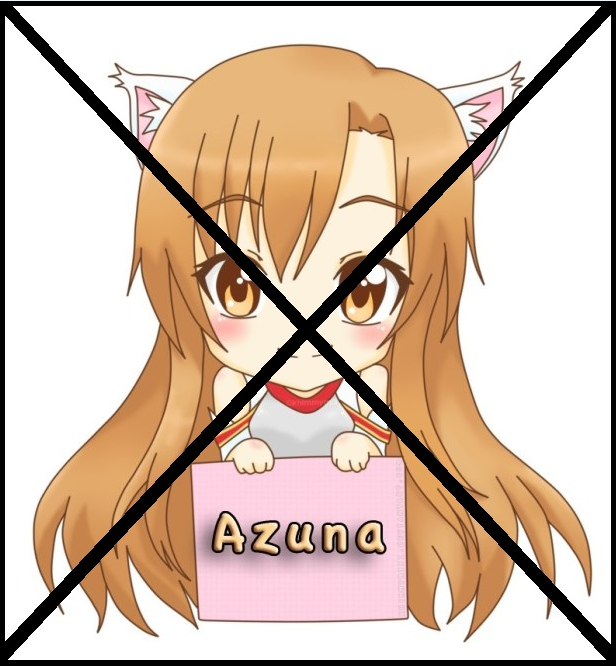 ---
---
Too bad that i was the only one working here, anyway i did my job regardless that everyone else failed to do so..