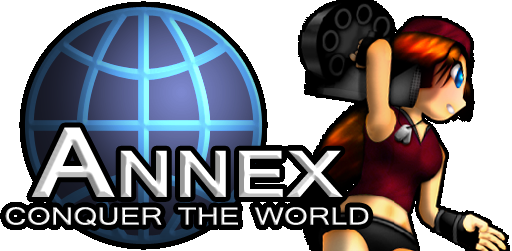 It has been a long time since last update, Here is current progress:
Annex has a new official site!
Check out my new game development blog at annexconquer.com
This site focuses on the development Annex: Conquer the World and its sister RTS, Chasm.
So check it out!
Forum
Also I opened up a new forum at Forum.megaglest.org . I decided to place forum in megaglest.org as there is already a lot of engine tech support information already present. There you can also find/share user made maps and mods for Annex, Including the Astro Marines Mod.
Some New Videos:
Its been a long while since I have shared any development footage, so here are two new videos to watch!
Simple Battle Tech Tree Gameplay
Video showing a new simpler tech tree option. This tech tree limits player to two infantry types (Standard and Anti Tank), and 4 Vehicles (Harvester, IFV, Tank, and Siege). No Tech structures. This mode is great for those who want a simpler and faster game, or for beginners who are overwhelmed by the large number of units per faction.
Alliance Renegades Gameplay
Short Video Preview showcasing some Various units of the Alliance Renegades in action. Some notable units include The Ranger, a simple jeep with the ability to switch its equipment for a variety of roles, the Commando, well trained infantry armed with a powerful handheld EML gun, and an ability to call a attack drone strike, the Stalker a light assault vehicle capable of being airlifted across the map, and the Demo Ranger an explosive chemical weapon which has a DOT effect for any unit within the blast radius.
New Sounds
Working on a new FOSS compatible soundtrack includes songs from the album "War" by Alisa Mironova
Jamendo.com
Also working on having some new voice work. Already have a great female voice, now looking for male voices.
Scenarios
All of the NEO Republics scenarios are completed! Also the Alliance and Shadow scenarios have been updated. I may not include scenarios for the Alliance Renegades in next release but the faction will be available in custom games and will appear in some scenarios for other factions.
Save Games
Did I mention that you can save your games at any time now?