Take the red pill, then imagine everything that exists, then add to that everything that is fictional. That is what the metaverse is. This vast sea of information has always been there, but navigating it has never been this fun.
In this issue we explore just how deep the rabbit hole goes by taking a close look at just one room of a community-made arcade share. In the process, we reflect on what the metaverse itself is and what it means to traverse it as a gamer.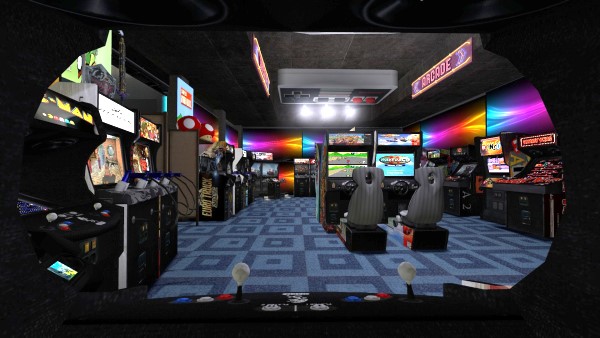 The metaverse is real. It's not a game.
Let's put things in perspective. The screenshot above shows what it's like to BE an arcade cabinet in Anarchy Arcade.
However, what you see in this still picture is only scratching the surface. In this particular room exists the blood, sweat, and tears of hundreds of fellow human beings all to provide you with thousands of hours of joy & entertainment.
Welcome to the metaverse. Every single cabinet acts as a portal that whisks you away into a whole new universe.
You'll look different. You'll move different. You might even feel different. That's because each universe is its own reality. Each one is uniquely tailored to provide you with a particular experience.
Some universes let you bring your Steam friends along. Others only let you bring your friends who are physically with you. And yet others can only be explored with the loneliest number. What ever the realities may be, you are subject to them when you enter their universe.
So when you see this screenshot, it's not just a room full of arcade cabinets. It's a massive slice of the metaverse that is being visualized by Anarchy Arcade. And even though this slice is so massive, it's still only a tiny sliver of what exists.
More info on the awesome community-made map & arcade shown in the screenshot will be featured in next week's issue, but just this one room is enough to keep us busy for many weeks itself.
References:

JavaScript & HTML5 Modding in AArcade

Anarchy Arcade uses JavaScript to create 3D representations of 2D web pages. The scripts that do this are called "scrapers". Until now, users were only able to use the scrapers that I programmed. These let you spawn things from sites like Twitch, YouTube, Netflix, Hulu, etc.
As of last week's update, users are able to start AArcade with the new +enable_user_scripts 1 launch option and use their own custom JavaScripts on their own favorite sites. Instructions & tutorials are not yet available for modding the UI or writing your own scrapers, so you'll be on your own for now. The files that will interest you are in the aarcade/protectedscripts folder. Note that you must launch with the +enable_user_scripts 1 launch option for your customized scripts to be loaded. The launch option is required for security purposes.
References:

Last week Discovery launched the website www.discoveryvr.com.. It features some awesome 360 videos that are great for viewing from inside of Anarchy Arcade.
References: