The original version of Lab Lights was made in a week in participation of a mini Ludum Dare event. The original game had about 23 levels of puzzles, containing a handful of interesting mechanisms to interact with. Lab Lights 2 will likely have about 50 levels in the main game.
The main goal of the game is to light up the lights by pushing around batteries, crates, explosives, magnets, and other interactive objects. To simply demonstrate, here's the first level of Lab Lights 1: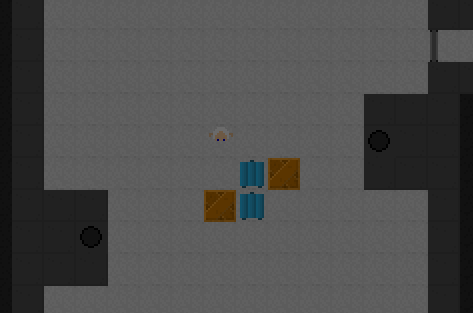 Another ability in the game is wiring. The current from the battery is able to pass through wire and metal crates, and can power things such as lights, explosives, and other energy-supplied objects. The goal of the game isn't to simulate electricity and motors, but rather to provide interesting puzzles created by the combination of several simple mechanics. Here's level 8 from Lab Lights 1 (solution spoiler!):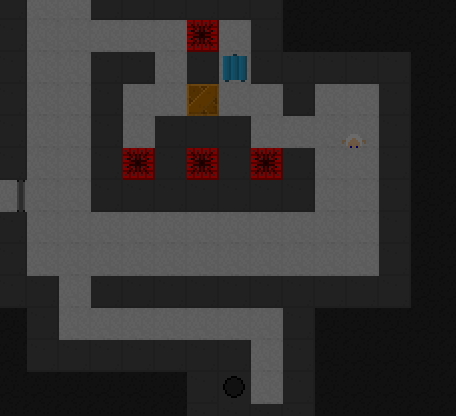 There are many things that make Lab Lights 2 different than the first. While the concepts of Lab Lights 1 are still there, there are many new features that will make the game even more interesting, and opens more possibilities in terms of puzzle design and replayability.
The first huge change in the design of Lab Lights 2 is that it's in oblique 3D style. The added floor level gives the opportunity for some very unique game play features. As of right now it might be a little confusing to see, however I hope to add some shadows (such as those in my game Human Apocalypse). Also, the size of the levels in Lab Lights 2 was increased to 32x32 (for now), so now the puzzles aren't restricted to just the small region of the screen!
Here's a simple example level.
Don't worry if you're confused! Before there are levels like this, there will be much simpler tutorial levels to guide the player's understanding and introduce the features. As for level progression, new mechanics will be introduced as you get further into the levels. There are a lot of features planned, and it would be pretty horrifying if they were all introduced within a few levels!
I have a lot more to say about this game, however I'll save it for when I have more screenshots and videos to share. I hope you like what I have so far, and I really hope you're interested in what Lab Lights 2 has to offer.
Consider tracking the game, and please post your comments, questions, concerns, and love!
- Zanz