"understanding is the hardest part of understanding, we're all human after all"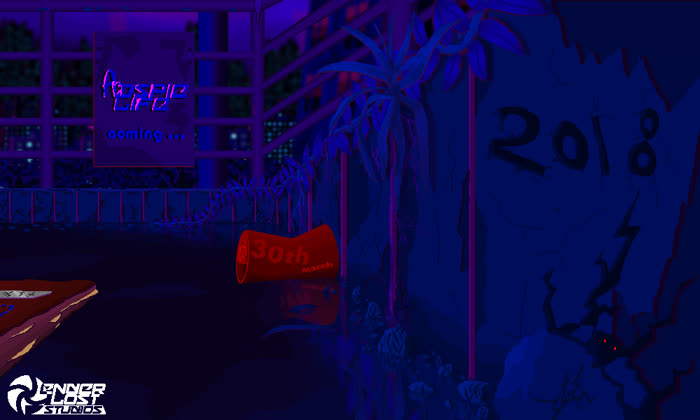 The award-winning game, An Aspie Life will be released on Steam on the 30th of March.
3 days before World Autism Day.
The creator of An Aspie Life is Bradley from Brisbane Australia. He has always struggled to explain what it is like to live with his Asperger's syndrome (High Functioning Autism). In late 2016 after abandoning his previous project Dark Hours 2, he decided he would make a game that focused around his life with Asperger's syndrome. The positives and the negatives, that people often don't get or understand.
The aim of the game was to allow players to live out the day to day life of An Aspie. To achieve this, he used a range of visual metaphors, sound effects and experimental gameplay to recreate his symptoms in the game.
Here is a list of what they do and mean:
All character in An Aspie Life are black outlines. By doing this, players can't read body language.
Some characters that the main character knows well are not black outlines and have some detail, but they are still darkened. This represents how some people with autism can learn someone's body language over time.
In the game, every environmental sound gets represented on the sound sensitivity meter. The player must keep this under control, so the main character does not become overwhelmed. This represents Sound sensitivity in autism.
In conversations, the player again can't read body language, as they are all back outlines. But they must try and figure out how to respond with limited vocabulary. This represents the difficulty Aspies have in putting thoughts into sentences that people can understand.
Also, in conversations, the player's feeling meters of stress, happiness, courage and uneasiness will affect how a conversation plays out. For example, not much courage means you can't look at the other person.
To regenerate the feeling meter, players must go into quiet places or do things that the main character enjoys. That being playing video games.
The game's art style of blue and purple, represent not just the 80/90s feel of the game but also social isolation. Some items in the game that hold great importance to the main character are not in blue/purple but are in full colour, because of how important they are.
When the player's feeling meter is in the red, the main character will begin to do self-harm (banging his head against a wall) because of the extreme stress and anxiety. If not managed, he will eventually faint.
Over a year and a half of drawing, coding and developing this game by himself along with music by Joe Watson, Bradley's newest game, An Aspie Life is ready to be released.
In that time An Aspie Life has won a number or awards.
These being:
Young ICT explorers 2017 Grade 11-12 Brisbane. - first place
Young ICT explorers 2017 Grade 11-12 Nationals. – first place
2017 Queensland iAward senior student – winner
2017 National iAward senior student – winner
ACMI Screen It Nationals: senior video games – winner
About the game itself
One day your roommate leaves for no reason. You're left to face the outside world alone, but this can be both difficult and amazing when you have autism. Just because you have it, it doesn't mean you can't enjoy life. Some things can be harder to do, but you can do some incredible things as well. It just makes even the mundane parts of life, an experience.
"An Aspie Life" is an experimental adventure game that deals with the topic of Asperger's Syndrome. The game is centred around having to live with autism. The players actions in the game will have to adapt to how an autistic person sees the world. As every element of this game recreates how some people with autism perceive the world, therefore all forms of sound, graphics and interactions are intentional.
An Aspie Life can be found on Steam Early Access
Other places An Aspie Life can be found / useful info:
Media Enquiries