Many of the cRPGs from the past century's 90s, made for the established DOS "golden era" and the formative Windows "bronze era", are considered instant and indomitable ever classics. Only a very selected few from the other platforms managed to get on that list, while the content, language, and technical barriers prevented a lot of the worthy candidates from achieving that.

Ambermoon, the sequel to Amberstar, both belonging to the unfinished Amber trilogy of the now defunct legendary German developer and publisher studio of Thalion Software, is most likely one of those. This incredible game from the past even today captivates with its gargantuan world to be explored, plethora of spells to be learned, throngs of unique NPCs to be engaged, mighty enemies to be destroyed, plenty of attributes and skills to be developed, and hoards of gold and loot to be collected. All along with its old school quirks and old school hand drawn graphic.

Nonetheless, even taking the current state of advancement of Amiga emulators into account, launching and playing this gem is quite a hassle. But with the dedication of the proficient modder, coder, and programmer Pyrdacor (with a noticeable input from his equally able friends), nowadays the game can be played on the modern Windows and Linux systems with as much as a double click on its open source remake!
---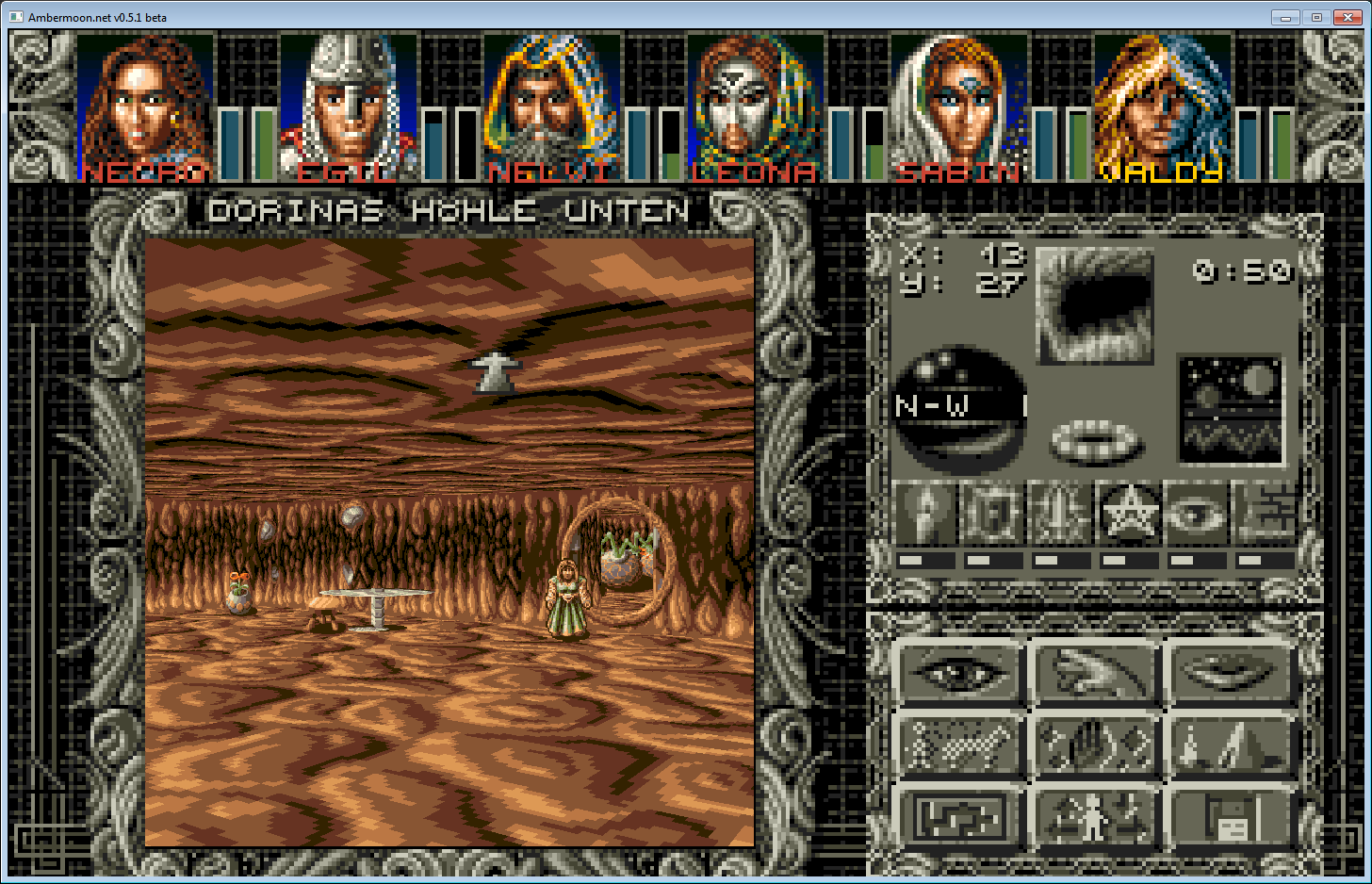 1. The adventure view inside towns, dungeons, and other important locations. Note the many icons on the right, where some come from the spells and enchantments, while some come from the special items bought at vendors or NPCs that have an actual ingame effect. The illumination is also important and its strength determines the sight radius.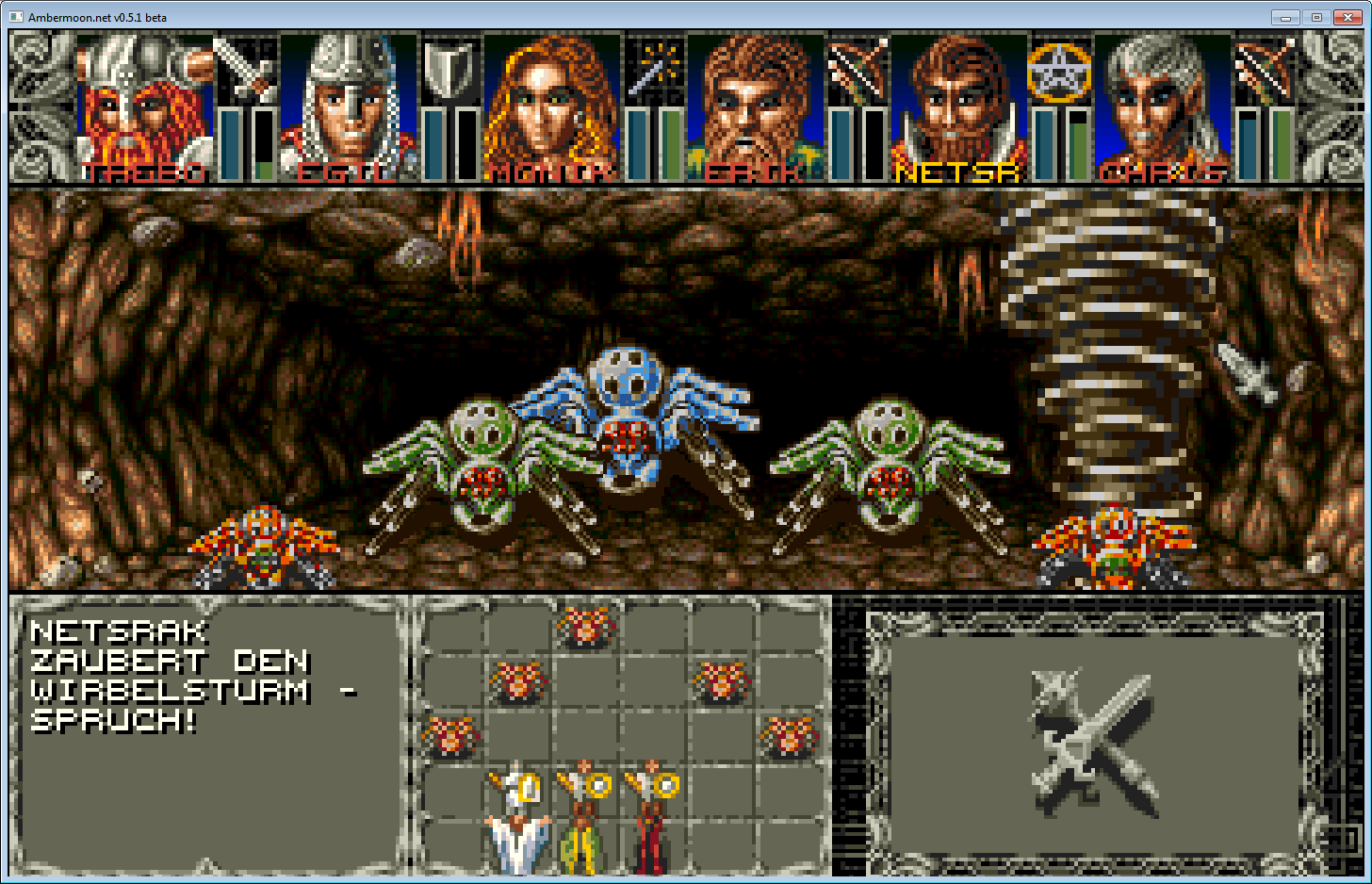 2. The combat view, where not only skills, equipment, or spells, but also the initial rank setup and actual tactics, play role.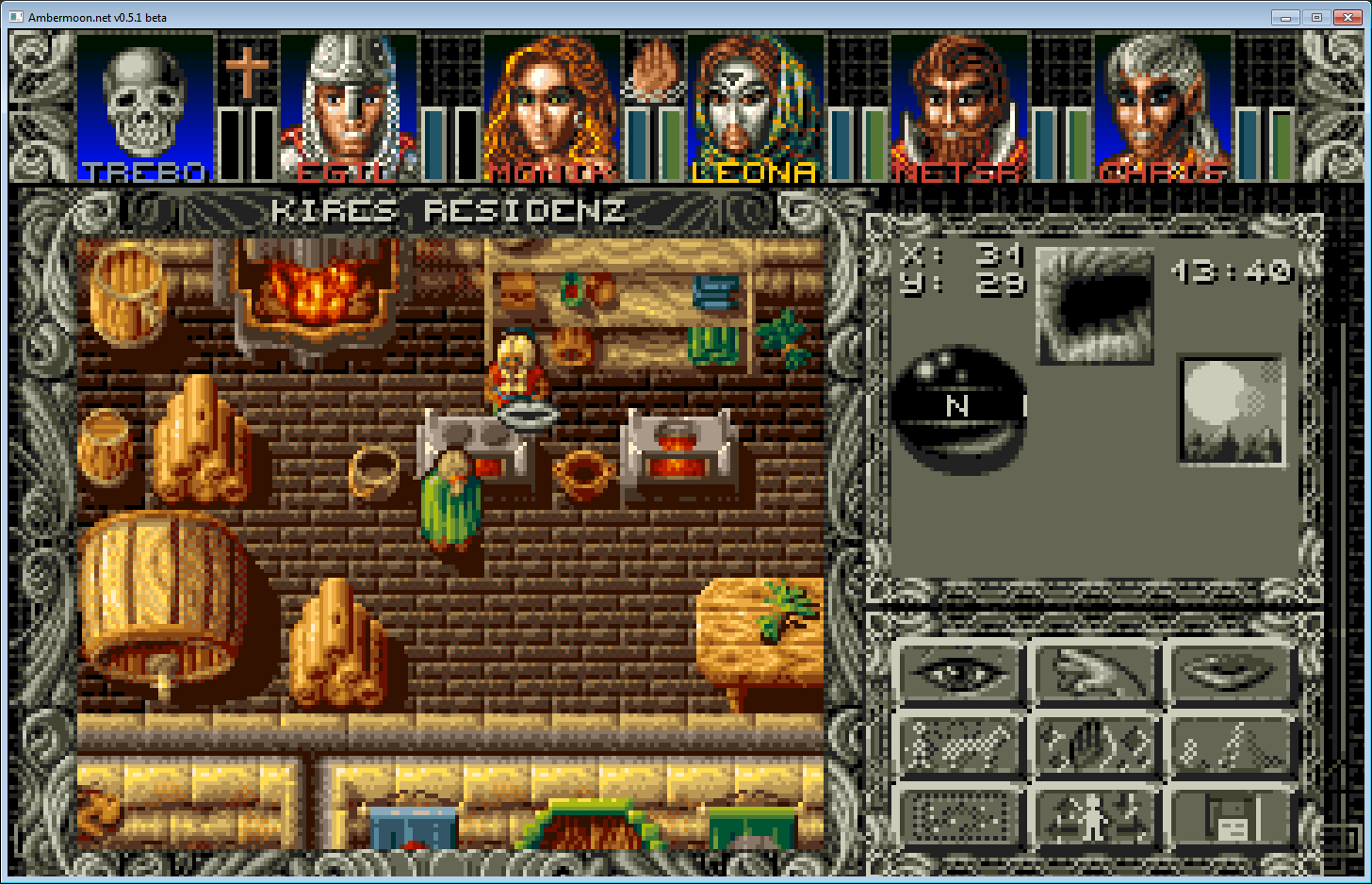 3. The bird's eye view for general or less important spots and places. The items around can be interacted with and there are secrets or Easter Eggs to discover as well this way.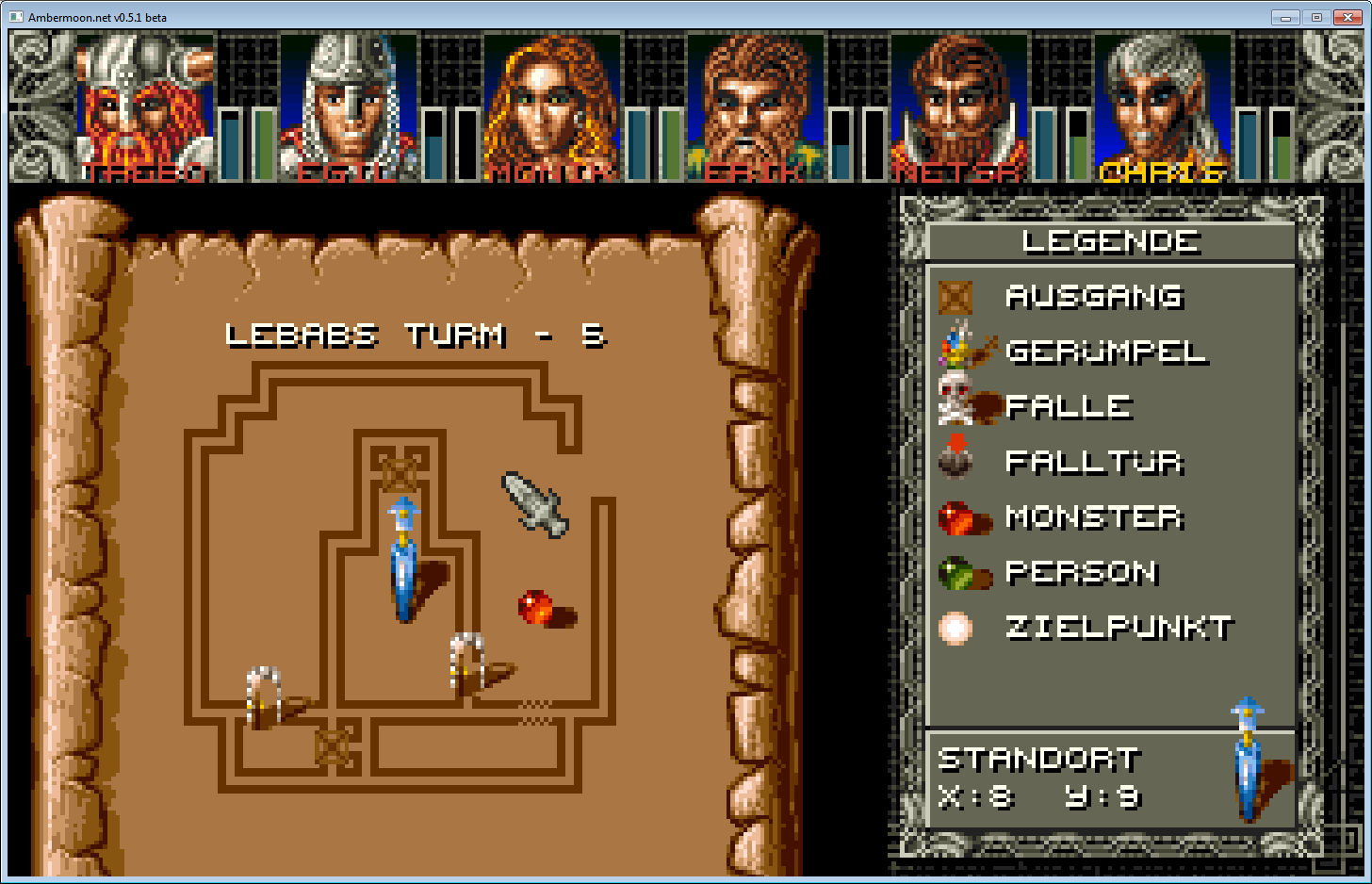 4. The automap view. Its functionality can be enhanced with the certain characters and spells being active during viewing it.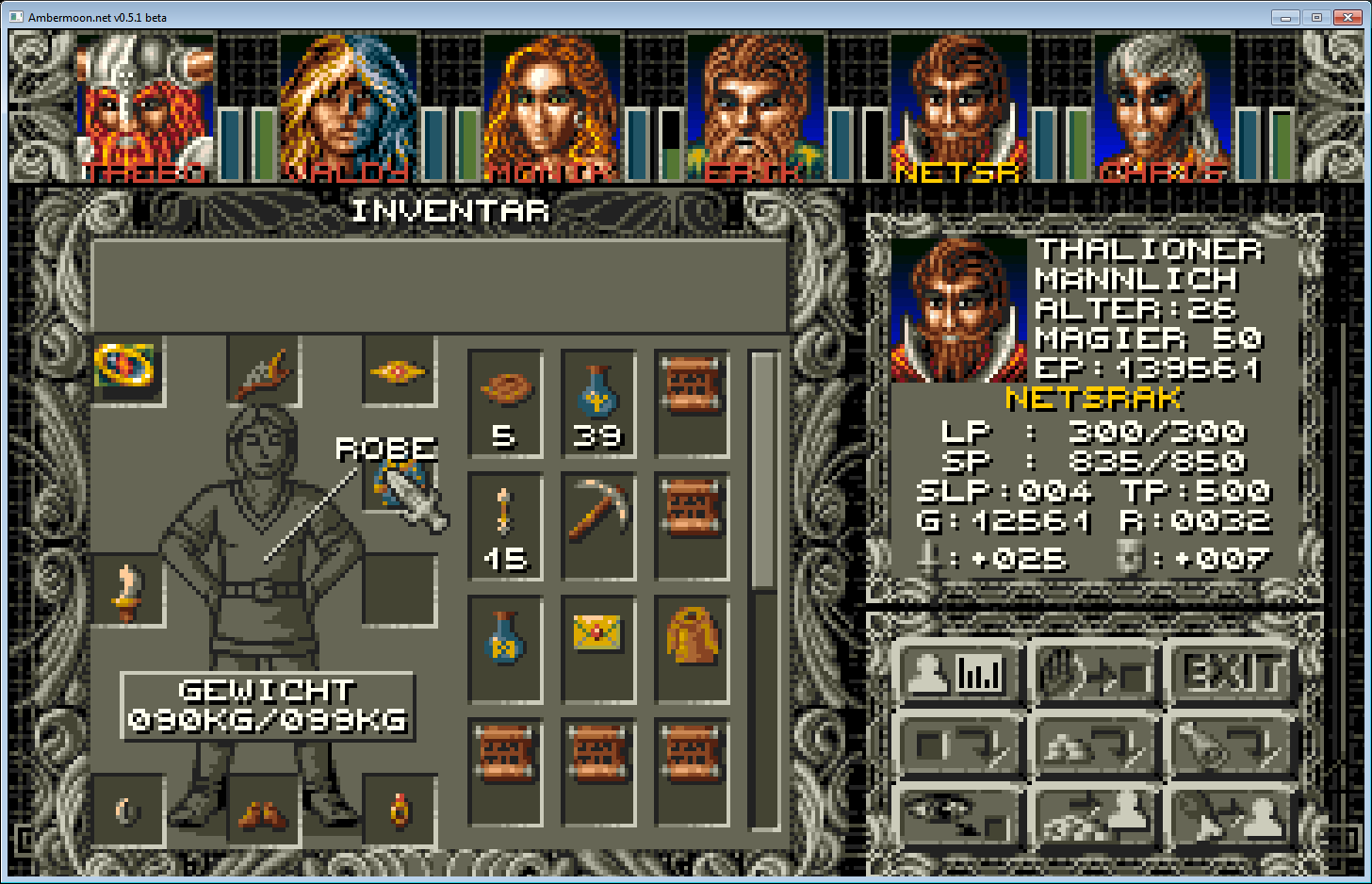 5. The inventory view. The old school mechanic of limited by Strength (and certain items) carry weight is in place. Even gold and food rations have burden.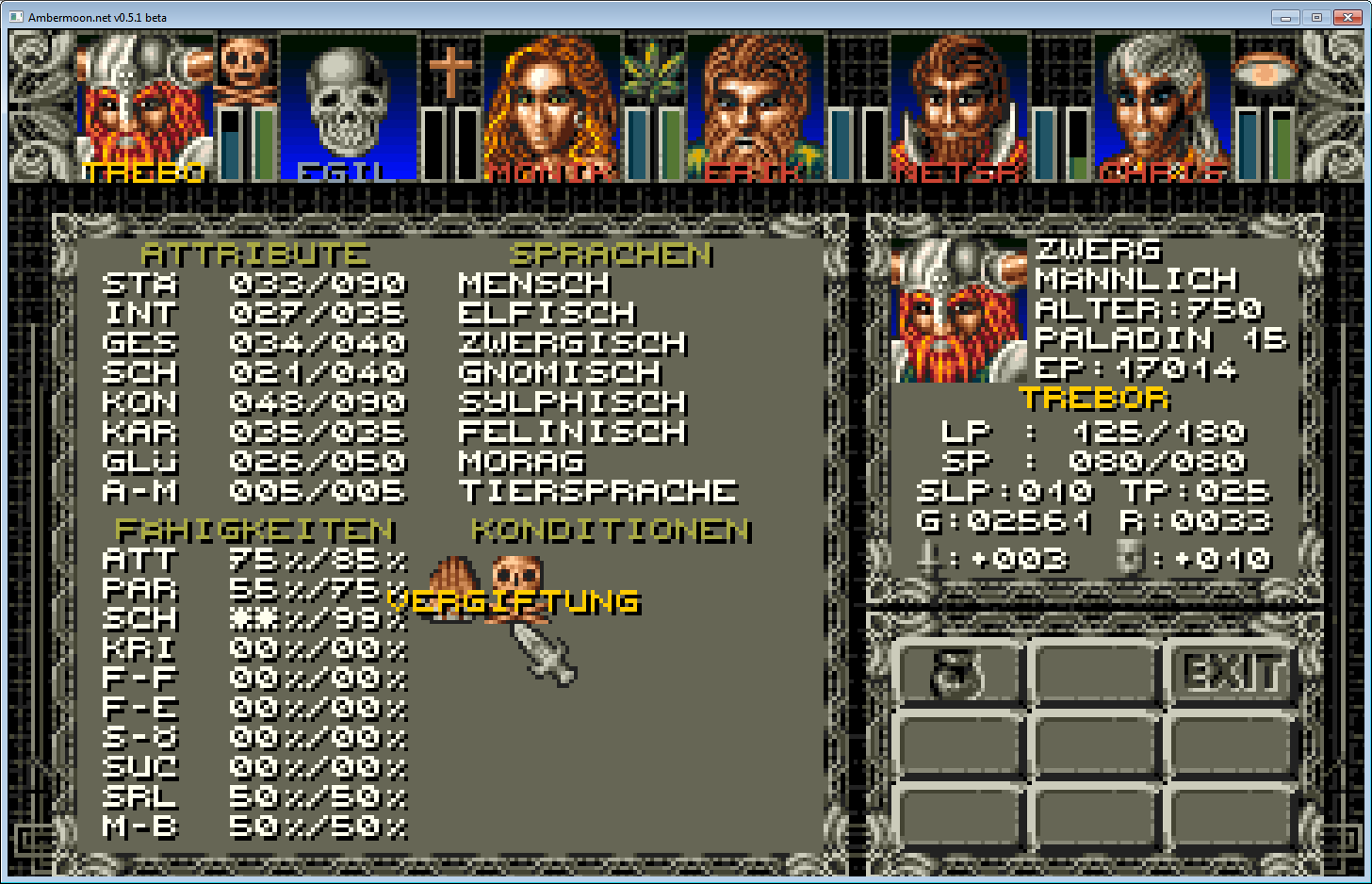 6. A character's "sheet" with many attributes (that are relevant towards other secondary stats, like Life/Spell/Spell Learning/Training Points gained per level or searching for secrets or defending against magic and so on), skills (like Scroll Reading to determine the probability of deciphering and learning a spell from the scroll or Parrying to determine the probability of defending against an attack via the respective combat option), and spoken languages (yes!).
---
To download, head over to the GitHub and click on the desired package (standalone versions recommended; available for Windows [either 32 or 64 bit] and Linux, all with German and English base datasets). You can also visit ModDb's game's page.
Please note that the remake is still in the beta state, but it already contains a major amount of the original content implemented and is under constant development from the driven creator. There are planned many improvements of quality of life, code bugfixing, and unofficial sequel nature.

If you wish to support the creator with his goal of finishing and enhancing this Ambermoon's remake, you can pledge on his Patreon or donate via direct links of PayPal or Flattr.