We have first update ready since Altitude0 beta testing started.
Here is a list of what the update includes:
1. Controls:
We implemented simple (standard) controls other than the professional ones. It should be easier for most players to play Altitude0.
2. Controllers:
Different controllers are supported: keys, 360 controller, RumblePad 2 and other generic game pads
3. A quick track was added. You can start racing easier before you can advance to the longer tracks. Now each track has different difficulty level.
4. Graphic quality control:
Graphic quality control will help better support different computer configurations.
5. Benchmark feature:
Try out simple but useful benchmark tool in the Altitude0 Launcher under Settings menu. It will help you quickly find out how well your computer can handle Altitude0.
6. Miscellaneous fixes:
Some game rules have been changed and plane adjustments were made.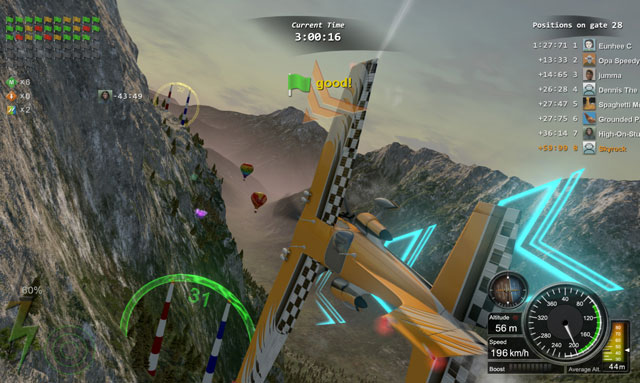 If you haven't created an online account, please do so. That way your replays are going to be automatically shared with others.
There are some small fixes which still need to be done, but this version should be quite playable. More features will be added before the game goes to open beta. As more updates are available, we will let you know.
If you have some problems or questions about the game, please let us know via our facebook (Facebook.com) or email (info@altitude0.com).
Thank you for trying A0 and helping us improve it.
DareM