Download Game: Drive.google.com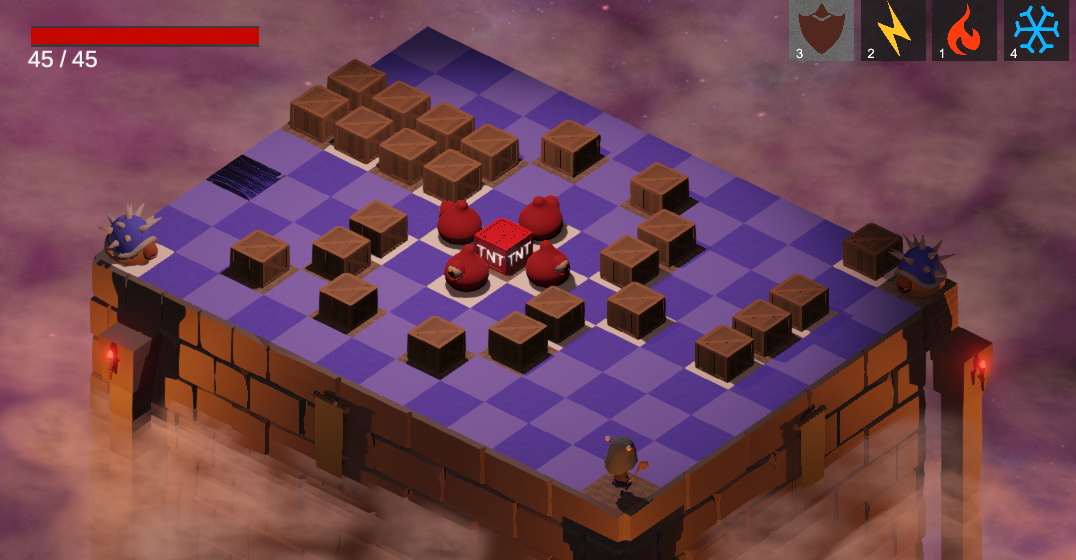 In our previous iteration, we discovered the powerful core mechanic that drives the game - a limited number of different elemental spells, each with a unique effect on gameplay forcing players to choose between pushing enemies away, protecting health, moving through obstacles or blocking enemies constantly
Here's what we changed since then
"The game is really hard"
We heard that from multiple people. While it's engaging to keep dying and coming up with new strategies - die too many times and the player becomes frustrated. The difficulty of our game was a result of poor level progression - it went from expecting you not know any elements, to expecting you to use all of them simultaneously, and poor guidance at some using some of the elements.
We fixed it by adding 4 levels, each dedicated to teaching the player one of the 4 elements, what it does and in what contexts to use it.We then threw in a few medium difficulty levels before introducing our previously really hard ones
The game was also hard because it punishes the player repeatedly for making one mistake by making it really hard to get the enemy off of you once it's gotten you. We now allow the player to use electricity to knockback enemies that are right behind them
"What does Water do?"
No one understood what the water spell did. The goal of the water spell was to give players a way to recover health
To enable the same goal - we replaced the water with the shield which can be placed on any square and will prevent the enemies from damaging the player while they are on that square
"Where's Poly?"
Since our game is about recovering planet Hexon's last Persian cat - Poly… player's wondered why they never saw much of her in the game. So we fixed that by adding Poly to every level.
We also added fog and other minor theming to create a more intense yet strategic game feel
MORE ENGAGING
To allow players to make even more interesting decisions, by allowing them to gain depleted elements through item pickups and made the game multi-level so players experience the joy of mystery as they explore parts of the map they cannot see