Zooming in and out is a new feature in Scott in Space. A few friendly pepole who tested the very first early alpha version of this 2D platformer reported that it's sometimes hard to see where you go.
Instead of implementing a classic look-up-and-down feature that would have required additional keys in use (which is not a good thing to go with for a game that will be available also for mobile devices), I created zoom out zones that... yeah well, guess what they do!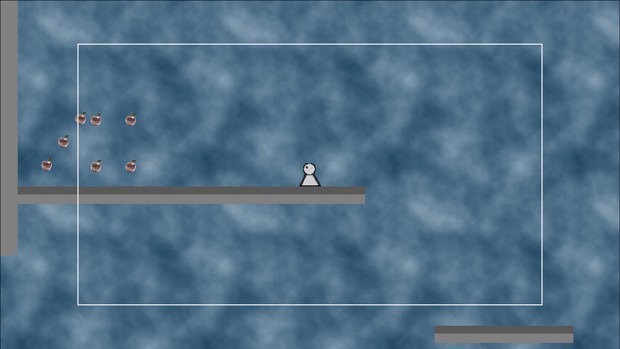 The white frame shows how much of the scene you would have seen without the new zoom feature.
The in-editor shot of Level A shows the purple zones which make the screen automatically zoom out when you enter them and zoom back in when you leave them (red zones are instant kill zones and the yellow zone is the level win zone).
Of course I could simply have made the game constantly zoomed out, but I want to keep that feel of being close to the character. And I think the zoom out also gives some motion and depth to the overall action on the screen.
Play now
You can play Scott in Space v.0.14.11.26 in your browser right now, right here!

Remember to track the game and to comment, give a like on facebook and a friendly cheers!