Hey guys,
Sorry about the long time between updates!
Here are most of the things that have been going on since we were gone:
Hammer: Basically we have been having some major problems regarding hammer and VRAD. VRAD does not want to cooperate with us no matter what we try to do. Something to do with the amount and complexity of shadows hitting a single texture. So we were forced to remake certain parts of the problem levels.
Alpha: Due to the mapping delays, we have yet to release alpha to our small group. However, now that hammer has been sorted out, alpha should go live in the next week or so and hopefully Beta not too long after that.
T-shirt: For fun in our art class we decided to create a Tension T-Shirt. We figured since we had the resources to silkscreen, why not give it a go! This was just a bit of fun, a test even, and a cool way to get the word out about Tension at school.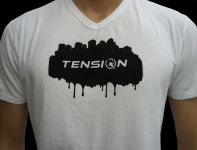 Fall Damage:
Hey guys! Just here to steal Cooper's post for a second to talk fall damage.
(As always there is a video below for those of you who aren't fans of reading.)
Designing the fall damage system for Tension was a little odd because of the way the game is designed. Obviously the current HL2 fall tolerances wouldn't do for a game where you are flying through a city hundreds (and sometimes thousands) of feet off of the ground. So first off we needed a way to penalize the player for hitting too hard. After all, what's the point of airbrakes if there is no fall damage?
So then it hit me, what's a good penalty? Time and Control.
Because on a time trial map losing time may as well be losing health. And losing control (maybe not losing control over your player per say, but losing the ability to see or react as quickly) will make it difficult to continue.
So the fall damage system has four tiers, which are as follows:
Safe fall:
A minor fall or landing, causes no ill effects except for maybe a hard landing sound effect.
Medium fall:
No direct loss of time, but you will gain a harsh red screen tint and after further development a blur or some sort of overlay (think CS:S flashbang)
Hard fall:
You gain a harsher red tint (end eventually blur) for a longer period. You are also frozen in place for a few seconds while re-cooperating from your drop.
Fatal fall:
You lose the most time ever. You die.
Note: Effects, animations and heights are not final!
New Team Member:
Our good friend Spencer is joining the team.
His job will be to create both the story and soundscape for our game. We believe him to be very talented in both fields. As far as creating music, you have already heard a lot of his stuff in the videos we have released so far, including the track in this post's video. Expect to hear more from him in the near future.
As always, comments and feedback are appreciated.
-Cooper (and a little bit of Alex)