You can browse on over to the file section and grab a copy of the first alpha build of the game. You'll be able to play the 10 minigames in one of two gameplay modes. Please note that, for now, a gamepad is required to play. I would really appreciate feedback on what is working so far and what isn't, as well as any suggestions on how I can improve the game experience.
I've also released a new trailer to show off some of the changes that I made in response to criticisms that things were too static in the game. Hopefully things are more dynamic and lively now. I'd really like opinions on how much the new version improves over older versions and if more work still needs to be done.
There are also three new games to show off since the last update.
Planks and Placards is like Simon Says. The Imp captain will raise up a placard. It will have either a red strip, or a green strip. If the strip is green, you have to push the button before the placard is lowered. If the strip is red, you have to press nothing. Press the wrong thing, or don't press in time, and you will fall into the water.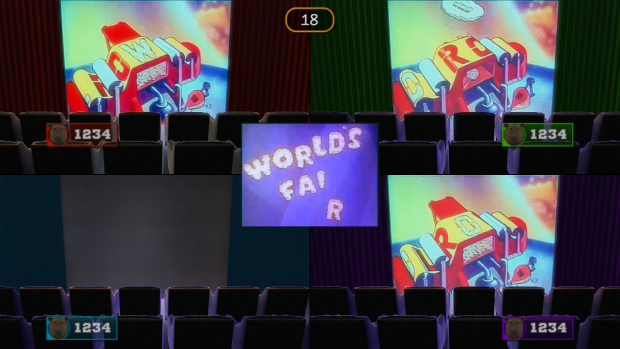 Projector operator has you trying to match the frame of a public domain cartoon with the target frame in the middle of the screen.
In Roll On, each player chooses a button to press per round. The goal is to be the only one to select that button. If nobody else pressed the button you did, you'll roll forward on the platform. The goal is to be the first to reach the front of the platform.