Hey there!
It's been too long. The release version has been done for a week or so, but sadly Desura is flooded with game applications at the moment, so it's taking much longer for System Recovery to make it onto the "shelves". I felt bad for not calculating this possibility in, so I decided to release a demo version before the actual release with no feature cut from what the game already has at this time.
Here are some very recent screenshots from the game: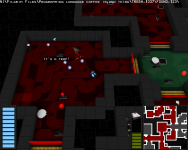 In addition, the first version of the level editor is also made available, as well as a simple tutorial to teach you how to make your first mappack! Go nuts!
Any feedback would be much appreciated! The most preferable place to do this would be the brand new forums I have set up for the game here.
-Dan