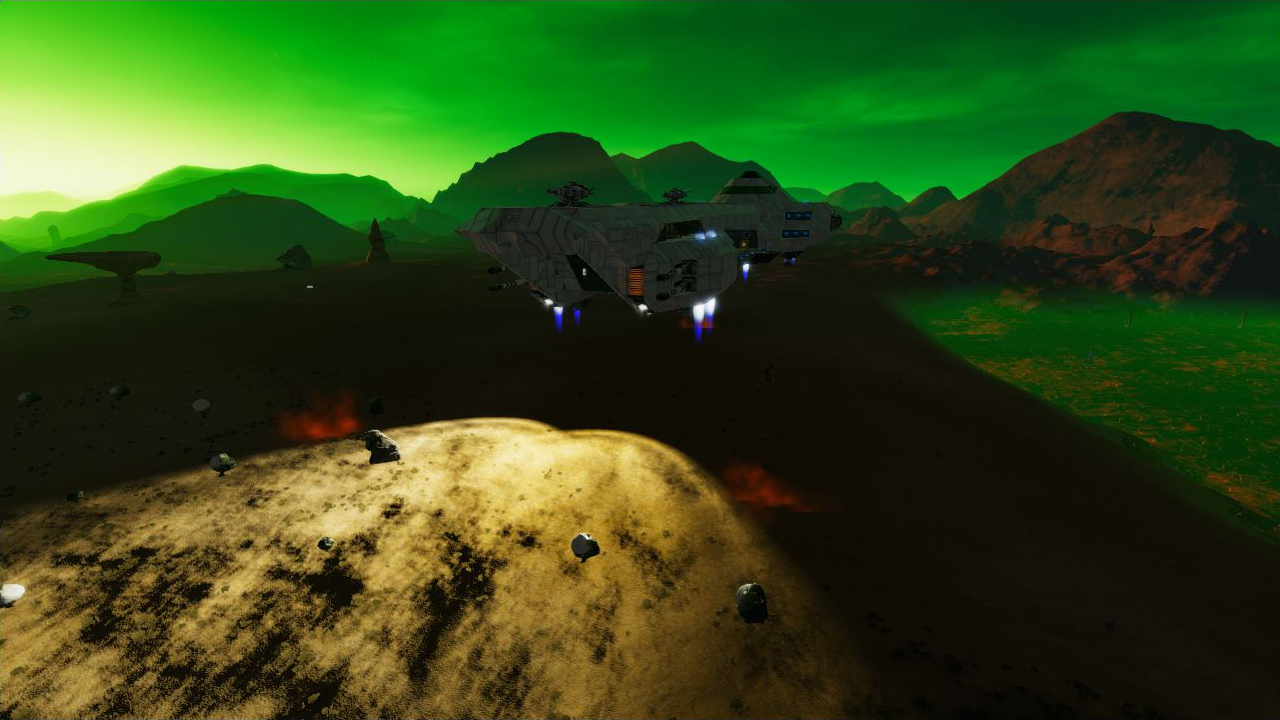 Hi Galactic Survivalists,

The Alpha 6 release was a huge success: the Empyrion community has significantly increased in numbers and we also hit a new all-time high of 6859 players online simultaneously. That's awesome!

So don't let us waste too much of your playing time then...what's new in Alpha 6.1?

The update fixes a couple of issues like the plant dying bug, food perishing bug, blueprint-Workshop issues, mech robots shooting through walls, deco not always removed from POIs, jetpack and other sounds being heard over the whole playfield and a few other nasty buggers.

We also added standard spotlights for CV as well as angled spotlights for all vessels! The motorbike will now fold to a "power save mode" after 5 minutes if not used (just pick it up as before and place again) for performance reasons...and for another, yet undisclosed reason ;-) In 6.1 we also added new destroyed blocks, a new enclosed cockpit and a few adjustments to game features, for example the chat.

On a side note, because we've seen a lot of feedback on this topic: In A6.1.1 (which is not far away) we plan to change the way how no build zones in regenerate areas behave. So you do not lose your vessel in that area anymore.

Trusted Servers:
We would like to remind all server providers that fulfill certain criteria to apply for our "Trusted Server" label: Empyriononline.com
As a trusted server, you will be shown in blue color in the Server Browser and players can filter for official and trusted servers by enabling checkbox "Hide standard servers".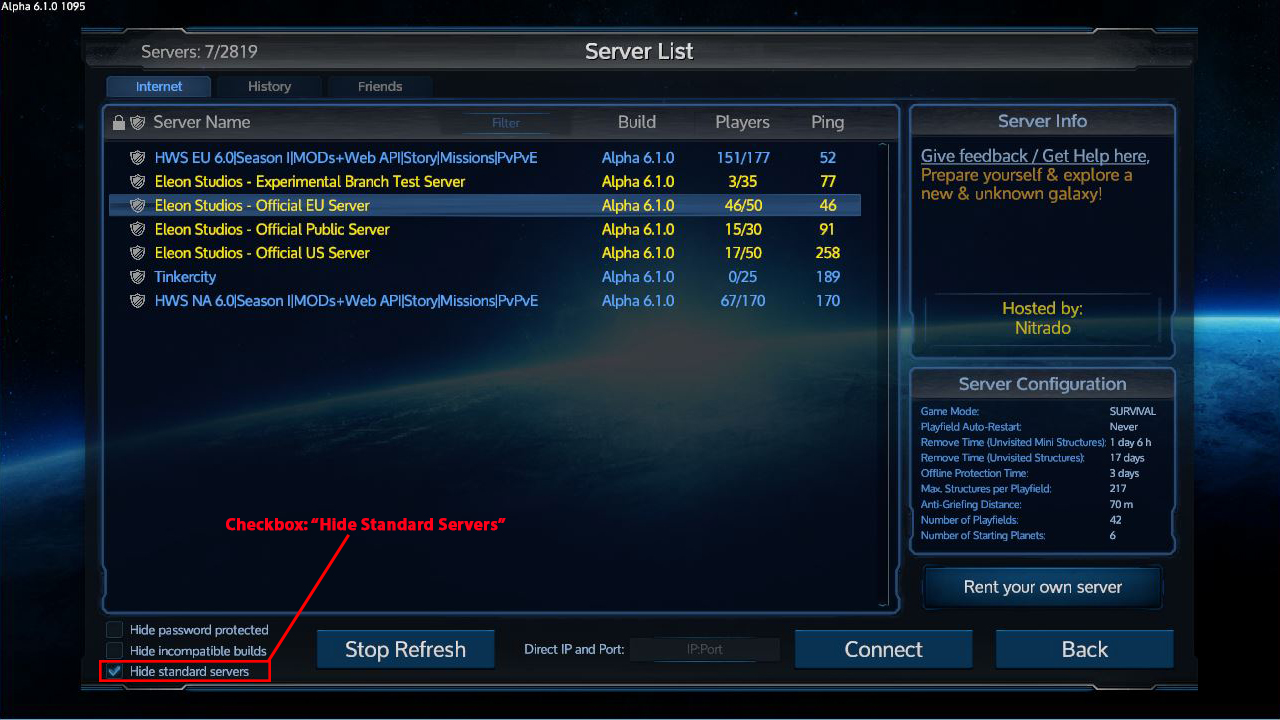 Crashes on Game Start:
For those of you who experience crashes when starting the game (before you get to the main menu), we might have a fix: You need to start Empyrion with a batch file that you can download here: Dropbox.com
- Copy the batch file into the Steam folder where you have installed your game (e.g. D:\Steam\steamapps\common\Empyrion - Galactic Survival) and execute it
- The batch file starts Empyrion in a mode where Workshop data is loaded only when needed, i.e. when you first enter the New Game menu or the Blueprint Library

For all other Crashes-to-Desktop (CtD), Game-Freezes and related issue, please check this thread at first: Empyriononline.com
Please report all gameplay bugs found in Alpha 6.1 over here: Empyriononline.com

Thanks a lot!

Cheers,

Empyrion Dev Team

================

Changelog: Alpha 6.1.0 (Build 1094)

Additions:
- Added new cockpit
- Added spotlight slope block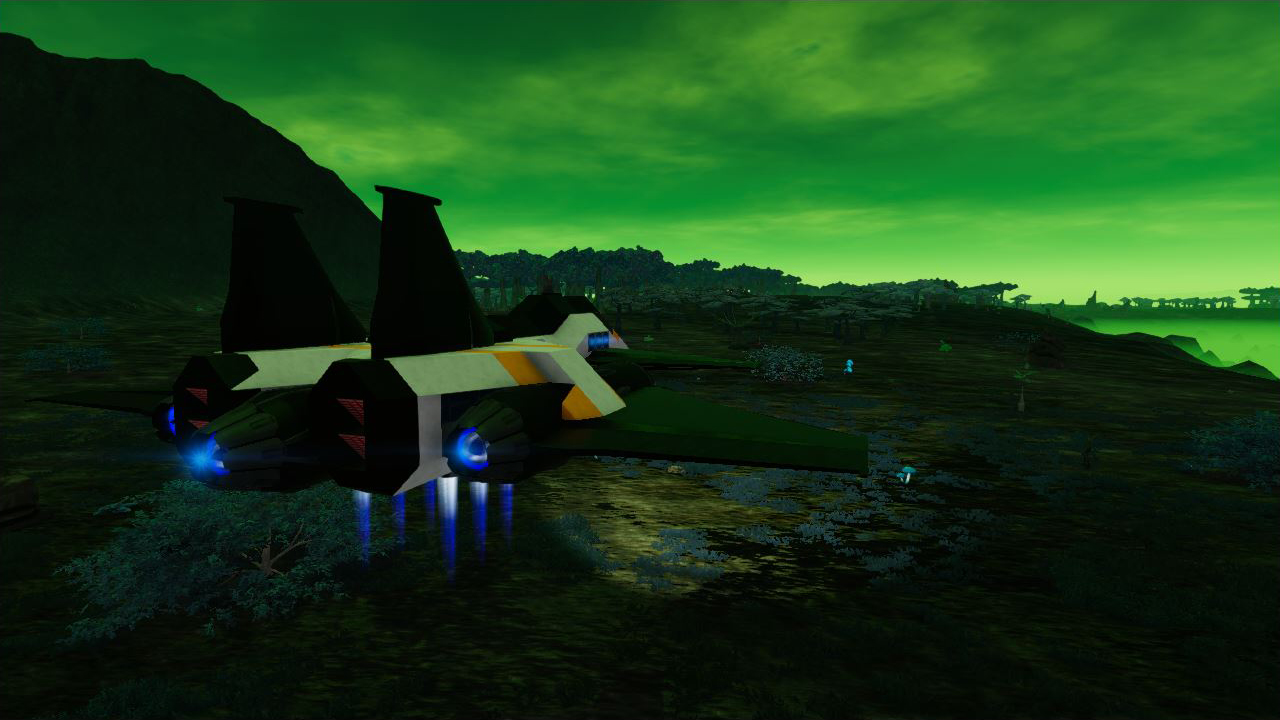 - Added spotlight blocks for CVs
- Added new destroyed hull blocks + updated existing ones
- Added "folded" version of Motorbike: Motorbike will convert into this "energy-save" mode after 5 minutes if placed on terrain and not used (note: idle motorbikes that just stand around are very "expensive" in terms of performance)

Visuals / Sounds:
- Tweaked sounds of drones, vessel weapons and base weapons, as well as NPCs so that they are not heard anymore over the whole playfield
- Replaced drop container, bag and backpack with better models (say goodbye to the old Samsonite suitcase)
- Updated GUI for Terrain Placeables (O2 Generator, H2 Generator, Autominer, etc)

Changes:
- Updated and improved in-game chat
- Drop Containers now immediately de-spawn when emptied
- "Back" button in container windows is disabled if player does not have faction access to a structure
- Repairing AI Planet Vessel when it returns to its docking platform
- Added info to planet description (Akua) that there is a tutorial
- Removed water bottle from PDA task
- Added proper preview pic for Dead Plant (large) and Dead Plant (small)
- Better console command description for 'remoteex'
- Added better description to Motorbike
- Renamed raptor into dinosaur

Gameplay:
- Adapted start equipment on all starting planets (eg Survival Constructor in inventory): What do you think about this change?
- Growing Plot is now airtight
- Updated PDA: Huntsmen Akua
- Removed collision for Akua berry bush and other bushes.

Bug Fixes:
- Fixed: Problem when subscribing multiple Blueprints with same title from Workshop
- Fixed: Error when uploading Workshop item to workshop in certain situations
- Fixed: Deco / grass not removed from POIs in certain situations
- Fixed: Owner of Faction is shown as "Member" for other members of the faction
- Fixed: Can not promote member beyond member
- Fixed: Traders falling through ground on planets in certain situations
- Fixed: Mech NPC can sometimes get stuck on some blocks & shoot through blocks when stuck on them
- Fixed: Mech and Zirax NPC shoot through hull blocks in certain situations
- Fixed: Exploit when changing faction (or gaining access to any device) of another player's structure using Lock Code
- Fixed: Sector map shows wrong lines / arrows in conjunction with allow|deny control
- Fixed: Deactivating Vessel per Y button leads to instant-perish-drop/spoil of food in fridges (MP)
- Fixed: Plants randomly dying related to adding & removing blocks, devices or plants of other bases in the same playfield
- Fixed: Can not damage/destroy blocks of a downed PV
- Fixed: Patrol Vessels is sometimes indestructible (MP)
- Fixed: Player collider is sticking through thin walls / windows when looking down and thus NPC can shoot you through the wall
- Fixed: When in the same playfield as other players jetpack & motorcycle sounds can be heard from far away
- Fixed: Problem that autominer removed terrain when placed
- Fixed: Escape pod isn't accessible in some places.
- Fixed: Removing a Landing Gear T2 from a SV returns a Landing Gear T1
- Fixed: NPC sound can be heard from far away (MP)
- Fixed: Regeneration Exploit Grief
- Fixed: Error spam when player dies in certain situations
- Fixed: Promote/Demote buttons not showing correctly after Promoting/Demoting in Faction Window
- Fixed: Radiation Pills: Health is noted twice in the info popup
- Fixed: Player inventory (TAB) shows "body temperature" in °C although set to °F
- Fixed: Dead Plant could be placed on normal hull blocks (now it can only be placed in Growing Plots)
- Fixed: Repair Bay and Ventilator missing airtight block info
- Fixed: Exception in Menu Tab Selection Window (support email: #F4279)
- Fixed: Error when manually completing PDA jobs while chapter is deactivated (support email: #A76BB)
- Fixed: Several issues, missing faces / damage states with destroyed blocks
- Fixed: Chat input field is stripping out characters
- Fixed: Looping messages in server logs
- Fixed: Several other internal exceptions found in output logs sent in by our players