I've been focusing on retesting every existing feature and fixing issues over the past week. With the Steam Early Access 3 weeks away, I'll be sending out press builds soon and want the game to be as stable as possible. This means the Stock Market feature won't be ready until after the Steam version is live. Having said that, Alpha 1.6 is now live and there's a few new things in addition to those mentioned in the last post.
You can now buy Lottery Tickets from the Mall. This probably sounds strange in a game about smart financial decision-making. The lottery is drawn at the end of each week. If you lose, nothing happens except you wasted your money, but if you win your happiness increases. On average you will lose money just like in real life, so playing the lottery is only useful as a way to increase happiness.
Next, I found some flaws with the way I was calculating repayment rates for home mortgages. I was using the same formula that was used for personal loans, but this made the monthly mortgage repayments very unaffordable. I've changed it so now when you take out a mortgage, it will always be paid back in 30 years (unless you pay off the principle early). This makes the loans much more affordable and realistic.
Improvements have been made to the personal loan and mortgage screens as well. They will indicate the current monthly repayments so you can work out whether you can afford the loan. You can compare the repayments with current rent prices to see if it's cheaper to rent or buy a house.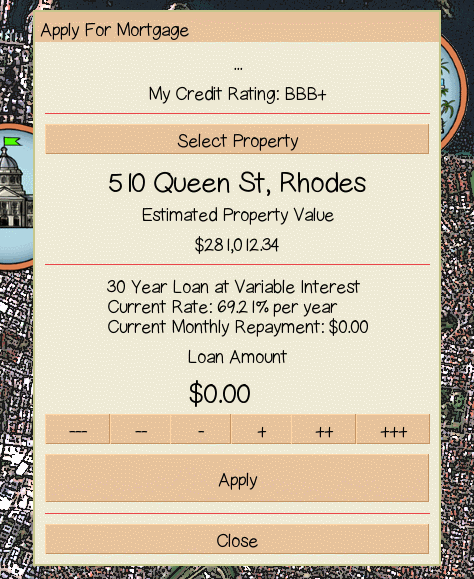 One thing to remember is that all loans are variable rates. This means if interest rates increase, then your repayments will increase as well. This is yet another reason to keep an eye on the Economic Charts I introduced in the last blog post. If you see interest rates are on the rise and economic growth is falling, be careful you don't borrow more than you can afford to repay.
Finally, you can now paint your Collectible containers! Just buy Cans Of Paint at the Mall like you would for your house, and then a Paint Container button will appear under the collection display.
Here's a list of all the changes in 1.6:
New Features
Added super cool loading screen at start
Added image for losing game
Added economic indicator charts
Added life goal history tracking and charts
Added shortcut key configuration to Options
Added details view for real estate in Possessions
Added Financial Dimes subscription
Added lottery ticket possessions
Added painting Collectible containers
Gameplay Changes
Reduced impact of some needs-based events
Modified economic growth update rates
Added capital gains tax for sold real estate
Added separate Real Estate index and history tracking
Decoupled house price index from economic growth index
Changed mortgage repayments to 30-year terms
Bugfixes/Improvements
Edge scrolling only happens when window in focus
Made banking popups and alerts more consistent
Fixed able to apply for home without home selected
Removed Real Estate label from Possessions panel unless we have real estate
Overhauled Statements display
Lots of minor UI tweaks
Fixed missing Coin Collecting Album from Collector's Store
Split tax return into more specific income/expense categories
Added estimated monthly repayments on mortgage and personal loan
Fixed missing Bachelor Of Arts and Philosophy from university
Fixed withholding tax not taking into account inflation
Fixed yearly tax calculation not taking into account inflation
Fixed medical bills not taking into account inflation
Fixed missing sound effect for 'free' actions
Fixed possessions not appearing in Possessions panel when hidden objects purchased
Fixed repayments too high on mortgages
Fixed loan principle increasing faster than repayments
Fixed real estate investment interest being treated as tax offset instead of tax deduction
Fixed Interest income going into tax payable instead of income column on tax return
Fixed deadlock when processing transaction history causing game to hang