Lots to talk about! Firstly, the Steam page for This Grand Life is up and there's a new trailer to go along with it. I'll be launching on Steam Early Access on 23rd October and aim for a full launch in the first half of next year. If you purchased on Itch.io, you will get a Steam key.
Alpha 1.5 includes the new theme feature and Comic Book collectibles discussed in the last article, new career paths, education courses, traits, random events, balance changes and more.
When adding new content, I try to keep things varied by using existing game mechanics in different ways. Two examples are the Law and Accounting careers.
For the Law career path, you start out as a Paralegal after you get your Law degree. When you have gained enough Law Experience, you get access to two further occupations. You can become a Legal Officer, which pays more. Or you can become a Community Lawyer, which has the unique mechanic of increasing your Happiness every time you work. The next tier up is the Corporate Lawyer, which requires the player to take the Bar Exam as a prerequisite. It pays a lot more money than either the Legal Officer or Community Lawyer.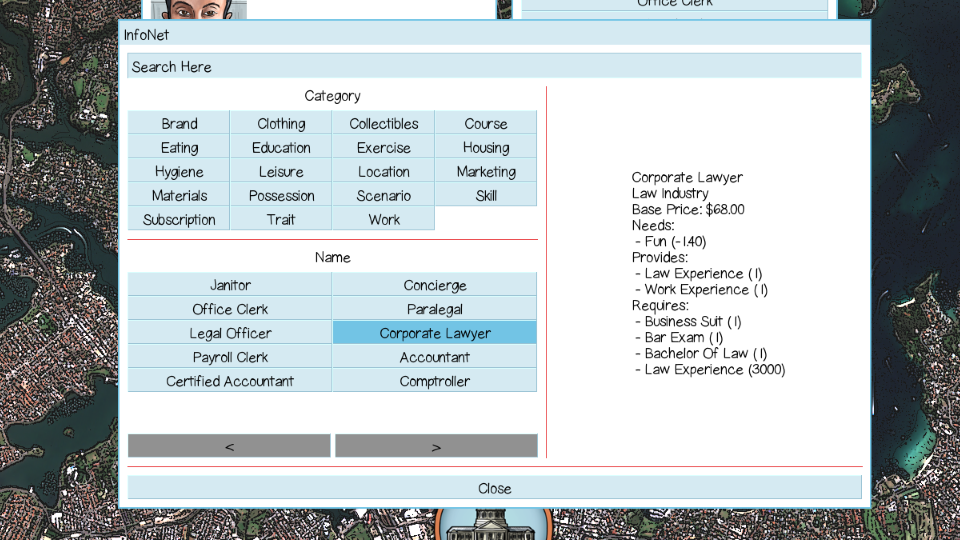 The Accountant career path is different. In this career, you can start gaining Accounting Experience as a Payroll Clerk before you even get your degree. Once you have your degree, you can then become an Accountant. After that you take the CPA Exam to become a Certified Accountant, then finally complete a Diploma in Management course to become a Comptroller. So lots of courses to complete to reach the top of this career, but it pays extremely well.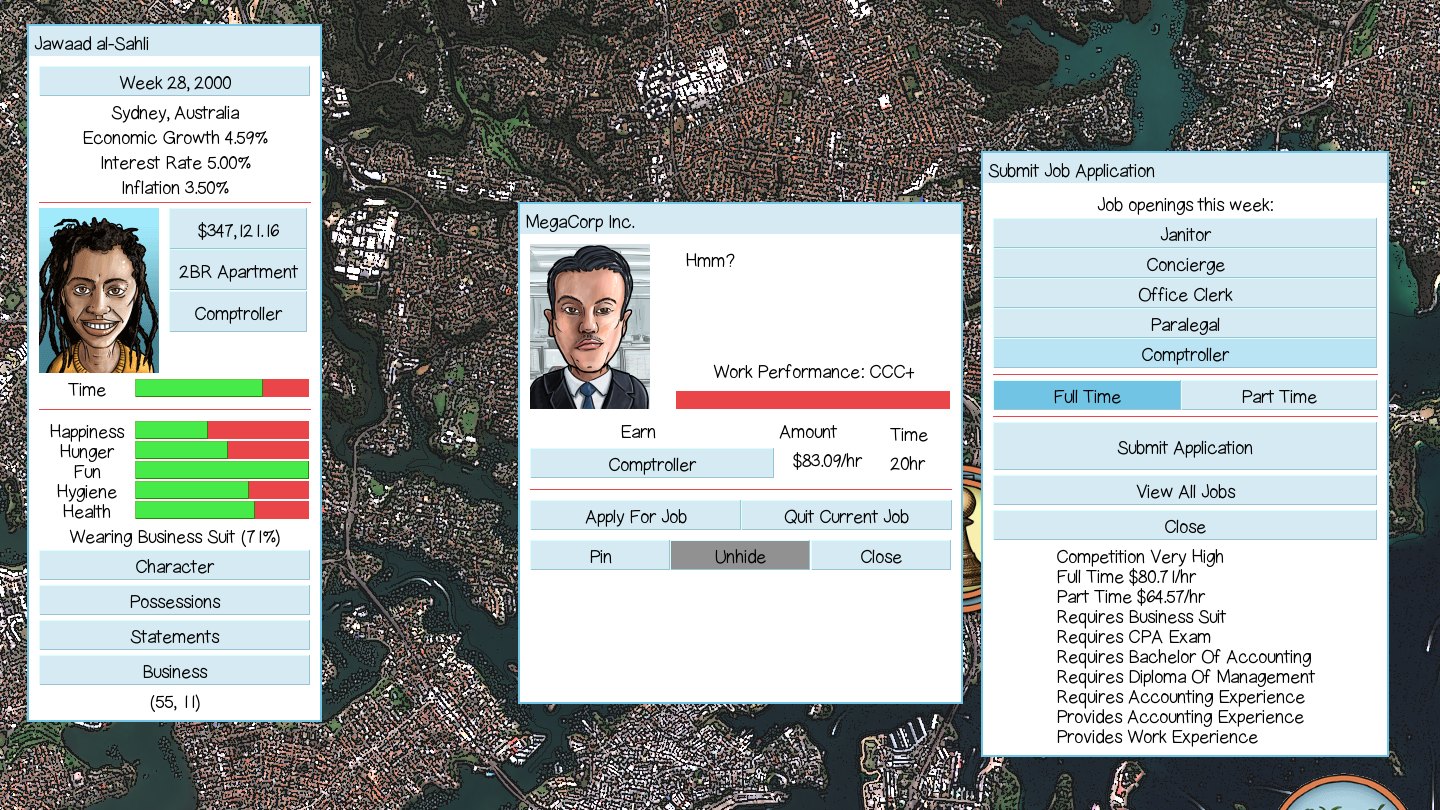 In this update we'll also have more random events. Some examples are stepping on chewing gum and having an old friend call you, which changes your needs slightly each week.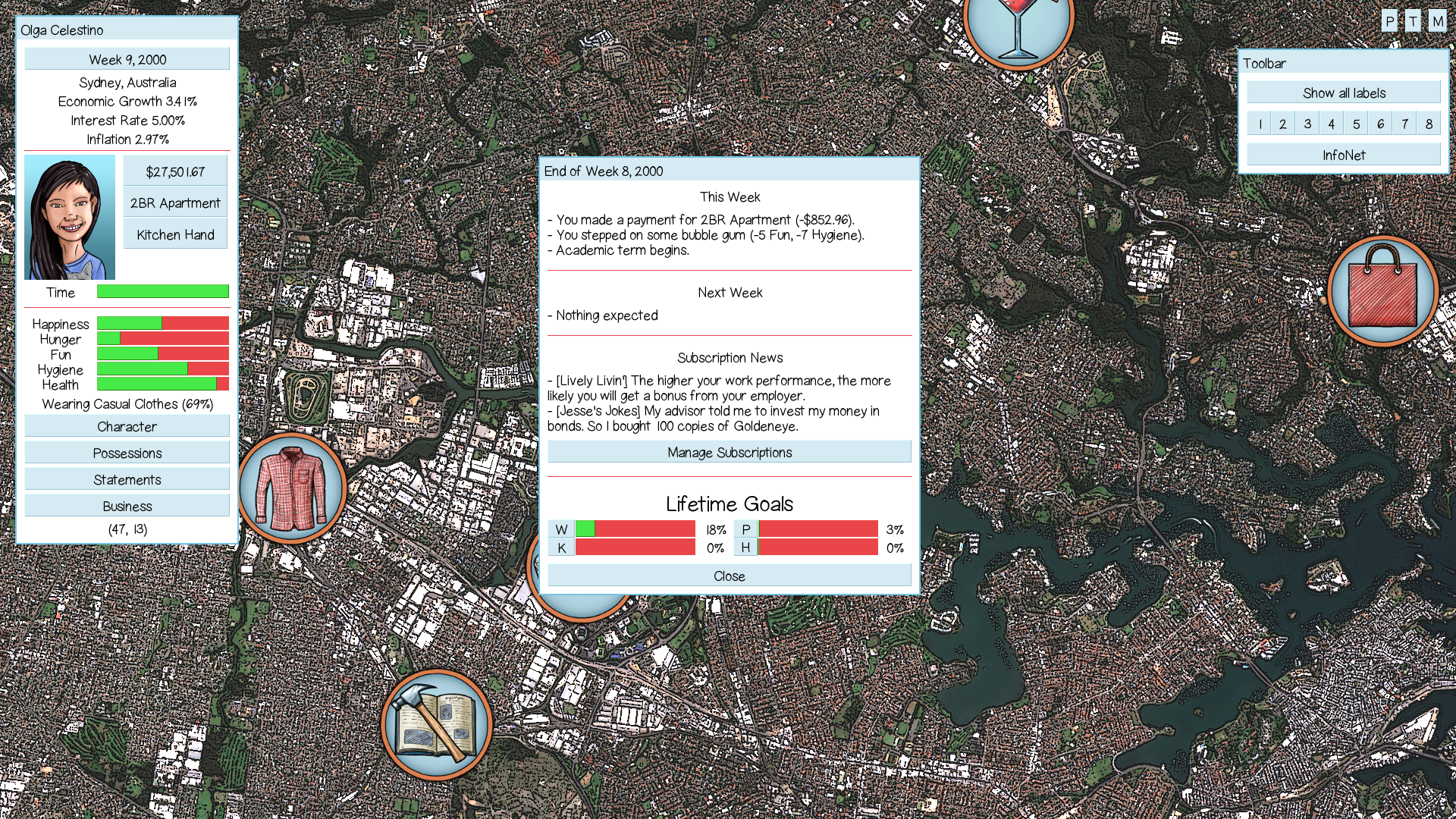 Next we have more traits. Here's a short list of some of the new ones:
Deal-hunter - You're always looking for a great bargain. All Subscriptions cost 25% less.
Optimistic - Your Happiness recovers faster when it drops below 50%.
Lazy - It's hard to get out of bed. Lose 7 hours each week.
Short Legs - Travelling between locations takes 20% more time.
I've also made some slight adjustments to the Happiness need. One of the aims of the Happiness need is to kill off the player if they haven't been managing their money properly. For example, if you can't afford food then your Hunger need goes down the zero and then your Happiness need starts decreasing. However, this could also happen if the player wasn't paying enough attention to the needs bar (even if they had plenty of money).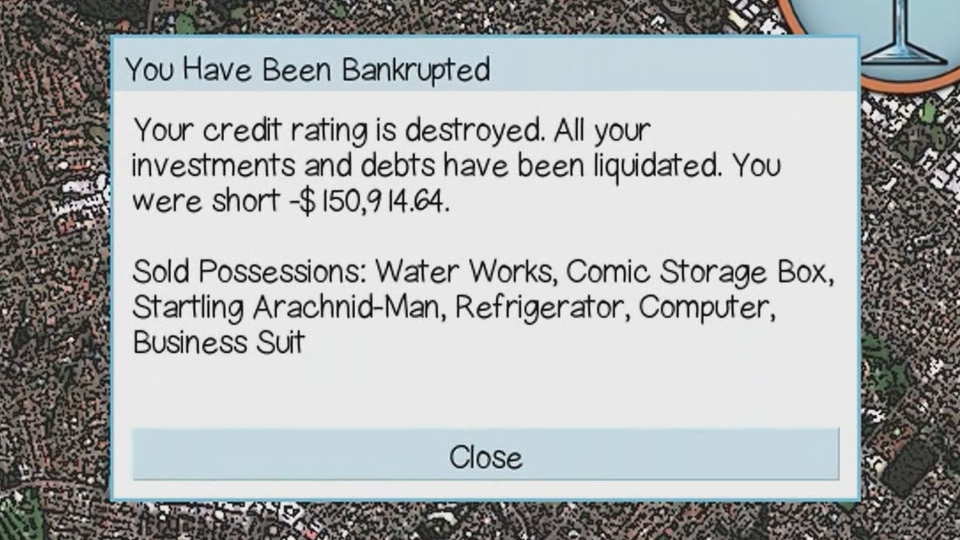 I didn't want to punish the player too much for inattention. So I've significantly slowed down the rate of Happiness decrease when this happens. In practice, this means you will be less likely to go into a spiral of depression and 'moping around' by accident. It also means if you have run out of money, your journey to insanity will take slightly longer.

Finally, last time I mentioned the Commodities/Stock Market feature was in second place in our online poll. Well now it seems to have taken the lead by a large margin!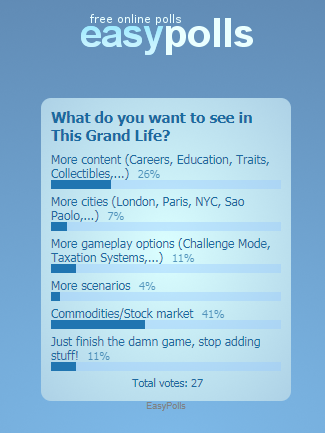 Here's the full list of changes for Alpha 1.5:
New Features
Added traits Marketeer, Coupon Clipper, Deal-hunter, Lazy, Short Legs, Speed Walker, Optimistic and Pessimistic
Added Paint Home and Business functionality
Added Fast food coupon - Buy one get one free
Added Jesse's Jokes and Generous Giving subscriptions
Added 10 new random events
Added Law career path, Bachelor Of Law, Bar Exam and 4 related jobs
Added Accountant career path, Bachelor Of Accounting, CPA Exam and 4 related jobs
Added Office Clerk job
Added Skyscraper and Collectors Store locations
Added Comic Collectibles and Storage Box
Added location color themes
Added 'Light Reader' and 'Hoarder' ambitions
Added Can Of Paint possession at Mall
Added two music tracks
Added border around game map
Added Investment Manager to top of Finance career
Gameplay Changes
Refactored events system so only one random city event per week
Reduced rate of Happiness decrease when another need is at zero by 50%
Moved all collectibles from Mall to Collectors Store
Allow maximum 4 educations on character creation
Removed Work Experience requirements from Culinary career path
Added Bachelor Of Finance requirement to most jobs in Banking career path
Reduced fun and job openings from Social Services Manager and Licensing Examiner jobs
Reduced Cooking Exp requirement for Sous Chef and removed Cooking Exp requirement for Restaurant Cook
Increased experience requirements of Security career path
Bugfixes/Improvements
Slightly adjusted existing map dimensions
Added commas to all currency displays
Added tooltip when hovering over time and needs bars
Fixed some low-quality avatars
Now storing historical economic indicator data for each game
Added auction caller sound effects
Cleaned up in-game InfoNet
Renamed 'Ancient Rome' collectibles to 'Roman'
Enabled random city-based events in scenarios
Added player businesses to bankruptcy proceedings
Add needs translated string to InfoNet Search
Added jobs at each location to InfoNet search and display
Fixed bug with time being used on nothing at start of new week sometimes
Fixed annoying bouncing location panels when travelling between places sometimes
Fixed crash when going bankrupt at end of week with a Business Brand window open