Melee multiwielding! Major plot events! Mouse UI++! Adjustable difficulty! Alpha 14 is here! The second half of that "new narrative" introduced with Alpha 13 is now in place, and we're getting awfully close to 1.0. Only one more map remains... (plus a bunch of other non-content-related prep work.)
In related news (because it happened immediately after releasing this update :P), Cogmind has been Greenlit! Check here for more info about what's to come.
A sampling of some of the new features included in Alpha 14 (the full image summary contains other relevant images that I've shown previously):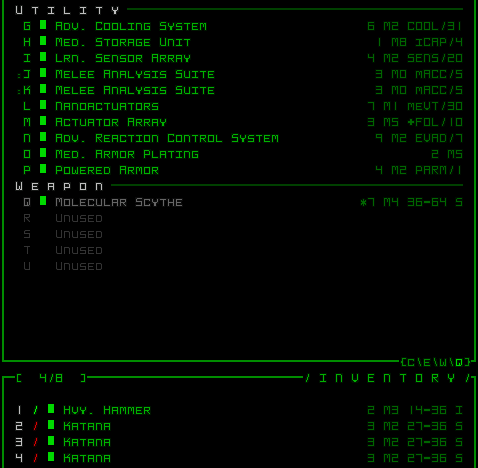 Melee multiwielding!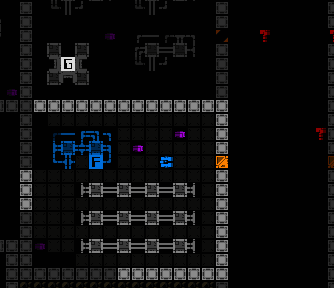 Attack with a lot of weapons at once, maybe even slice through one and just keep on slicing, if you're good enough :)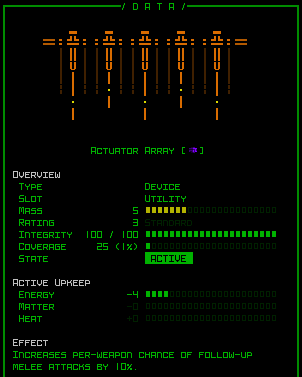 Yet more specialized melee parts.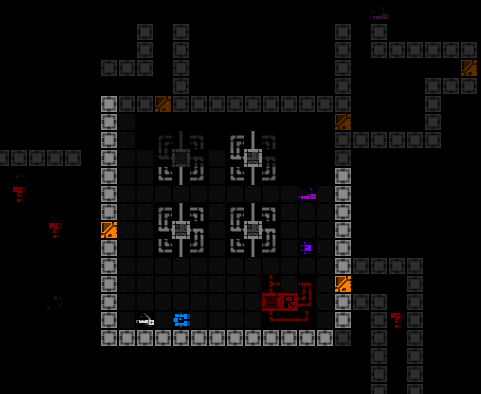 Unstable machines detected by a Structural Scanner now have an on-map counter showing how many turns remain until they'll explode.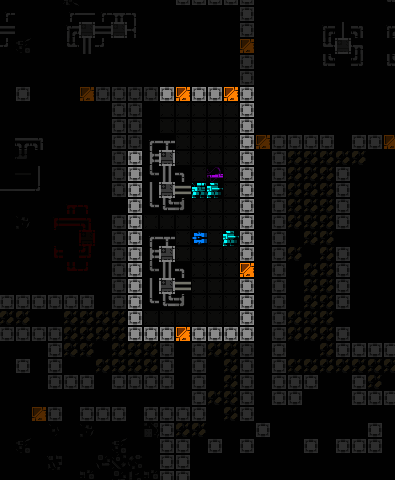 A new range of Thermal Defense Suites with AOE thermal resistance.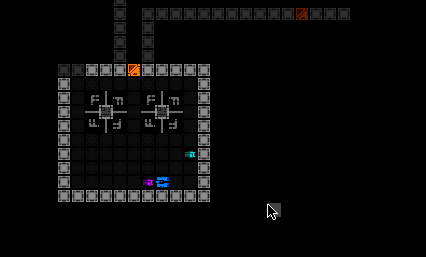 The Structural Scanner now has a fifth ability, highlighting areas that are susceptible to cave-ins due to instability.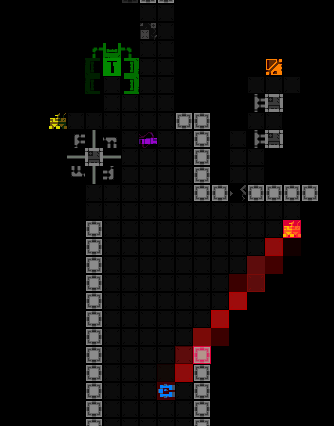 Guided waypoints can now be redirected more easily across multiple shots, with the line of fire always being recaculated from each previous waypoint as it is updated in keyboard mode.


Waypoint sets are also recalled automatically even when guided volleys are interrupted by direct fire.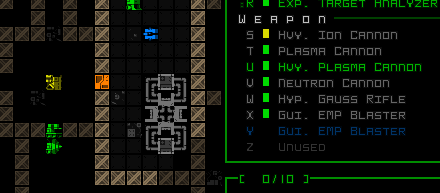 Line of fire is now recolored on the fly as weapons toggled on and off while in firing mode might affect the volley's capabilities.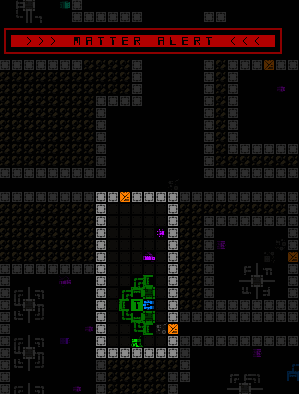 Hacking feedback now includes the potential for hackware destruction (it's not super common, and this was always intended, but it never happened due to a bug, now fixed).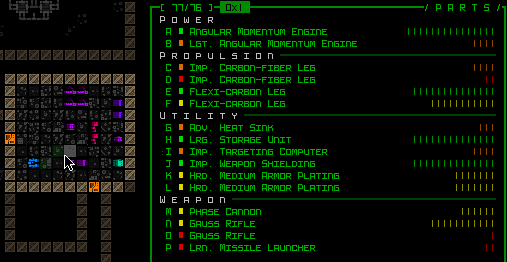 Mouse users now have access to automated/smart inventory management via a simple left click when with a full inventory.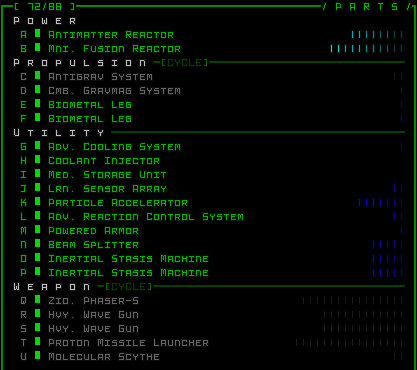 Mouse users also get new "[CYCLE]" buttons for propulsion and weapons to simultaneously toggle all their states.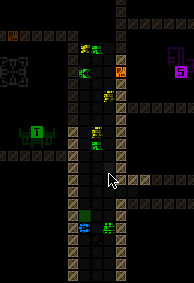 The mouse cursor has two new hiding options, for example it can be hidden while you're attacking, so it's easier to see what's going on (especially with small tile sizes).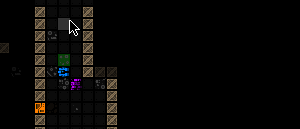 Or hidden during all attacks, and basically whenever input is blocked.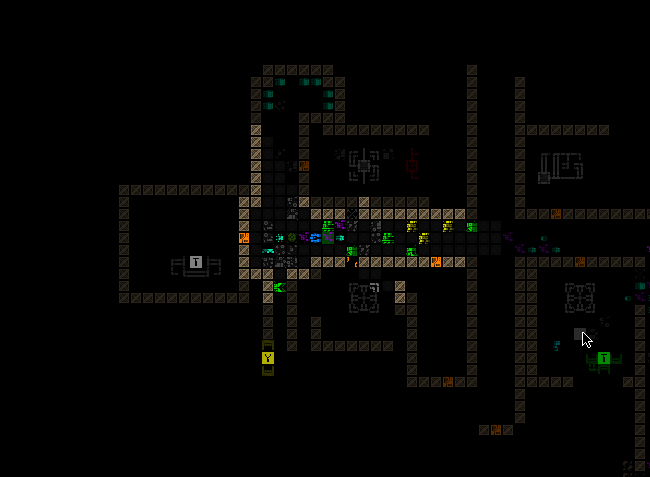 Right-clicking anywhere outside FOV automatically pans to that location.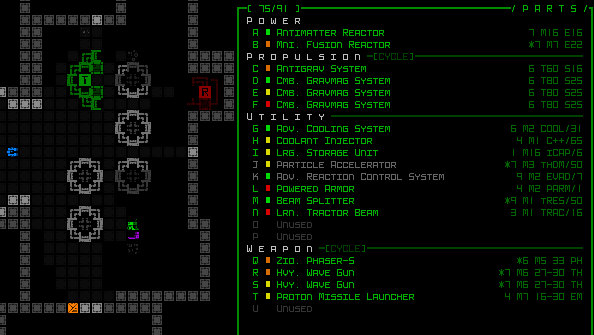 Mouse users can also interact with empty equipment slots, left-clicking to bring up a list of all applicable items for that slot.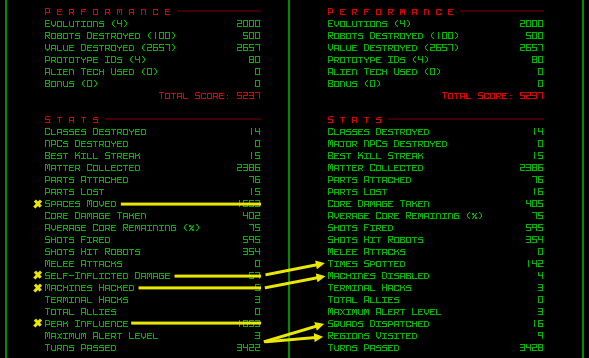 I changed a few of the stats shown at the end of a run.



To help collect lore, NPCs with dialogue you've already seen is instead marked in gray.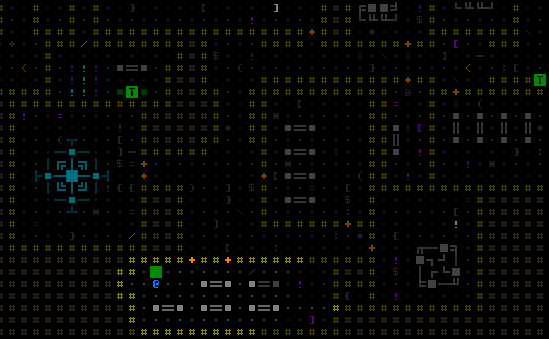 If you've already confirmed via a previous hack that there are no branches that lead out of the current map, calling up exit labels will remind you.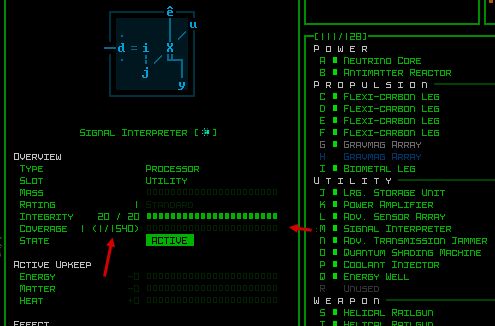 Fractional coverage reporting for those tiny items with < 1%.



Tutorial messages will flash for 5 seconds rather than 1 (maybe more people will actually read them? many are very helpful!).


See here for the full release notes with plenty more details!
The full Alpha 14 (0.10.170228) changelog:
* NEW: Branch map "Deep Caves"
* NEW: Multiple major plot events
* NEW: 5 new robots (2 with new art)
* NEW: 25 new items (6 new component mechanics)
* NEW: Easier difficulty modes available in options menu
* NEW: Score sheet displays difficulty mode at top
* NEW: Separate leaderboards for each difficulty mode
* NEW: Color of parts list divider lines reflects difficulty setting for current run (green/gray/blue), for easy differentiation in screenshots
* NEW: Game over screen uses different highlight colors for each difficulty setting
* NEW: Score sheet filename reflects difficulty with a new digit inserted before score (0/1/2)
* NEW: 0b10 has a deadly "High Security" state above Alert Level 5
* NEW: Score sheet now records cumulative play time across all runs
* NEW: Manual expanded with a new section on Difficulty
* NEW: "Unstable Evolution" experimental challenge mode (for now set in cogmind.cfg: challengeUnstableEvolution)
* NEW: "Scavenger" experimental challenge mode (for now set in cogmind.cfg: challengeScavenger)
* NEW: Dedicated score sheet section for challenge mode list
* NEW: Score history appends challenge modes active for a given run
* NEW: Message log reports what slots were just evolved on entering a new map
* NEW: Additional behavior related to a reset core and special Zionite builds, for lore reasons
* NEW: IMP:G-0014175/C-0630194 now includes ambient sfx
* NEW: Another beneficial random encounter in Mines
* NEW: Relative coverage percent for owned items that would otherwise be displayed as a rounded "0%" instead show a fraction (tactical HUD mode only)
* NEW: Melee multi-wielding
* NEW: Melee Analysis Suites also increase chance of follow-up attacks switching to a second target if first destroyed
* NEW: Melee sneak attacks and follow-up attacks tallied in score sheet
* NEW: Trojans already installed on target machine will not appear among autocomplete options for manual hacks
* NEW: Hacking feedback effects and results mirrored from hacking UI to the message log
* NEW: Melee Datajacks' item info includes description of how to use one to disarm or reprogram known traps (originally only in manual)
* NEW: Mouse users with full inventory standing on an item can simply left-click on self to invoke smart inventory management rules (same as Ctrl-LMB)
* NEW: Mouse users in tactical HUD mode have access to new parts list CYCLE buttons that toggle propulsion/weapon states (like keyboard ;/' commands)
* NEW: Cursor hidden while Cogmind attack animations play out (can override via cogmind.cfg: cursorVisibleDuringAttack)
* NEW: Option to hide cursor whenever input is blocked for any reason (config.cfg only: cursorAlwaysHiddenWhenInputBlocked)
* NEW: Right-clicking anywhere out of sight automatically pans the map to center on that location
* NEW: Empty slots are clickable to pull up a list of all applicable parts for that slot (no Ctrl required)
* NEW: Sound effect played to indicate robot hack failure because repelled by Programmer
* NEW: Non-stackable utility effects now have an explicit description label, "<no_stack>"
* NEW: Destabilized explosive machine countdown timers now visible on map when Structural Scanner data available
* NEW: Dialogue indicators in scan window, robot info page, and on-map flashing '?' all appear in gray if you've already collected that lore
* NEW: Data Miner more helpful
* NEW: Impact damage causes system corruption as a side effect of destroying a part
* NEW: After an Access(Branch) hack that found nothing, calling up exit labels reminds you there is no branch access from the current map
* NEW: Structural Scanner also highlights areas in view which are susceptible to cave-ins due to instability caused by collateral damage from explosives
* NEW: Score sheet records total damage absorbed by shields
* NEW: Lab contains a new Warp Cannon (replaces Warp Gun)
* NEW: Autosaves occur silently every five minutes (interval adjustable in cogmind.cfg: autosaveInterval), though waits until idle for five seconds
* NEW: Multiple instances of Garrison Access redirects may be discovered and have local consequences
* NEW: Added manual section "Salvage" (under Combat)
* NEW: Remote Datajacks can be used to restart disabled allies from a distance
* NEW: Any Datajack can be used to rewire disabled/disrupted robots at a much higher chance (50%) than standard rewiring (10%)
* NEW: Datajack penetration failure accompanied by log message and unique sfx
* NEW: All supporter names registered since Alpha 13 added to in-game list (see Credits menu)
* NEW: All item-attribution names registered since Alpha 13 added to the item collection gallery
* NEW: ESC key access to game menu disabled by default in keyboard mode (can allow by setting allowEscMenuAccessKeyboard in config.cfg, or just use ?/F1)
* MOD: Option disableEscMenuAccess (cogmind.cfg) renamed to disableEscMenuAccessMouse, only applies outside keyboard mode
* MOD: No scorehistory record or score sheet produced for suicides below -9
* MOD: \\ZION hacks only accessible from Terminals
* MOD: Infested traps and Garrison Access points now spawn allies if core reset
* MOD: Garrison post-attack effect on patrol size no longer capable of completely eliminating lone Hunter patrols at low depths
* MOD: Garrison Index and Fabricator Index hacks no longer appear on Materials terminals
* MOD: All Trap Extractor ratings lowered (-2) so they may be found earlier
* MOD: Toggling the Tutorial option off also skips the alternative scrapyard layout
* MOD: LRC Insulator effect description more explicit regarding non-stackability
* MOD: Option entries split out from other game meta data into its own new section in score sheet
* MOD: Only a single guided or any number of non-guided weapons can be active at once
* MOD: Undoing a guided waypoint in keyboard mode automatically targets that location, to facilitate building a new path from that point
* MOD: Switching from a guided weapon attack to a direct attack in keyboard mode no longer auto-targets the first guided waypoint
* MOD: Last set of previously used guided waypoints remembered even if other direct fire weapons fired in between guided volleys
* MOD: Cetus combat encounter now uses a much more reliable form of counting the trigger requirement, never fails regardless of tactics
* MOD: Garrison exits that link to other maps now always lead to 0b10-controlled areas
* MOD: ASCII art no longer displayed for unidentified alien artifacts
* MOD: Layout(Sector), the secret debug Terminal hack that only a few players knew existed, removed from game
* MOD: Score sheet critical hit stat tallies now player-only
* MOD: Thieves flee more quickly
* MOD: C-40 Crusher better capable of dealing with high heat
* MOD: Mining Laser/Welding Torch/Plasma Cutters converted from Special Melee Weapons back to Special Weapons; can use more than one at a time
* MOD: Mining Laser/Welding Torch ranges upped to 2
* MOD: Plasma Cutter ranges upped to 3
* MOD: Tri-rail Accelerator damage increased 50%
* MOD: Removed "Walls Built" tally from score sheet (no longer applicable)
* MOD: rmbWallsToTarget option (cogmind.cfg only) now on by default
* MOD: LMB picks up trap items instead of installing at current position; RMB installs traps
* MOD: Adjusted set of score sheet stats displayed on game over screen (replaced four of them with newer stats)
* MOD: GRD and some other potential forms of special attack that wouldn't incite a hostile response from targets now do
* MOD: Programmers remotely defending against a datajacking attempt now do so immediately on penetration rather than after choosing a hack
* MOD: Controls(Machine) replaced by a new brute force hack
* MOD: Length of shortcut to Zion capped at 3 depths
* MOD: Robot rating calculations use new formula, taking into account special cases
* MOD: Ally transfer to a new map no longer prioritizes controlled allies over non-controlled (is pure level comparison)
* MOD: Full traces while hacking interactive machines at Materials depths don't always trigger investigations
* MOD: Allies excluded from some basic score sheet entries such as Value Destroyed
* MOD: "Fusion Cannon" renamed "Hardcell Cannon"
* MOD: "Thermal Defense Suite" and "Beam Splitter" name swap, latter now better
* MOD: System Mapper/Ghost Barrier no longer randomly found in the wild, nor can they be fabricated, but may appear in specific locations
* MOD: Core Stripper max damage reduced, faster attack time, tripled integrity
* MOD: Core Cannon integrity +75%
* MOD: Disintegrator integrity +25%
* MOD: Falloff -1 for Hvy. Shock Bomb Launcher, Hvy. Proton Missile Launcher, Com. Tesla Bomb Launcher
* MOD: Increased base power for both Gamma Bomb Array variants
* MOD: Increased accuracy of player idle time calculations for run lenth reporting
* FIX: Item gallery not recording Scrap collection (incrementing Derelict Logs instead) [Amphouse]
* FIX: Zionite Guard Positions hack displayed incorrect message when none found (referring instead to emergency access) [Amphouse]
* FIX: Typo in new Thermal Converter effect description [Amphouse, DDarkRay]
* FIX: Terrain scanning the same position more than once would reveal whether there's an item/trap there, and its name [zxc]
* FIX: Trying to fire guided weapon beyond its range might give incorrect message "No active guided weapon" [zxc]
* FIX: Typo in new manual section [zxc]
* FIX: Art gallery intro text referring to personal items misaligned [zxc]
* FIX: Redirecting certain dispatches and then seeing them later would flash a '!' when they appear even before they spotted Cogmind [zxc]
* FIX: Integrity Redistributor effect description the reverse of actual effect [Sherlockkat]
* FIX: Post-imprint Mutant escort wasn't following into Proximity Caves as intended [Shobalk]
* FIX: Borebot capable of destroying stairs [Shobalk]
* FIX: A particular cave encounter with Minesweepers could have them extract a trap from an exit, destroying the exit itself [Shobalk, Raine, buthix9]
* FIX: Crash on using 'f' to enter targeting mode with only a melee weapon active while adjacent to unarmed robot in sight of armed robot [GJ]
* FIX: Crash on retrieving Zionite intel Emergency Access results on a non-square map [GJ]
* FIX: Randomly placed Scrap piles in Zion might be covered by machinery along the walls [GJ]
* FIX: World map not highlighting current location if in a Factory floor following a visit to Waste in keyboard mode [gammafunk]
* FIX: Recycling Units might contain an actual matter item (with value = 0) [Snuffsquee]
* FIX: Evolution screen left an extra '0' after slot counter when decrementing from 10 (impossible now anyway due to Zion shortcut changes) [Xanthos]
* FIX: Setting guided waypoints then activating non-guided weapons allowed entire volley to follow the same waypoints! (undiscovered for two years, hehe)
* FIX: Interactive machine hacking feedback on full trace includes the potential for hackware destruction as intended
* FIX: Interactive machine hacking feedback wasn't being blocked by defensive hackware
* FIX: Scan window integrity indicator and colored on-map item labels weren't using the same value scale and would sometimes appear mismatched
* FIX: Toggling volley weapons while in targeting mode recalculates line of fire in case visible factors changed, e.g. penetration capabilities
* FIX: During inventory-to-parts direct keyboard swapping (/) in sprite mode, the color-inverted item instead appeared as two left halves of the tile
* FIX: Comparing a Plasma Cutter to a non-melee weapon misaligned the resulting salvage stat difference
* FIX: Z-Series change to Q-Series in Alpha 13 was not accompanied by intended corresponding ASCII change (Z > Q)
* FIX: Imp. KE Penetrator art assigned incorrectly (was using same as KE Penetrator)