Alpha 1.1.2 is out
Hello everyone, for this Halloween period I have prepared a lot of things for you!
Small general explanation of the update and after the detail point by point below:
First of all the new "Training" system, it will be possible to train your team to new activities/taches. Currently it will be possible to upgrade these units to veteran or officer.
The veteran soldiers will be a little more "intelligent", they will also protect their backs with a stable frequency...in other words, they will turn around so they don't get their butts eaten!
The officers, will produce more point of command and are the only ones who can work in the research lab and in the office. The officers are also faster in the construction of the rooms.
To train your soldiers, you will need training points which will be individual, each soldier/officer will be able to produce these points in the training room.
The training chamber is a new chamber in this update, to unlock it you will have to search for the training technology.
The general principle is to create Research points in order to unlock technologies that will make the defence of your shelter "easier" thanks to new chambers, formations, defence, etc ...
Officers are the only ones who can create technological research points so that they become valuable units and offer the player an additional challenge.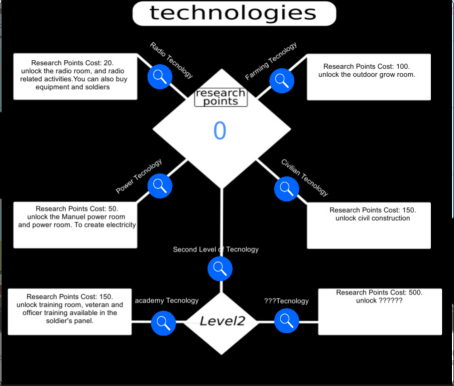 In addition to these new systems that give the player an extra real goal, the first Zombie Trap has arrived: three "classic" traps - wooden spikes in the ground that will injure and slow down the zombies, sandbags that will block the zombies until they destroy the whole thing, and a radio-controlled explosive barrel. Currently any soldier can build a trap as long as the material is sufficient.
The "Team" menu has also undergone a modification, in addition to displaying the name and rank of your living soldiers, you will be able to directly select a member of your team.
In the graphical part, I have just retouched the parachuting of the units arriving as reinforcements, a nice parachute appears during their arrival from the air, it makes quite a difference.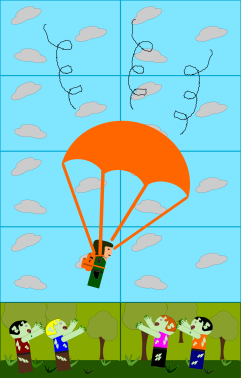 I also boosted the code for the character's movements, it's faster and clearer.
The whole saving and loading part of the game had to be adapted to the new "things" of the update and I'm happy that everything remains super fast despite all the data saved that has been added.
You can also see that from the beginning of the game, you now have two soldiers and an officer, this will allow you to familiarize yourself with the principles and system of the game without too much difficulty.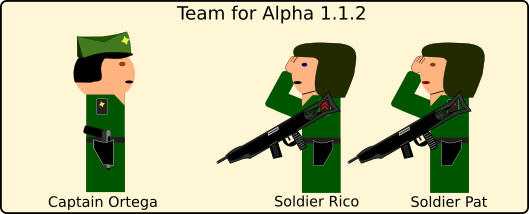 The ultimate little update, the good officer's notebook.se notebook will be a little in game manual.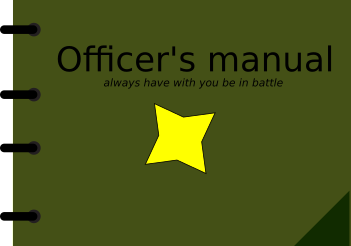 There is a lot of new features for this updade and I'm giving my all to offer you a lot of new features for Christmas,
Point by point list :
# new panel formation
# new Veteran Training
# new training Officer
# new technology to research (Military training)
# new technology to search (Second level of search)
# Veteran system creation
# creation of the system Officer
# modification panel team (possibility to select a soldier)
# gameplay displacement improve
# gameplay construction improve
# correction bug related to fatigue
# correction bug related to the Team panel displaying grades
# modification backup system
# graphic creation of the parachute system
# modification of the game system (requiring the unblocking of the radio search in order to obtain radio related activities, purchase of troops, ammunition, weapons,...).
# creation/integration of the trap system
# hree new traps, wooden spike, sandbag, explosive barrel
# creation of a new chamber " training chamber "
# the good officer's notebook (a few pages)