Nine City alpha 1.0.1 is now live!
Change Log:
- New map: "Central Park"
- Added/Fixed animations
- Increased turn limit to 1:30
- Fixed a couple graphical glitches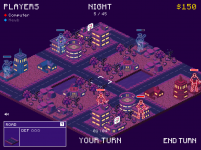 Made with HTML5 the game works on latest desktop web browsers. The game will receive weekly updates. iOS and Android versions are planned.
Play at www.ninecitygame.com
Nine City is a turn based multiplayer game where you control a criminal gang and battle against other players to take over the city. The game runs in your web browser and is completely free.