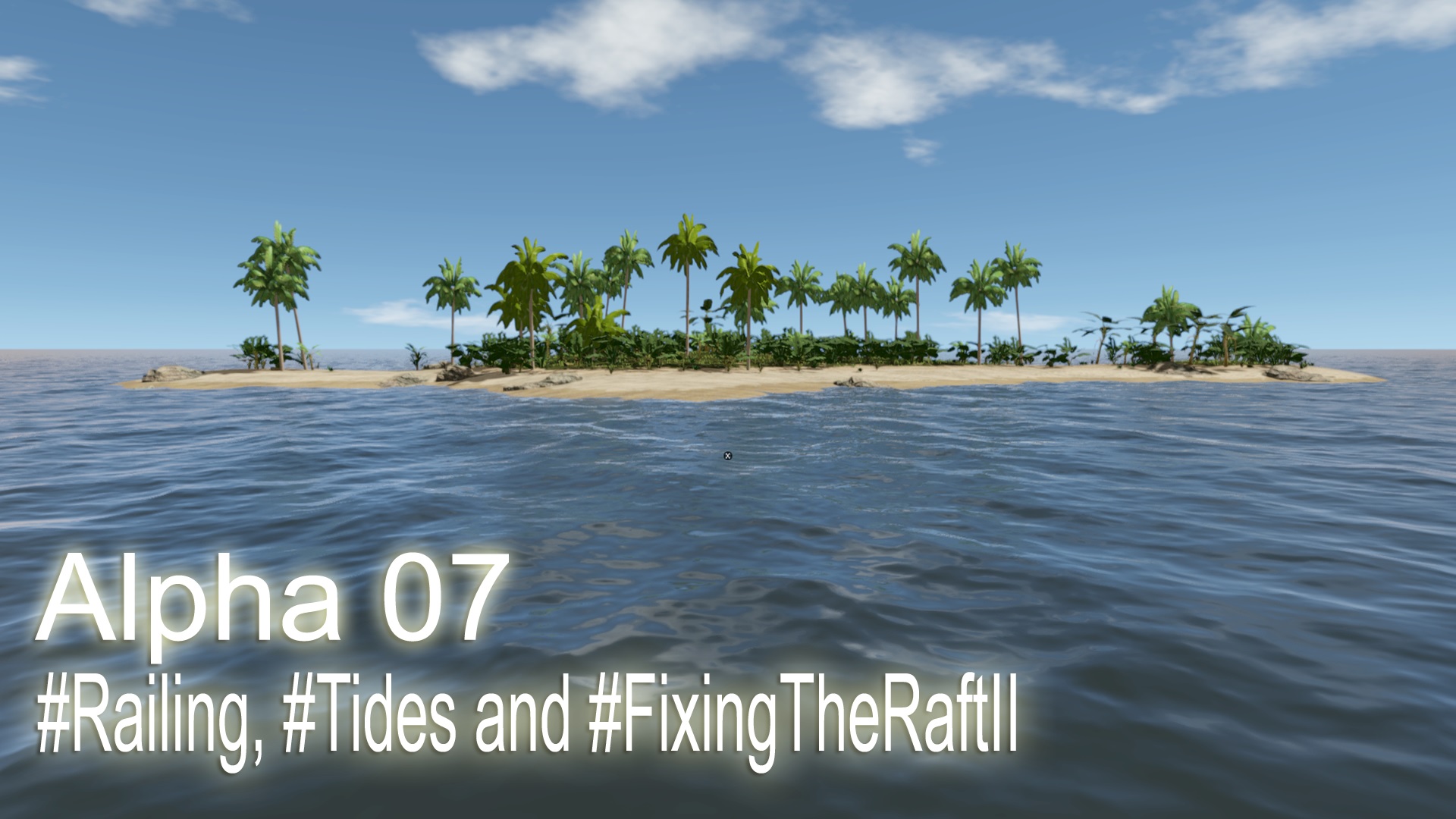 Hi everyone,
the new Escape the Pacific version 'Alpha 07' is now available.
Although due to Easter holidays we had a little less time for the development, we are bringing some new features and some fixed issues to you with Alpha 07.
For this update we were mainly focusing on fixing raft issues and some other issues regarding key re-assignment functionality. 'Flying coconut' and 'Magic hands' bugs were also solved. Possible issues causing a previous savegame not being loaded properly we could take care of too.
The first small feature we have added in this update is the dynamic ocean Tide system. In its actual implementation the tide level is depending only on the Moons position and the players latitude in the Pacific area. Later in the development cycle the Tide system will make use of even more sophisticated and realistic game mechanics.
We have added a new cheap buildable Railing. Add those to buildings placed on land or build them on rafts to prevent falling off into the ocean.
Furthermore we decreased the setting of how fast the value for Tiredness rises in certain situations. Thirst and Hunger values are from now on displayed in reversed form: 0 indicates minimum, 100 stands for maximum value. Also from now on more human-readable hints will be shown when vital functions reach their high/low and critical values. With additional hint screens for this we hope to make it easy to understand how it all plays together.
Along with that we added new options for 'Show Hints' and 'Main Volume'.
Changelog:
New features:
01. Added: New cheap Railing
02. Added: Basic Tide functionality (maximum level for now is +/-0.5 m)
03. Added: Status Notification for Thirst
04. Added: Status Notification for Hunger
05. Added: Status Notification for Body Temperature
06. Added: Status Notification for Tiredness
07. Added: Status Notification for Health
08. Added: Hint Screen for Hunger
09. Added: Hint Screen for Thirst
10. Added: Hint Screen for High Body Temperature
11. Added: Hint Screen for Low Body Temperature
Save system:
01. Fixed: Chopped but not touched palm frond heads are saved/loaded correctly
02. Fixed: Chopping previously saved/loaded palm frond head won't generate flying and non-destructible coconuts
03. Fixed: Some possible issues causing previously saved games not being loaded are fixed
04. Fixed: Some possible issues causing some of the Raft Base modules not being loaded correctly are solved
Raft:
01. Fixed: Buildings on Rafts won't make rafts rotate or sink
02. Fixed: SailMast, Sail and Rudder won't collide with the player character or make the raft rotate or sink
Options:
01. Added: Options element for Show Hints
02. Added: Options element for Main Volume
General:
01. Added: BluePrints of buildable objects can be rotated in both direction while not placed
02. Tweak: Tiredness is increasing many times slower now
03. Tweak: Thirst and Hunger are displayed the other way around (0 is the minimum value, 100 maximum)
04. Fixed: Coconut positioning on Palms won't make chopped palm trees rotate around on the ground
We will begin to work on some basic Sleep mechanic which will be later expanded to a fully featured system to bring additional immersion to our game. There will also be new gameplay elements, models and functionality as far as fixing the remaining Save system/Raft issues allows us to which we'll take care of based on their severity.
Thank you for your patience and for your constructive feedbacks helping us to get rid of the issues as fast as is possible.
Please be aware that during early access phase game code could change as much as affecting gameplay when loading/saving savegames from earlier versions. To always be on the safe side make sure to start a new game with each update. Thank you!
G4GTeam.