About
Back to earth is a realistic space simulator in which u will need to launch from a base on Mars and head back to Earth for your own survival. The game will support VR for the Vive and oculus. Non VR will also be added to the game at a later stage. Although it will be a seated game u will need to create room for all the movements u will be making with the controller's. As there are controls all around u in the space craft. Be aware that the information below may change in the future and most of it will remain behind the scenes.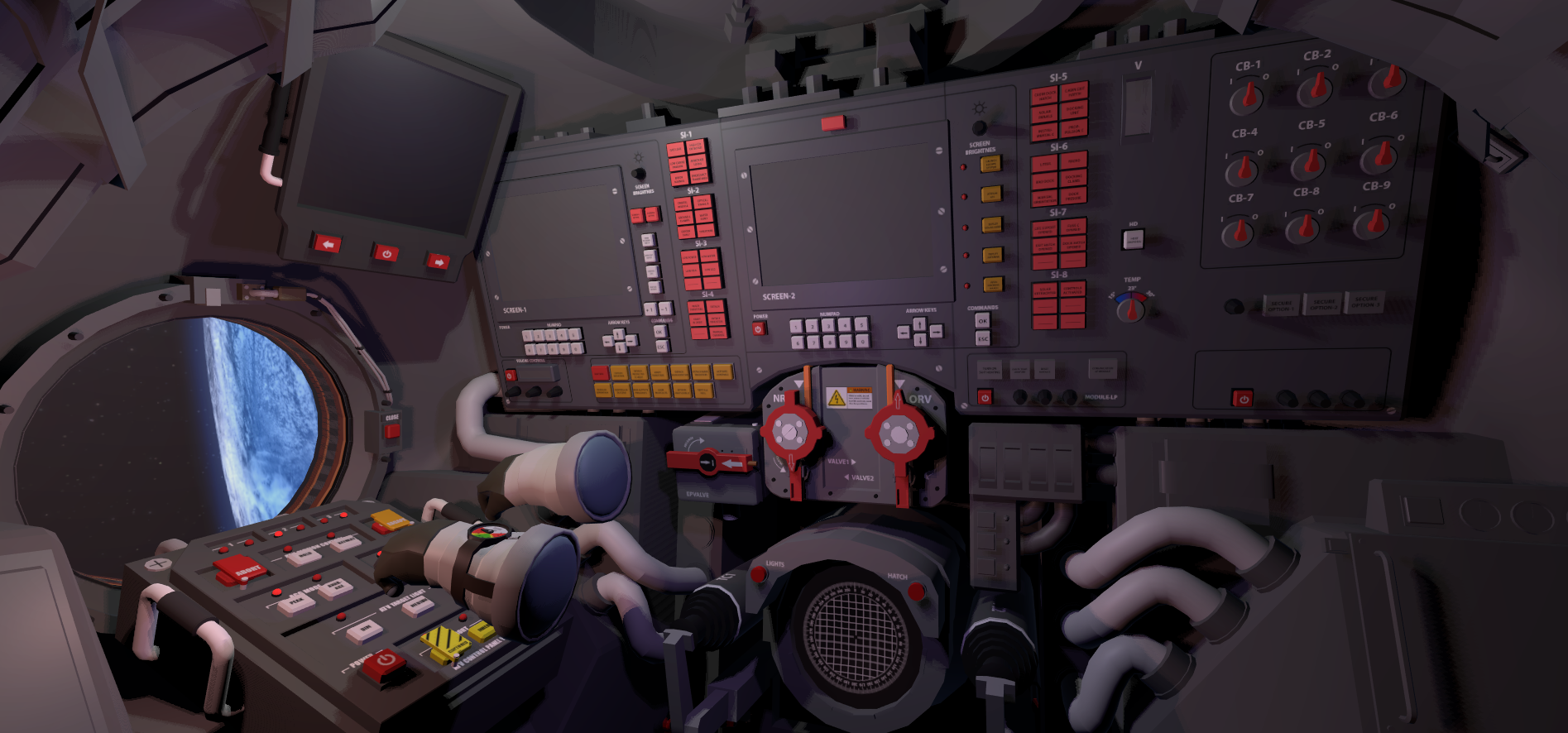 Story
(To be announced) we think it is too early to show u the story!
Gameplay
U will be controlling a space craft designed to travel between Earth and Mars. This ship will be facing many problems forcing to player to quickly react. Every system in the space craft must function without failure or your life may be at risk. U will be seated while playing, so there will be no space-walk for now. All around u are control panels, arranging from docking, flight controls, display controls etc. But be aware, a few buttons may already rip your whole body from your chair and fling u into space. The goal of the game is to make sure u will land on Earth with the best conditions possible for the ship and yourself. We will make sure that it won't be easy or a poring experience.
Features
The game will feature a lot of controllable buttons, switches, handles and lots more to make the flight as realistic as possible. Besides all the fancy buttons, there will need to be a constant watch over the power, oxygen and fuel. As without power your panels won't work, without oxygen u will slowly suffocate. And fuel as a main supply that without enough u will either be stuck in space or fall back to the surface.
Power supply
The space craft will have a need of power. It uses it to deploy certain modules and makes use of it to power the panels. U will have full control over how the power will be supplied and gained.
Oxygen/Nitrogen
Oxygen will of course be a major part of the game. All controls for the supply of oxygen will work. So u are in control of what your supply will be. Too much will cause oxygen toxicity and may apply symptoms over time. To low may slowly suffocate u and will make the game harder to play.
Fuel supply
To get into space there has to be fuel. No fuel means either death or no destination at all, simple.
VR functions
With the vive and oculus u will be able to control the motions of the craft with 3d hands. On the left hand will be the gauge for the oxygen and pressure of the suit. Which u will need to bring up to your screen to reed. Non-VR will have a crosshair which will change upon hovering over a button so u know what u are selecting. And to be able to lean around u will be able to use the WASD key's.
Random events
The game will have plenty of random events that vary from fires, malfunctions, story driven objectives and many more. The player can trigger some too by pressing the wrong button or using the wrong calculations.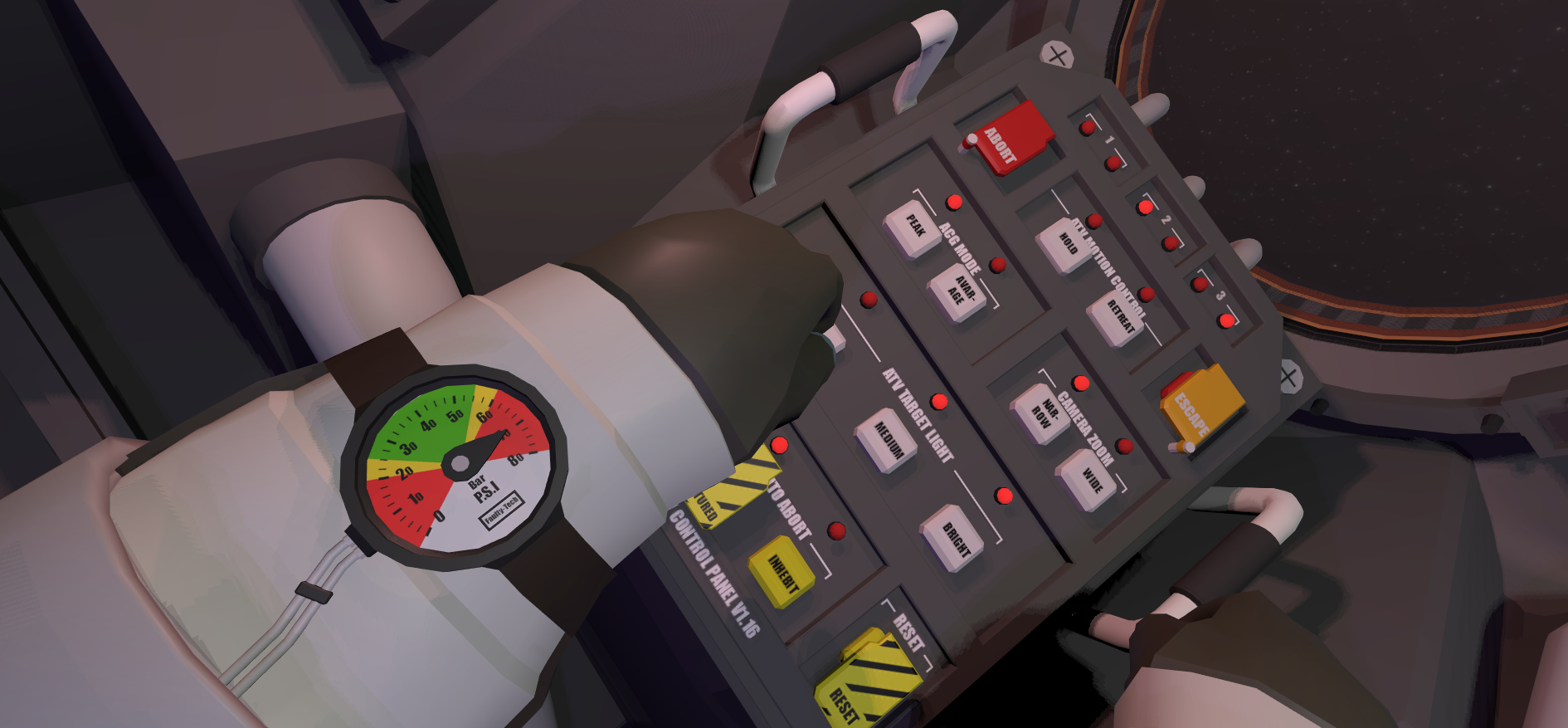 Progress
At this time we have most of the models done and are already mapping out the whole button scheme. After that we will begin making the whole journey and make sure it works, at this point we will be making a small progress trailer in which we will be showing the flight without any events.
To show u the statistics this is what we can tell u:
Models (Stage 1)[75%]
Scripting (Stage 2) [10%]
About us
We are a small team of 3. Me myself and two others who usually just advice. They will jump in in stage 2 helping with scripting and planning the whole concept together. We all study IT but nothing to do with game design. Our team are all hobbyist's and try to deliver the best VR game out here. I hope to see all of u when the game will release. We are very excited!