We're back after an absence of a month with new screenshots of Star Guard for you. Because of some engine crashes, the design of our forth arena was a real challenge. Finally, we've made it to design a temple/bunker building complex. And what would a sci-fi game be without brutal, bloodthursty, strange alien creatures with the only aim to kill you with their claws? And for that reason, you will meet these creatures in that building complex.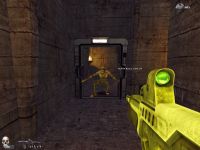 Alien Temple
Our first thoughts went into very different directions. Our first plan for this arena was a crashed starship in the jungle, but that did not turn out well. The second plan was to design a starship landing bay, as well located in a jungle area. Another plan that could not be realized. And because the landing bay looked much more like a lost temple, that's why this arena finally ended up being a temple in it's third and final layout with horrible creatures in it's depths. So don't forget to check our development gallery.
In-between, we've decided to double the amount of possible players for Multiplayer LAN and Internet connections up to eight players per session. That may cause some lag on lower mashines on the beta stage (which is still far away), but may possibly double the deathmatch fun for every arena in the final game. On arenas that cause too much lag we can lower the player number later, anyway.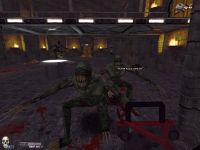 Bloodthirsty Aliens
We completely re-arranged the screenshot gallery in order to provide as much media information as possible. We hope you will enjoy it.
That's it for this update, friends. We'll (hopefully) have another one very soon.