Aldura Campaign - Coming Soon!
That's right - after all this time I'm finally ready to release something. Over the past few weeks I've finally had time (and motivation) to sit down and get a ton of work done on the series. So where does that leave me at the moment? My plan is to release the series in two parts, with part one coming no later than two weeks from now. It's been sent off to a group of beta testers, and the feedback so far is promising - there are only a handful of bugs to fix, most of which I was aware of before the beta was sent out. With that said, here's some eye candy for the three levels featured in part one: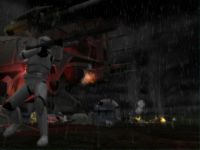 ...and look for a release announcement soon!