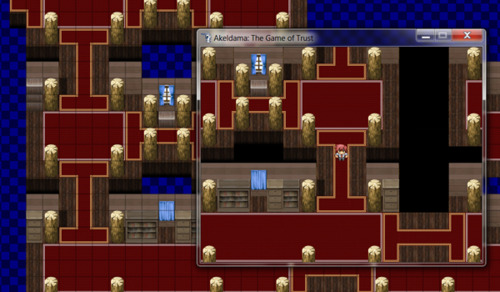 Progress is happening and progress is GOOD!
Here's a list of the most recent changes. If you don't know what it means... good. It means I'm able to give you an idea of what I'm doing without telling you what I'm doing. You wouldn't want for me to spoil the story now would ya?
So, the changes include,
Connected 'Encounter_Joshua' and 'Encounter_Aaron' to the game.
Removed all early fights that involve characters in your party.
Connected both 'Encounter_Joshua' and 'Encounter_Aaron' to 'Hallway&Crevice'.
Edit Teresa's character in 'Waking Chambers_Full' (Through writing out more of the story her character has evolved from what it was in the beginning)
New environment created (as shown in the picture above) titled 'Study'.
'Study' (unfinished) and 'Laboratory' (unfinished) connected to 'PuzzleNexus'.
Draw icons for 'pebble/stone', 'ring', 'wall panel', 'wall panel_empty'. Apply icons to respective levels.
Draw new windows with blue curtains.
Stay tuned for more awesome news! May 31st is coming up! If I can't get ready by then to send my game to IndieCade I'll have to sign up for the later date. :O
Cheers!
-E