AIX2 Expansion MiniMOD v0.4c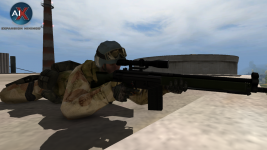 Installation
Here's the download link.

FULL CLIENT (1.3GB)


UPDATE PATCH v0.4->v0.4c (480MB)


HOW TO INSTALL:
Full Install
1. Install Allied Intent Xtended 2.0 (Core & Levels)
2. Download v0.4c Full Client & install it.
3.(Optional) Download AIX2 Expansion MiniMOD MapPack (v0.33 compatible).
Unzip & move to "Program Files/EA GAMES/Battlefield 2/mods/aix2ex_mm/levels" directory.
Update from v0.4 to v0.4c
1. Download v0.4c patch.
2. Execute the patch AFTER installing BF2, AIX2, and AIX2ExMM v0.4 (if you already installed these, then you can skip here and directly install the patch).
3. Install
4. Run MiniMOD and play!
NOTICE:
So as you all see, v0.4 contained a serious bug that you can't play a singleplayer game. v0.4c fixes that, however, it might require you to do a clean re-installation, which means that you may have to delete aix2_ex_mm folder first, then install the full client of v0.4c.
The location of your bf2 installation folder may differ depending on what OS is used or BF2 product itself (package/Steam). So make sure you reach the correct BF2 installation folder. MiniMOD folder is located under mods folder in BF2 installation folder (Battlefield 2/mods/aix2_ex_mm).
We apologize for the inconvenience.
And...thx for the helpful tips! we managed to find what was wrong and v0.4c fixes the problem.
The patch fixed below:
- Fixed too much strong M11-87 back to normal.
- Fixed the glitch that some attack helis' turret icon and camera direction was deviating.
- Fixed the deviation of camera direction and actual direction of a gun.
- Raised the volume of M4A1 firing sound.
- Fixed the direction of bombs dropped from some airplanes.
- Removed all the damage to vehicle wrongly caused by terrain.
- Fixed the problem that DAO-12's firing sound was not sounding.
---
See you soon in the battlefield!
tekktekk (translation: y-shin)