As you get to your desk you find a package placed on top of all yesterdays paperwork. As you inspect it closer you thankfully don't hear any ticking and decide to open it. Inside you find a strange looking device and a message:
"Something of great importance has been stolen from us. On the device is all the information you need to start your investigation. Don't let it fall into our rival corporations hands. Good luck agent."
With a sigh you brush off all the paper occupying your seat and reach for the phone.
It is going to be a long night.
Hi all, my name is Marc. I am game designer, CEO, community manager and coffee maker at our small four man studio Tiny Office. I am here today to discuss our game Agency.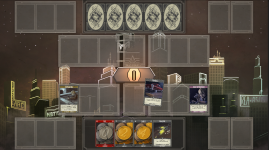 Agency is a two player card game featuring real-time deck-building. In the game, you take the role of a secret agent that have been tasked with finding the stolen super-secret technology located somewhere within the city. However, in order to do this you need to build your own criminal agency and use your resources to battle opposing agents in order to complete your mission. Find the super-secret technology before your rival does!
Set in a neo noir world, Agency aims to be an interactive two player deck-building game that takes the best elements from digital card games and combine them with the best elements of deck-builders.
If you are interested in the project, like us on Facebook or track us here on indieDB;)
Until next time.
//Marc