Welcome to Age of Wrath
---
📚 General explanation 📚
---
The mod provides a new way of playing Age Of Mythology The extended edition (tales of the dragon is required as DLC)
We have brought the following to the mod already:
18 New minor gods: Already visible with the Greeks, Egyptians, Atlanteans, and the Norse.
New buildings: Tholos, Royal palace
New units/myth units.
New God powers
New maps
New editor content
New AI
Rework of certain gameplay: Changes to build limits, population, ...
A rework of the Old Campaigns: Fall of the trident is already finished, New Atlantis is under development.
New campaigns
---
🛠Installation🛠
---
The mod is fully present on the steam workshop, to be able to play it you will need the game on steam, and no cracked version.

This link will show you the full collection of the mod.
Please keep in mind that the mod folders need to be in a certain order.
There will be no downloadable folders present on ModdB. This is because the main creator of Age Of Wrath didn't want this and the mod folders/files are worked in a certain way to make it compatible in-game use.
Mod order of the folders.
The mod needs a certain order of making it playable. Here you can find a pic of the order I use, with a slight difference for other players depending on the population you want.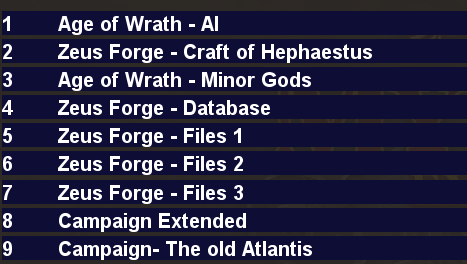 Needed to play age of wrath: 1,3,4,5,6,7
Needed to play the old campaigns: 8
Compatible campaign mod: 9
Reworked models from weapons etc. Free to subscribe: 2
1000 population: Make sure the order of the mod files is like in the pic.
300 population: Add database at the top instead of minor gods.
Compatible with this mod.
Data mods in general are not compatible with this mod and will break the game. (build limits, changing unit-stats, tech tree changes, ...)
Campaigns are playable if you do not need a town center and other buildings to play. Else I will check with the creator of the campaign to insert it here, and make him co-owner of the mod or give credits.
Texture/icon mods are possible. Like changing god pics, making textures better looking, etc.
RMS maps are also compatible with this mod.
---
💬 Social links💬
---
Feel free to ask questions, or give feedback in the comments. We will check daily to respond.
The easiest way for a fast response or questions is to join our discord server.
Link to the Discord server: Discord. gg
There is also a website for the mod under development. A link will be made later here:
---
🏆Credits🏆
---
This mod is made and under development by the following people:
Mango
WollieWoltaz
Enpremi
Zeus
Nox118
TwinkieFob