Hi to all, after I started with my Age of Titan modding, I feel that it is not wise and nice if not having a proper and thorough planning on how the map should go and the events, skills and so on..
I would to take this opportunity to say Thank you to Digi_Byte for telling me that his experiences on modding. So I make up my mind on revamping all of my Age of Titan's idea and came out with the new ideas.
Below are the new ideas that Im going to implement on Age of Titan's map modding.
--------------------------------------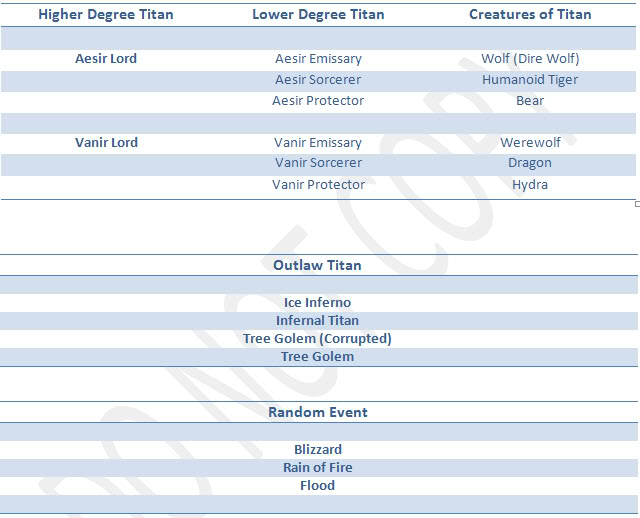 Higher Degree Titan
- Lord Unit
- Summoned after Emissary died
Lower Degree Titan
- Hero Unit
- Summoned after Tower of Titan destroyed (Emissary)
- Summoned after Defensive Tower destroyed (Protector)
- Summoned during mid-game, time elapsed 1800sec (Sorcerer)
Creatures of Titan
- Support Unit
- Can be summon out from the Summoning Tower
- Limited one per type
- Wolf (Dire Wolf) and Werewolf serve as Attack Unit.
- Humanoid Tiger and Dragon serve as Healer Unit.
- Bear and Hydra serve as Aura Support Unit (add Movement Speed, Attack speed and Armor Rating)
Outlaw Titan
- Titan Unit - Creeps
- Summoned during Titan Event
- Players can battle with Outlaw Titan anytime during the game.
- Hint : Co-operative Event
- Quest type event
- All players shift to Titan / Hero Arena
Random Event
- Random Event
- Occur during time elapsed 1000sec (Blizzard) ,2000sec (Rain of Fire) and 2700sec (Flood)
Transformation Event
- Quest Achieved Event
- Occur when players defeat 3 Outlaw Titan and obtain the Essence of Infernal Titan
- Players able to transform into a Titan Hero with special abilities for a period of time.
Chosen Heroes of Titan
- These are the heroes that players can choose from
Notes:
*All units will be reskinned and new models will be included in this mod.
*The italic word will be buildings that is important for both faction.
*The red word will be the Quest Item that need to obtain.
I will posted up the few of reskinned units here later.
So please let me know what all of you think of it... Constructive comments needed.