---
In commemoration of Age of the Ring's victory in the 2020 Mod of the Year contest,
our Poet Laureate Valkyrie has written a poem about the Age of the Ring.
---
THE AGE OF THE RING
One Ring was drawn in bounded Gold
To evil propagate;
No bounds it knew such bane of old
In reach and breadth of fate.
The hand that wrought was hand accursed
For rule he sought to win,
Amid the Mountain's fire-burst,
By most abhorrent Sin.
The frailest Kind was boldest, yet,
For sway's the pride of Man;
Thus mortals in his Gifts have let:
Nine Rings they didn't shun.
The stubborn Dwarf, robust and grim,
Se'en Tokens gladly took,
Till greed did stir and wits bedim:
Aflame they halls forsook.
The sapient Elf had made his own:
Three Gems defying time.
Alas, in time he's weary grown,
Whose sorrow bards berhyme.
Near ending days were battles fought
By horsemen, lords, and ghost;
The Foe had seen his works unwrought
From South to western coast.
Which hopeless Hero brought about
The deed, is known afar:
Half human size, but thrice devout.
He followed Mage and Star.
The War's no more! No woe's afoot!
The Era goes to end.
Shall future ones or doting brute
Recall the Wizard's Friend?
Three deathless Mights have parted hence,
Their Jewels bearing West,
To flee decay and year's offence
Where Powers govern, blest.
The Third of ages ceased to be
And Men their King can sing;
Again does bloom the City's Tree
And set the Age of Ring.
Valkyrie
---
Thank you to everyone who has followed us and gave us their vote. Actually winning the Mod of the Year competition was utterly unexpected, and we feel very proud to have done so. The Battle for Middle-earth games aren't dead yet, and there is much more to come from us and others.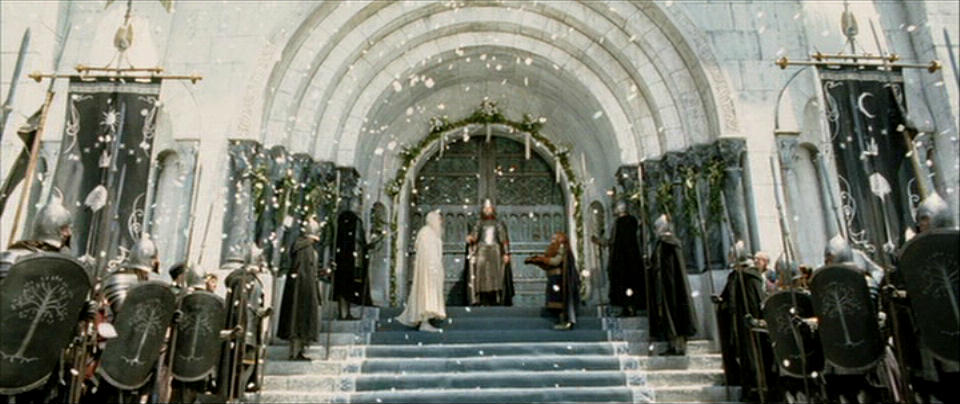 Yours,
The Age of the Ring Team