For today's update we wanted to share with you some more concepts as well as some early gameplay screens. Amelia will have many forces working against her in Grimoire, and these characters below will be her primary adversaries. First off, we have Helsa of the Wailing Weald:
Helsa of the Wailing Weald: also known as the Witch of the Weald.
Hesla is a powerful thaumaturgist & spellcaster, living in a hut that sits nestled among the trees of the Wailing Weald.
Little is known of Hesla. Lack of fact means folk lore is left to fill in the gaps of knowledge, thus Hesla's true nature is left conflicted. On one hand she is sought after as a dispenser of wisdom or guidance. On the other, she is rumored to kidnap (and presumably eat) small children while decorating her home with the skulls of her victims.
Next we have Vildaaren, a nefarious alchemist with nothing but ill intent towards Amelia.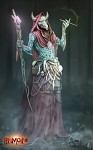 Vildaaren Naenstro: An alchemist of privilege from North Malvaria. Not being content with traditional alchemical recipes, Vildaaren debased himself after incorporating rune magic in his experiments. The resulting aberrations of the foundations of alchemy caused disgust and contempt within Malvarian society. Vildaaren was vilified and promptly fled North Malvaria with what research and
currency he could carry.
With nothing but his research to keep him company, Vildaaren soon became consumed with the need to exonerate himself and his work. To that end, Vildaaren works tirelessly on his research. Confident with the knowledge that soon he will be able to show his former colleagues the true nature of the universe.
We also wanted to give you guys a glimpse of what we have so far, so here are some early shots of the main menu screen as well as an early look at a combat screen. These shots were taken directly from the Unity engine. As stated in previous comments, the combat is gesture based: as you progress through the story you will acquire new and more powerful runes, each with their own abilities. By successfully drawing these runes in combat you will unleash their effects upon your enemy. You will need to choose wisely as to which runes you bring with you as you can only have 12 active at any given time.
Thats all for now, stay tuned for more next week!