Hi everyone.
This post will do a short overview of my game's content.
Adva-lines consists of many game modes, most of which are based on match-5 mechanic and pushed wa-a-a-y beyond it.
So far the game have:
1) 15 game modes
2) campaign of в 100+ hours (9 chapters of 15 missions each)
3) functional achievements (which affect certain aspects of the game)
4) 3 game modes for 2 players (hotseat)
5) 2 languages support: russian & english
# SUMMARY
Basic mechanic is sorting figures of same shape into a formation (line, X-type, T-type etc...) plus each game mode provide it's own additional features, skills and perks. Consists of game modes of type logic, puzzle, clicker, arcade.
# PERKS
All game mode, which contain game board and figures has global perks system. There is 3 perk groups and you gain perk-points of that group when completing lines in certain conditions (extended length, contains many figures of same color). You can spend this perk-points to buy perks. Perk is (mostly) one-timed ability that helps you during your play - you can remove figure, change it's shape etc.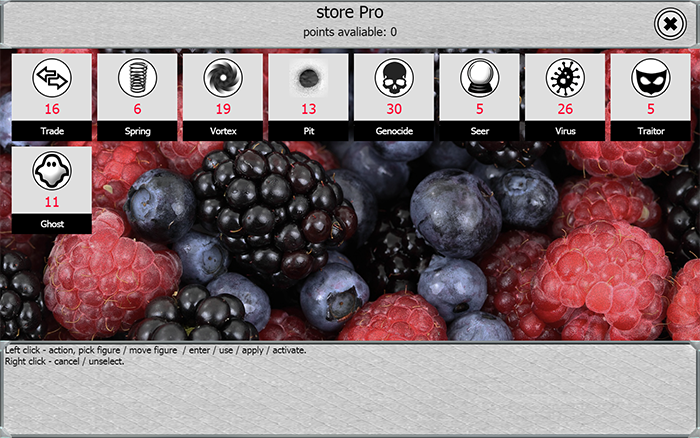 # CAMPAIGN
Campaign is divided into Eras, which in turn divided into Clusters, which in turn divider into missions.
Some missions reward you with energy points (which can be used to unlock next Cluster), some give you resources to upgrade your Drone or Spaceship to be able to complete another missions.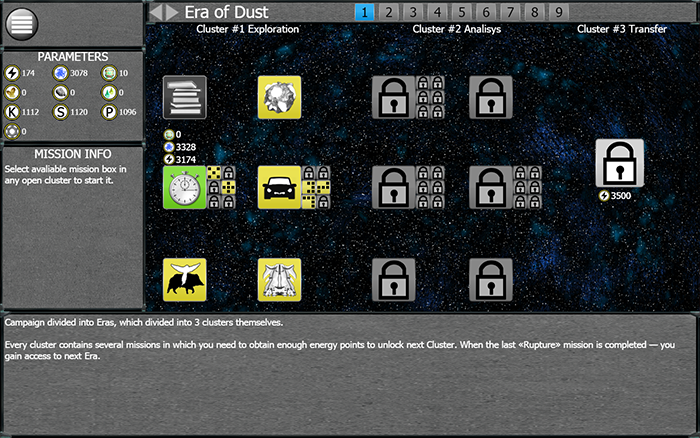 # ACHIEVEMENTS
Pretty standart stuff, with one exception - most of them will provide a certain bonus for it's completion (For example if you use some perk very ofen, gained achievement will reduce it's price a bit.) Most achievement have several levels.
Next i will (very) shortly describe some game modes (most of them have too many features to even partially describe here):
Mode №1: Classics
Simpliest game mode, almost identical (except for perks system) to Lines98 gameplay.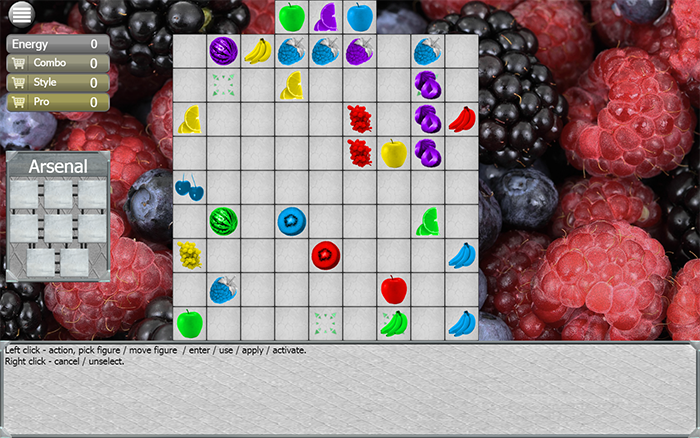 Mode №2: Awakening
At the beginning of the game you have a certain amount of "bad figures" (a.k.a omens) you need to destroy. They will appear on the game board in short cycles and each subtype of «omen» have it's own conditions for destruction and it's negative effect on the game (while on board).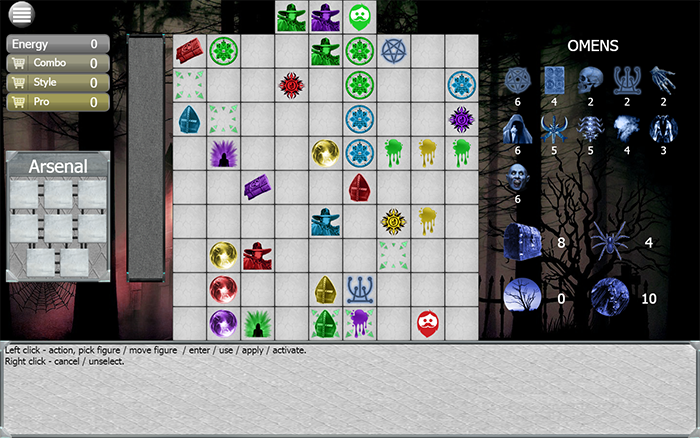 Mode №3: Art
You have a canvas, some cells of which need to be painted into certain colors with certain strength. You, as artist, have parameters which affect you play and which you need to sustain. Your «order» of colorizing the canvas has it's own conditions on accuracy and time limit.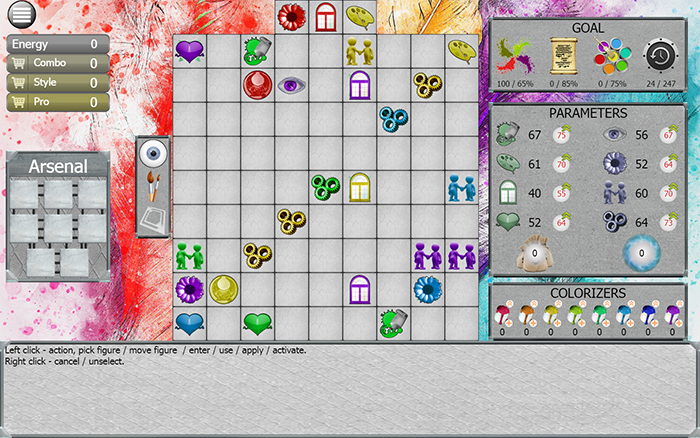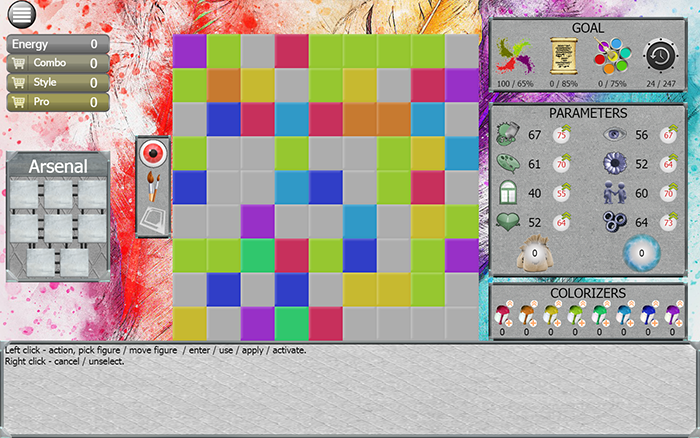 Mode №4: Memory
You have an image broken into puzzle pieces, some of which also locked. You need to unlock all pieces, gain enough timer reserve and assemble this image. This mode contains it's own abilities to help you in your task.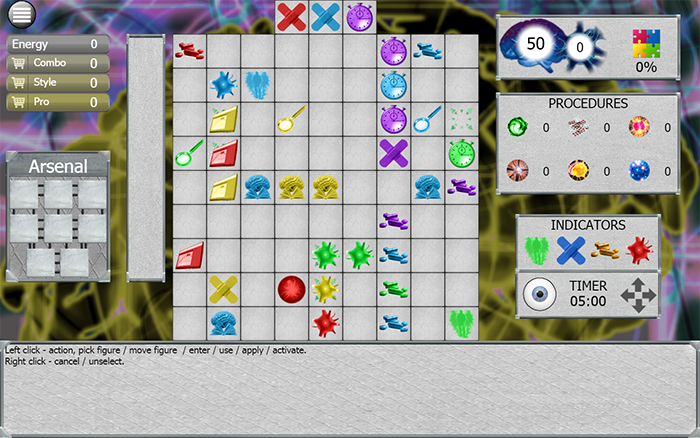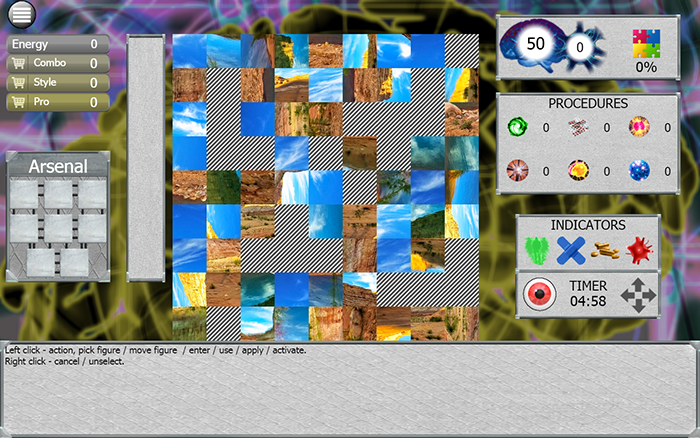 Mode №5: VIP
VIP figures appears on the board. You need to convoy it along it's route while saving it from various assassination attempts. VIP has it's needs. This mode contains it's own abilities to help you in your task.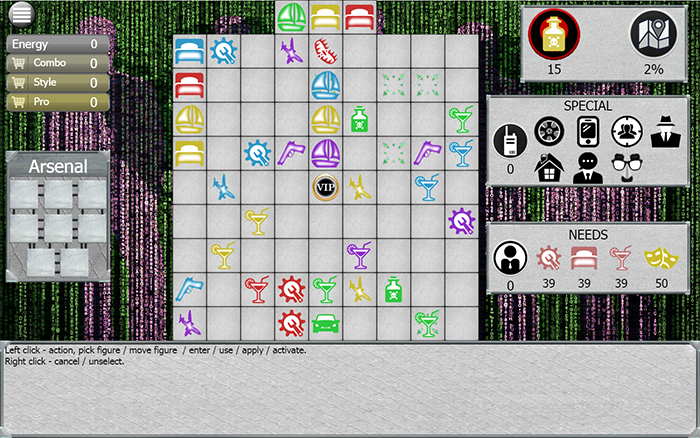 Mode №6: Mechanico
You have a mechanism which consisits of circles and nodes. There is certain amount of keys positioned on the outer circle. You goal is to move those keys into their correct positions on the inner circle. To move a key you need to install something called an «animator» into it. Animators can be of several tacts and directions of those tacts can be reforged.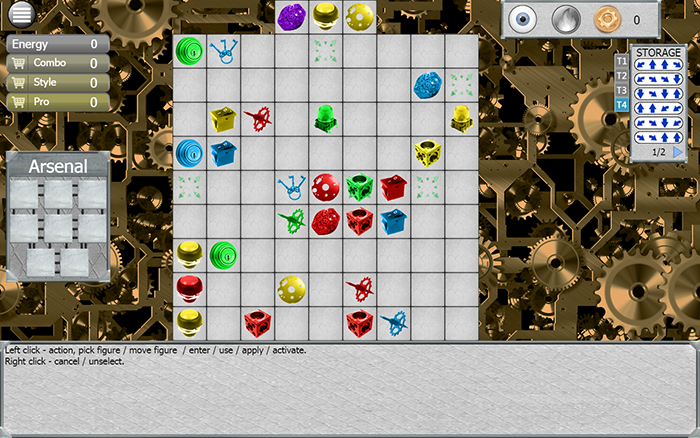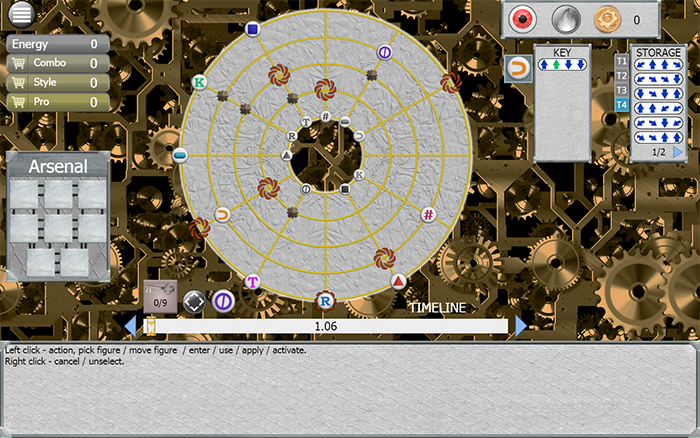 Mode №7: Excavation
You have landed on the planet. You need to build mechanisms, produce power, assemble equipment, scout the underground for valuable resources and finally successfully evacuate. Constantly changing weather and unfriendly critters will "help" you in your task.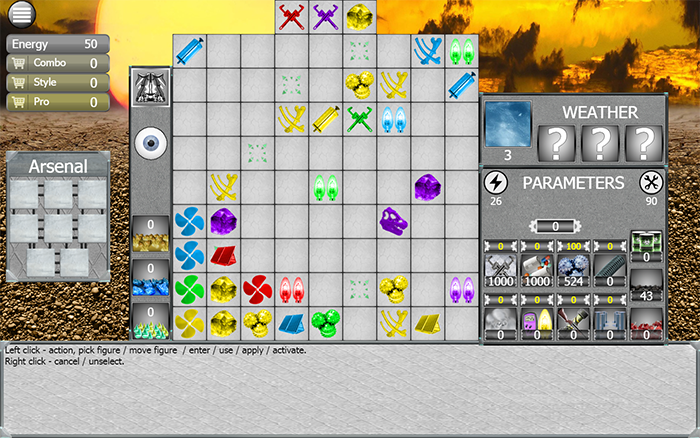 Mode №8: Virus
Cells of game board represent an organism that was infected by virus. You need to immunize enough cells (or synthesize a vaccine) before this organism dies from exhaustion.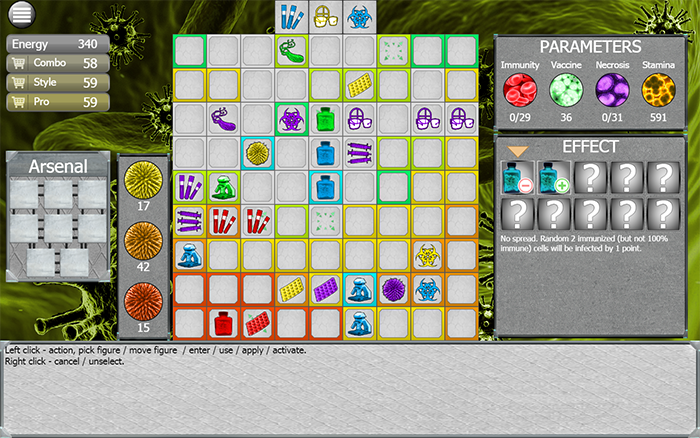 Mode №9: Signal
You need to search for wave fragments and then assemble them into stacks in order to tune the signal.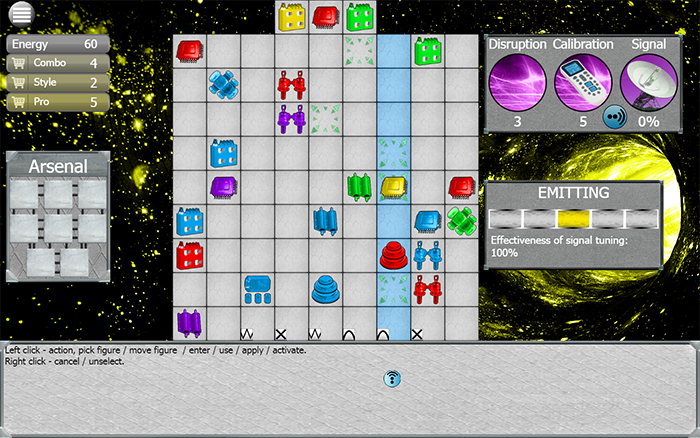 Mode №10: Preserve
You need to remove poachers, clean the trash, prevent fires and sabotages while also helping the animals in order to gain resources for Drone upgrading.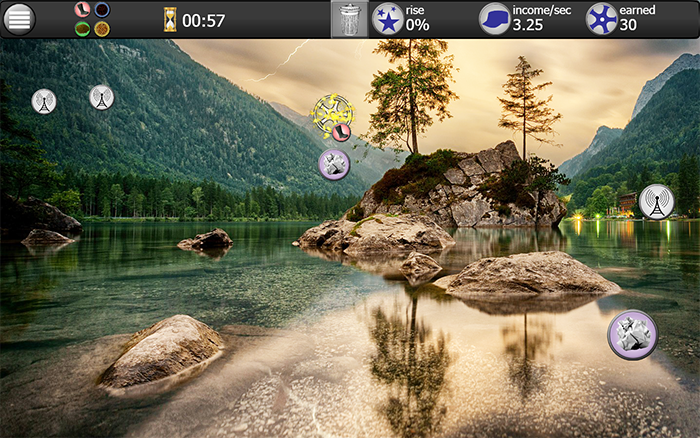 Mode 11: Starfall
Upgrade your Drone and Orbital emitter and capture falling meteors with valuable resources in them.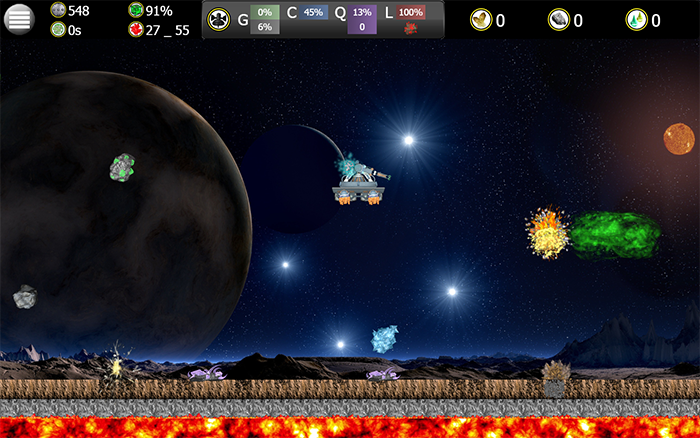 Mode 12: Rupture
Upgrade your spaceship and fight through hostile sectors in order to pierce matter in a warp-leap and reach next Era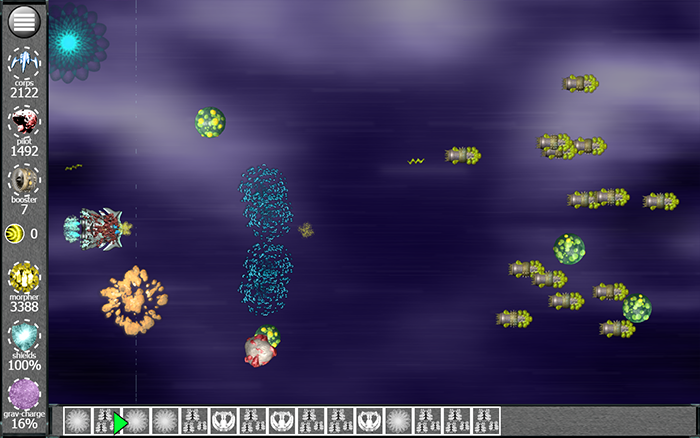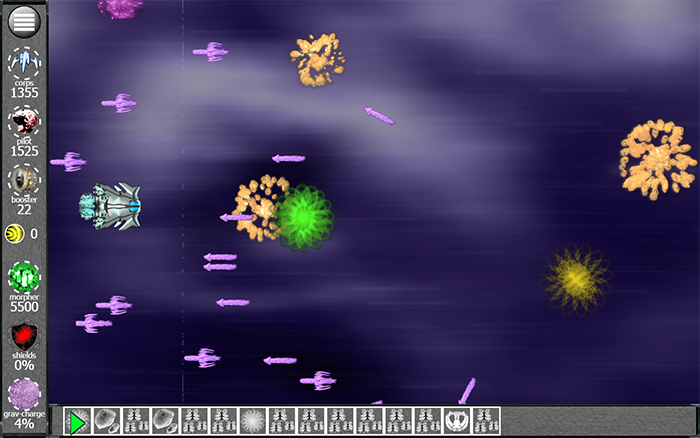 Mode 13: Kingdoms Brawl (2 players)
Players have basic amount of points that are subtracted over time. To replenish this points player must assemble lines, revenue is dependent to integrity of the sector the line was completed in. Players can use different in-mode skills to damage opponent's sectors while defending their own in order to win.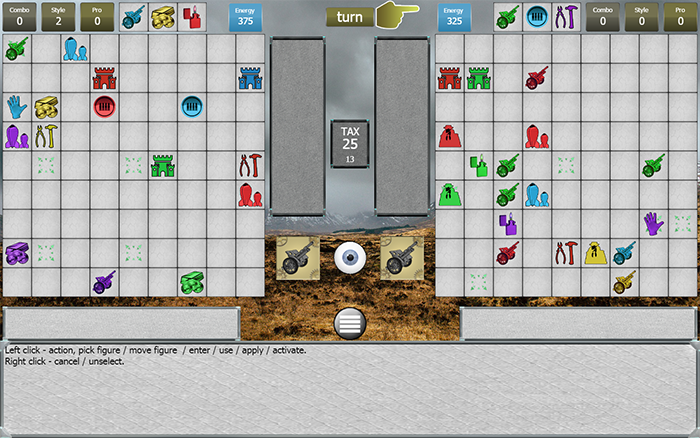 Mode 14: Borders Rush (2 players)
Has 2 phases: lines assembling and domain management.
Players fight in 3 sections: Economic (dominate by resources), Military (uild army and destroy enemy Castle) and Intrigue (kill the King). When any player achieves wvictory in certain sector - 1 cell of opponent's game board becomes locked. The goal is to force another player to lose in lines assembling phase.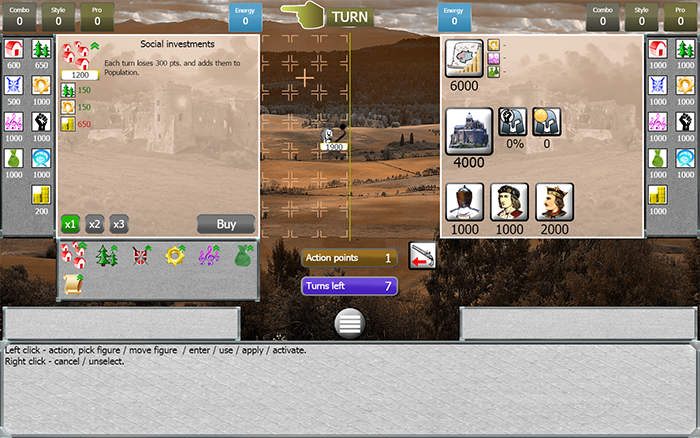 Next post will be pre-release demo, it will contain fraction of a campaign and all 2-player modes unlocked for you exploration.
Next stage - kind of a competition with steam-keys as prizes (about a week-long, dates will be provided later). A special build of the game will be released with free access (itch.io, gamejolt, indieDB). To participate you will need to play "Classics" mode (in that special build). If your result will be high enough (2k+ points) you will be given a code. You can mail that code (adress will be provided later) and have a chance (a rock-solid one for higher ranks) to receive a key.
Results-to-prizes (preliminarily)
6k+ points - 2 keys, first 100 people.
5k+ points - 1 key, first 200 people.
4k+ points - 1 key, random 100 people among first 200.
3k+ points - 1 key, random 100 people among first 500.
2k+ points - 1 key, random 100 people among first 1000.
From the same mail adress will be taken the single highest result.
Thank you for your attention.