More than ten years after the release of Enclave, the engine and level design still shine as some of the best. One can imagine the excitement when Starbreeze first released Ogier, their powerful and easy-to-use tool set, as a gift to the community in early 2004. Sadly, even after all this time, no mods have been released for the game. Here's hoping the fanbase can help change that!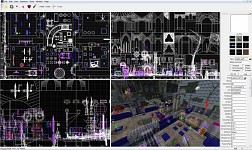 Source files of Enclave's official levels have never been released. In an effort to remedy this, I've put together a set of examples and documentation which cover most major effects from the game. It also contains a collection of recreated level geometry and prefabs. This download is meant as a companion to the already released Ogier documentation and further expands on the engine's systems with a focus on Enclave. (Although much of it can also be applied to games such as Knights of the Temple.)
The files are located on the MOD DB downloads page here.
If you have any questions about the tools, or wish to share your own discoveries for inclusion in a future version of the documentation, feel free to contact me. Until then, happy modding!
A community at www.ogier-editor.com is available for discussion about the game and tools.