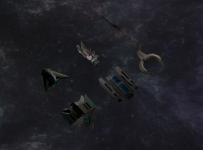 Cubic Timeline Productions has released additional free alpha tester keys on our website to go along with the release of NCG-19: Gravitus patch 1.11. This update adds another row to the technology tree, that unlocks the new destroyer class of ships. This patch introduces improvements to ship construction and the graphics settings options as well as numerous bug fixes. If you are interested in checking out the new patch content sign up for a free account on our website we have made an additional 100 alpha tester keys available.

Technology
Added additional row of technologies to technology tree, these new technologies deal primarily with combat and introduce improved defensive and offensive capabilities.
Ships
Added destroyer ships, these ships have a thinner layout than the frigate class and so cannot equip nearly the number of support or secondary systems as the other ships of their size, but they can equip additional medium class weapons making them an excellent choice for combat encounters.
Ship Components
Added new engine tier, these engines will allow your ships to reach further out into the galaxy much faster than had been previously available.
Added additional medium class weapons, these weapons are designed to be equipped on destroyers or frigates and are optimized for targeting medium sized ships such as colony ships.
Buildings
Added buildings that increase effectiveness of planetary defense weapons, these buildings improve the to-hit-chance of planetary defense weapons,
Added additional planetary defense weapons, these are additional more powerful and more costly planetary defense encampments to protect your colonies
Added multiple additional standard buildings, these buildings improve a range of colony attributes such as command, population and production.
Balance Fixes
Reduced to-hit-chance of some early game weapons to better reflect new game balance.
UI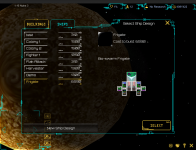 When selecting a ship to buy or produce the ship details are now displayed. This includes the equipment grid for that ship design.
When changing graphics settings the resolution resets after 14 seconds without user confirmation.
Bug Fixes
Colony defense weapons now fire correctly at attackers.
Server lag caused by colony combat has been addressed.
Corrected website issue experienced on some OS X browsers.

We have received the first pieces of concept art for the more illustrative parts of our game. These three pieces are not finished products but are working concepts for the images to be displayed as possible race ideas on the race creation screen. These are to give the player an idea of the range of different alien organisms they can create and to inspire the player to create something uniquely their own.
We are also working to improve the way players interact with each other in NCG-19: Gravitus. The current system of war and alliance declaration leaves much to be desired and we are looking at implementing a guild style mechanic that allows players to form larger alliances with different alliance member being granted different privileges within the alliance based on assigned rank. This will allow for a clearer alliance system while allowing players more control over their diplomacy. The in game messaging system will also be overhauled shortly to allow for a much simpler interface when communicating with other players.

As we have mentioned in a previous article crystal currency and captains are two features that will be implemented in the near future and much of the ground work or them has already been laid into the system. We hope to be able to implement various features of these two systems over the next few patches leading up to our open beta.