Night and Day
From day one, I have in mind the use of the candle to light the path of the dwarf.
But in order to keep something fun to play (and because playing only in the gloom could be exhausting), I've added some ambiance light.
There are 5 ambiances :
Gloom
Night
Dusk
Noon
Dawn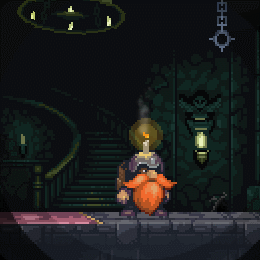 The idea is to be able to create levels either on exterior or interior environment (Cemetery by night, Hill path at dawn, Lost castle in complete darkness...)
PowerUps
During the last event, some of the feedbacks pointed the lack of visibility of the powerups. I've added a box around with a little reflection effect to make it more readable.
The player is able to pick some powerups :
- a feather for a lighter and higher jump
- a mirror to see the coins and power ups through the shadow
- a lantern to remove the shadow for a moment (new)
Each powerups has a specific time and there was no indicator on the screen. Now on top of the screen, there is the powerup with a progress bar.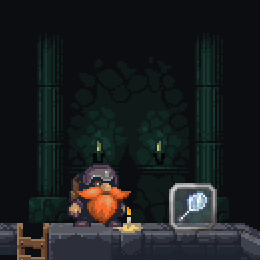 Spikes, water and sound
Nearly all the players complained about the spikes : the tile was not clear, was it harmful ? Yes it was, but you couldn't tell without falling on it.
Now, there is an animation of the spikes. When the player approach, the spikes move out, when he moves away, the spikes move in. It's clear now it's harmful.
The water was static, not very appealing. Now it moves.
Speaking of the water, I've added a little something : sounds.
When the player throw a candle, if it lands in water there is a splash sound, he is aware of the water in this direction. If it lands on something else, there is a bump sound.
The sound has some sort of spatialization, according to the distance and position the sound is more or less loud and on left/right or both sides of the speakers.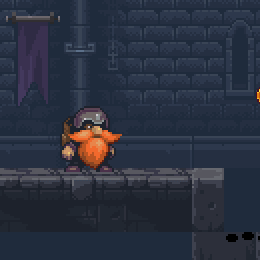 Some PNJs
In Ruggnar, there will be some PNJs, they won't kill Ruggnar, he'll can't kill them either. But they will be annoying, for example, with a Rat, the player will be slowed down, with a Bat, the jump will be shorter.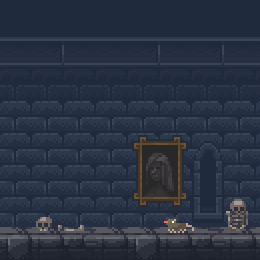 (Animated Rat by Calciumtrice)
Treasure chest, what's inside ?
In the first demo, the treasure was always filled with 7 coins, nothing more, nothing less. But there was no indication when the player opened it.
I needed to change this behaviour. Now the treasure shows what the player gets when he has opened it (and the content is not limited to coin anymore).