Hey everyone,
We've just uploaded a new version of C3O with the results of our first three days of full-time work.
Play it here: Class3outbreak.com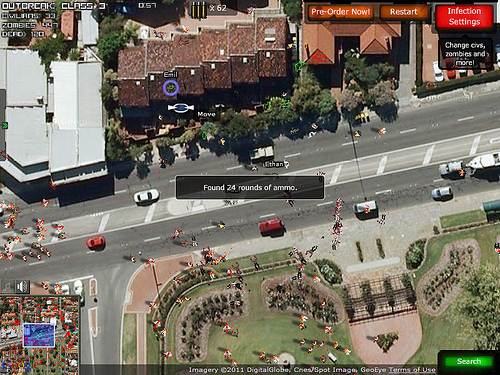 The main gameplay feature that we've added is the ability to search buildings. You now start the game with a limited amount of ammo for your 3 civs to use. However they can enter buildings and search for more ammo.
There's also a bunch of smaller changes that we've made:
Smaller minimap, so it doesn't cover so much of the game area.
Civs show up as dots on the minimap, when there are less than 50 of them left.
The ability to delete maps from the editor which you don't want any more (as long as they haven't been published).
Previously all published maps would be submitted to Jay to be moderated. With over 30 maps being published a day, this was starting to take a lot of time. We've now changed this so that you can choose to nominate your map for inclusion on the world map.
We hope you like the changes!
Saxon