AC-130 Gunship Simulator: Special Ops Squadron, a game in development that hasn't released any news or posts in about two years, is today IndieDB's #1 game and in the mouth of gamers and non-gamers alike all over the world.
How did that even happen?
Well… today I wake up, prepare some chocolate milk and fire up my computer. Yes, I have chocolate milk for breakfast. No, I am not ashamed. As the machine boots, I patiently take a few sips of my chocolate milk. The good ol' desktop shows up, and I open my email client, expecting the usual two or three messages. Instead, my eyes widen. Ten... twenty... thirty... the screen keeps getting filled with new messages. YouTube comments... Facebook comments... Russian news agencies... the BBC!!?? What the deuce!?
Has my dark past finally caught up with me? Has the world finally found out about the heinous acts of my rebellious youth? Is the CIA about to knock on my door? How far would my go-bag take me?
So I skip all of the clutter and jump right into the e-mail that caught my attention the most, from the BBC Broadcasting House in London, 11,000 km (~7,000 mi for those of you who don't know how to metric) from the Buenos Aires apartment where I am sitting in my underwear. And that is when all becomes clear – well, as clear as this unreal situation can get.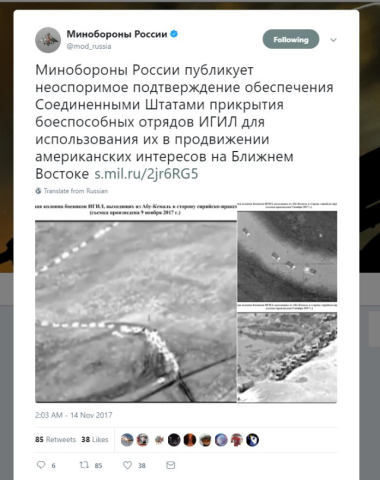 Enter the Russian Ministry of Defense
It turns out that the Russian Ministry of Defense claimed to have irrefutable evidence (not my words) that the United States is backing ISIS. And that evidence turned out to be none other than a screenshot from my game, "AC-130 Gunship Simulator: Special Ops Squadron." Or more specifically, a still from this development video.
But surely this can't be a major issue. Probably it was some small backwater branch of the Ministry, I thought. And I said to myself, "let's Google this and see how deep the rabbit hole goes."
"Whoa, that's one deep rabbit hole you've got there," was my next thought. The news were all over the world in the most literal sense. Many major news agencies across the globe had picked up the news, including CBS, Washington Times, Newsweek, The Guardian, BBC, France 24, Global News, The Telegraph, The Sun and many others. Reuters did too, but apparently were "unable to reach the Argentinian developer," probably because they didn't have a working e-mail account, Skype, WhatsApp, phone, telegraph or smoke signal system at the time. Someone should really get that fixed if you want to stay in the news business, Reuters!
So I read through the e-mails and diligently answered the reporters' questions. Many of them asked me how I felt about the whole issue. Honestly, on the one hand, I would have to say amused. There is something that just gives me the giggles about someone at the higher-ups of the defense ministry of a world military superpower screwing up so badly that he ends up being the laughing stock of the whole world, and the fact that I am involved, yet on the right side of the whole event.
On the other hand, I would say –rightfully or not– that it is flattering that they found my work to be realistic enough to take the bait, or otherwise decide that the world would. I worked harder than most would think to make sure the game looks as realistic as possible considering the limited computing power available to 2014-2016 era smartphones, so I take this as a recognition of my skills and dedication. Again, deserved or not.
Lastly, I feel downhearted about what could have been – publicity like this is any developer's dream. And this is related to the elephant in the room: why has the game not been released yet, after more than 3 years in development? I guess I owe those who have followed the game from day one a belated full disclosure.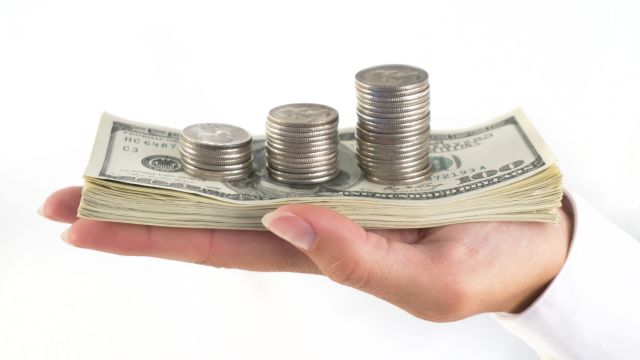 Image Source: Pictures of Money (https://www.flickr.com/photos/pictures-of-money/)
Game Status: Full Disclosure
The answer is money, or rather, the lack thereof. I had used my life savings to survive enough time to see the project through. There was no external funding of any kind. I usually put in 12 to 24 hours of work a day knowing that resources were limited. However, due to the political and economic situation in my country – Argentina, one of the most restrictive and chronically unstable economies in the entire world – what should have lasted me for a bit over a year ended up lasting for a few months.
Given the project's popularity, and the fact that it had been voted as a Top 50 Upcoming App of the Year by SlideDB in 2014, anyone would have thought that a crowdfunding campaign would have been successful. Hell, I could even take advantage of the boost these news gave it to do one right now. But in Argentina it is next to impossible to collect money from crowdfunding sources, and just doing a KickStarter campaign may land you in jail for tax evasion if you are not careful. This is not an exaggeration. If you want to even study the feasibility of getting any money from crowdfunding, you need to retain the –expensive– services of an accountant, and even then probably grease a palm or two. Unfortunately, I did not have the money for this. Even if I did, most of the money collected is stolen by the government as taxes, and the rest goes to insanely steep bank transfer fees – at least the last time I had the energy to check.
The alternative is creating a company abroad and making the Crowdfunding campaign payable to that company. As before, this may land you in jail in Argentina without a skilled local accountant. But if you inquire, you will find that this is what all indie Argentine companies (granted, there aren't many, unsurprisingly) do to market similar products. Again, this takes a lot of money, which I did not have.
And that leaves me where I am now – exhausted and just scraping by. Or paraphrasing something one of my friends said, "the reporters are going to search for the guy raising hell across the world to interview him, only to find he's some starving dude in Argentina."
Does that mean the game is dead? Maybe; I don't know. I have been searching for ways to make it work, and I will continue to do so. And just as one day I woke up to the game being all over international news, perhaps some other day I will wake up to an opportunity to finish it once and for all.


Diego Wasser (Razorwings18)
CEO, CFO, CTO, CIO, Creative Director, 3D Modeler, Programmer and Janitor
Byte Conveyor Studios