Hello Again, almost whole week passed so its about a time to write dev. update and show you the progress on the game and explain the leveling mechanism.
Leveling
In Abyss Raiders, each time you start a mission, you pick a crew member you think suits best the given task and start as a level 1. Yes, you start over each time, but dont worry, you can level up really fast by killing enemies or completing numerous objectives randomly generated at the mission start and during it.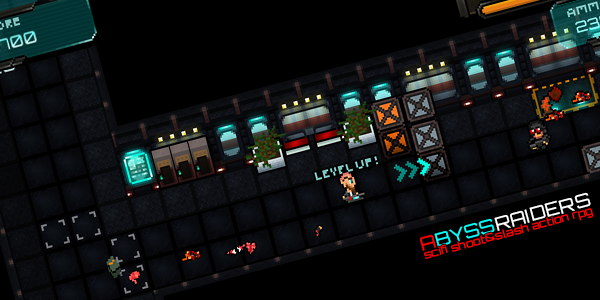 Missions in Abyss Raiders are about killing, looting, gaining reputation and staying alive as long as possible. Sounds quite simple right? As you allready know waves of enemies are getting stronger and stronger as the time progresses however your hero is not going to give up easily as your basic atributes gets stronger each time you level up. In addition, reaching higher levels is rewarded by unlocking implant slots whitch gives your character pernament upgrades, but we ll wont talk about these today.
Augmentations
Augmentations can be compared to talents/perks you might allready know from famous rogue-like games. In AR your are awarded chance to pick one each time you ding a new level and they are more powerfull then usual in simillar games and whats more important, their offer to the player is not randomized and each playable character has his own set of possible augmentation for each level.Some of the augmentations fits certain situations and missions more than others and there are some strong synergies whitch may be used to players advantage and thats why i decided AR wont have these randomized whitch is common habit.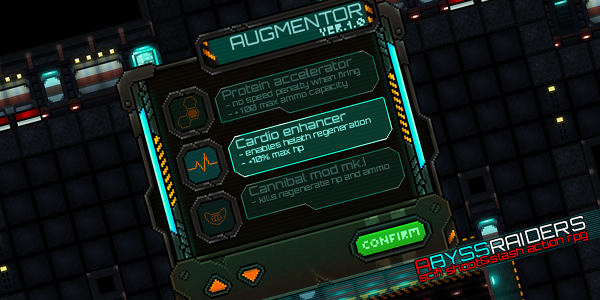 Instead of that, i decided to offer player more than ussual number of playable characters and interesting "talent paths" to discover new strong "build" every time new high score appears on online leaderboard.
Red barells
Yes, what kind of action game it would be without nasty barells full of explosives that can be used in your advantage. Fortunately, explosive barells in our game respawn in same way like powerups do, so you should never run out of fun:-)