Hi there!
This is the announce of ABR CS MOD for Stalker: Clear Sky (obviously). First of all, what's the plan for the mod? The plan is to make updated vanilla + bugfixes from SPR mod.
You can check used mods in read more section of the mod. Cost of the upgrades and weapon accuracy are already like in Call of Pripyat. The huge amount of stashes will be reduced and all the loot will be rebalanced between the ones which have been left, also, the paid stashes will be more valuable, this is work in progress.
9x39 and 7,62x54 weapons are more powerful as they should be. Desert Eagle and shotgun slugs are powered up too. Some recoil stats were tweaked. All weapons can have addons without upgrades. All upgrade schemes were changed if needed and calculated to avoid negative values. Icons for the upgrades now are more simplistic (inspired by Simple Upgrade Icons by Picisarkany).
L85, G36, F2000, VSS, SVU and SVD will have scope upgrade for dynamic zoom as it was in vanilla CoP. F2000 will have detector scope upgrade as well, since it's the late mid game weapon.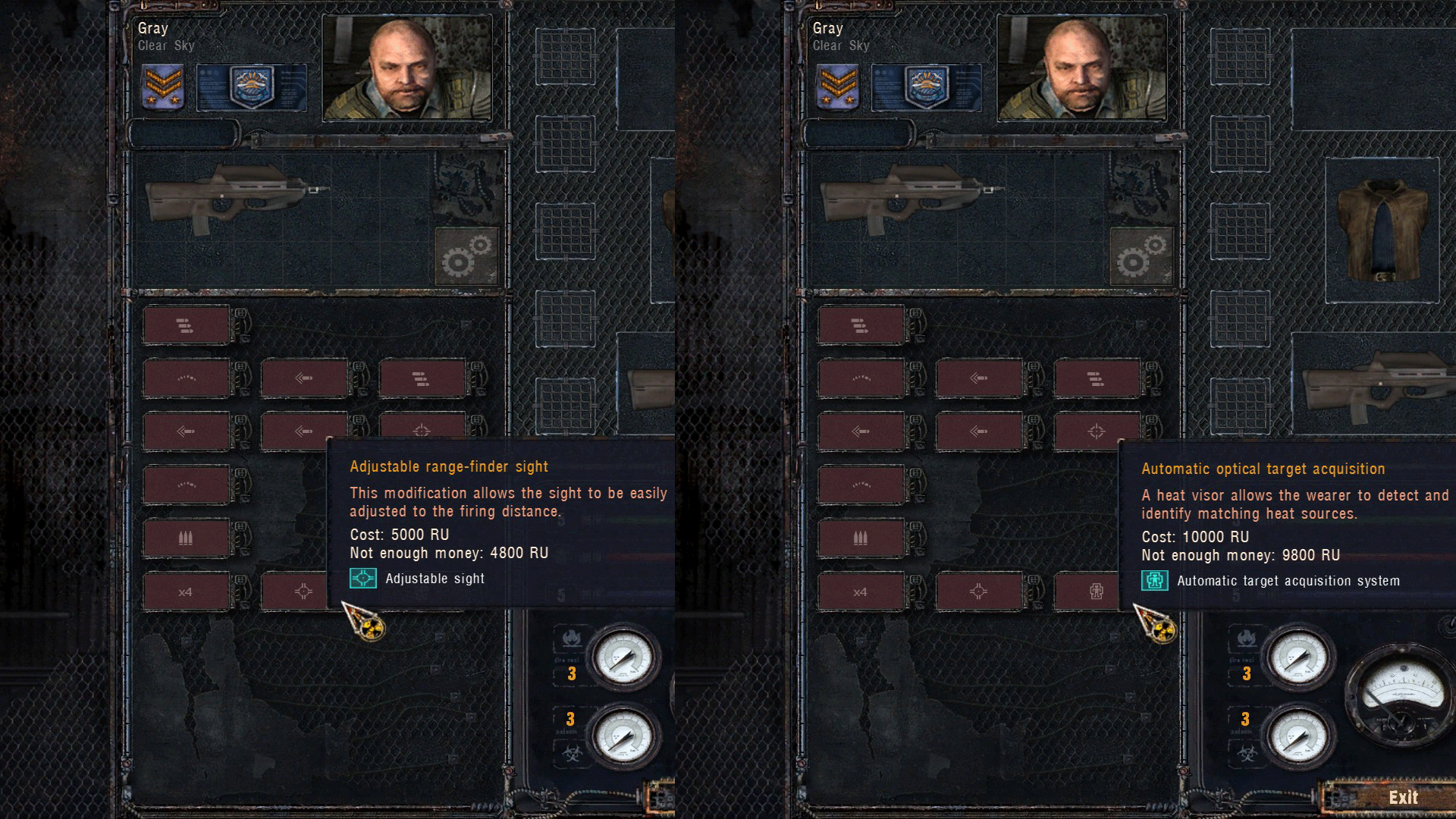 The bullet sponges will be kept, since decreasing NPC damages probably will break the faction war. It's time to make headshots. There will be no new addons or weapons. You will have universal vanilla silencer for all weapons. NPC loadouts will not be changed. Additional NPC skins will be added, I mean lore friendly skins, no out of place HD models. The mod will not be devided at parts and will not be compatible with any other mod same as ABR MOD 2.0 for CoP.
I made some CS like sunrise skin, the CS jacket (Visuals CS Patch v1.2 by Mortation, Antnigm) was darkened.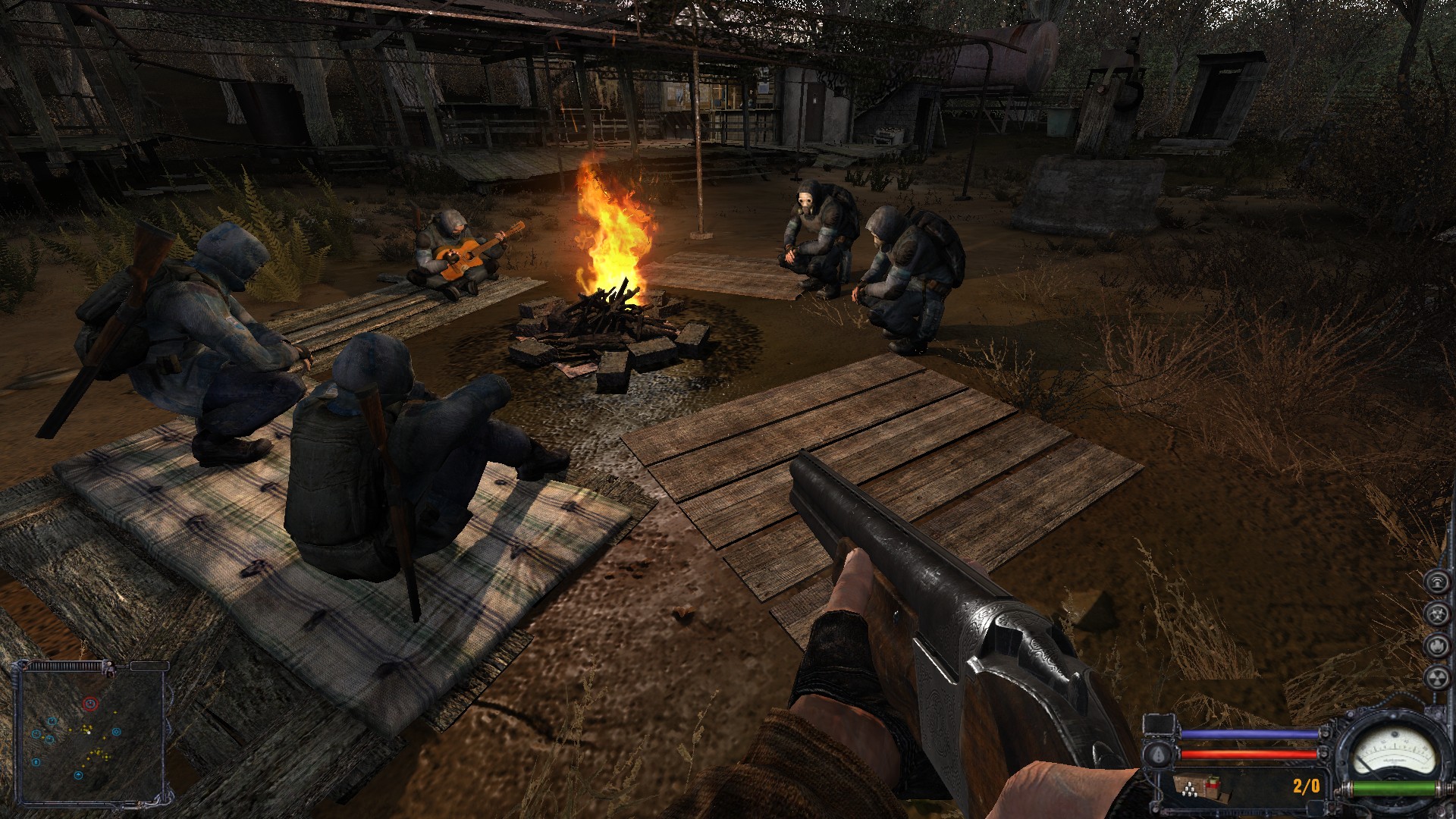 In fact, all NPC and mutant textures were darkened to delete DX8 pseudolighting and make them look better in the mod.
I don't plan to implement AI mods, any changes to NPC\mutant spawns or make Clear Sky a survival simulator. Also, there will be no gasmask overlays and etc, it will be kept as an arcade shooter, as it was made by developers (they even didn't made a hunger). So no weapon holster while slow medkit healing and etc.
Vanilla weapons are replaced with the ones you could see in ABR MOD 2.0, you can check this video though:
Thanks to PYP for weapons and the engine. Now it's like in ABR MOD 2.0.
Let's check new inventory which I made specially for ABR CS MOD. Now, the first slot can contain a pistol, a shotgun, MP5 or any standalone grenade launcher. The second slot is for assault and sniper rifles.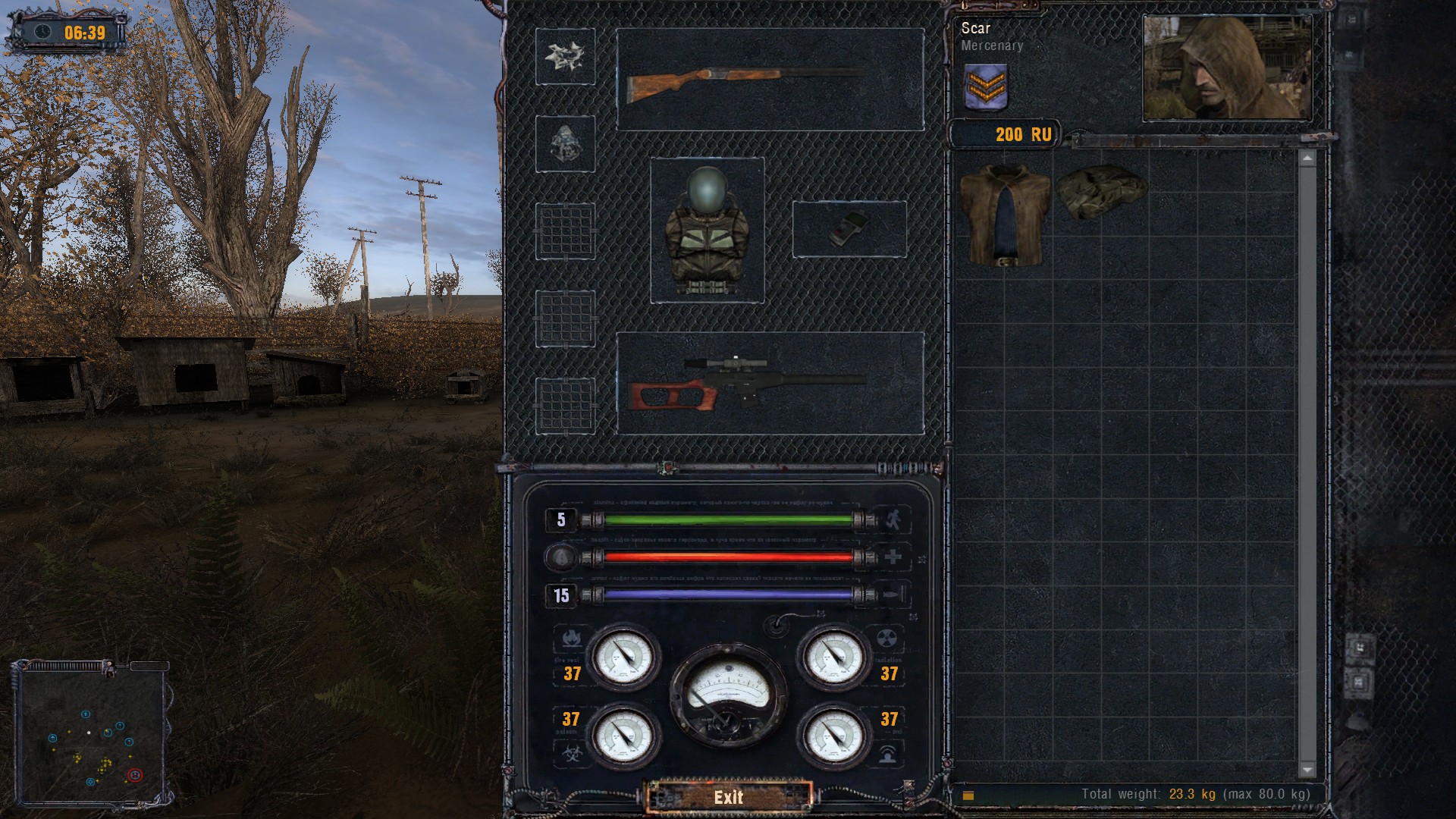 This was posible only after removing use of pistol and detector at the same time. So now you can hold detector only with bolt or without anything.
The new "Scar's Coat" outfit is added, the one Scar wears in starting cutscene. One addon from SRP was added, it's the sleeping bag, in case you don't want to play at nights. Though, a Better nightvision for coc mod by TGP96 is already added to make nights more playable.
A fix for artifact spawning after the emission were added. So now you can't respawn youself an artifact just by sleeping. New artifact will be spwaned only after the emission.
The stashes now have green marks, a small but pleasant little thing: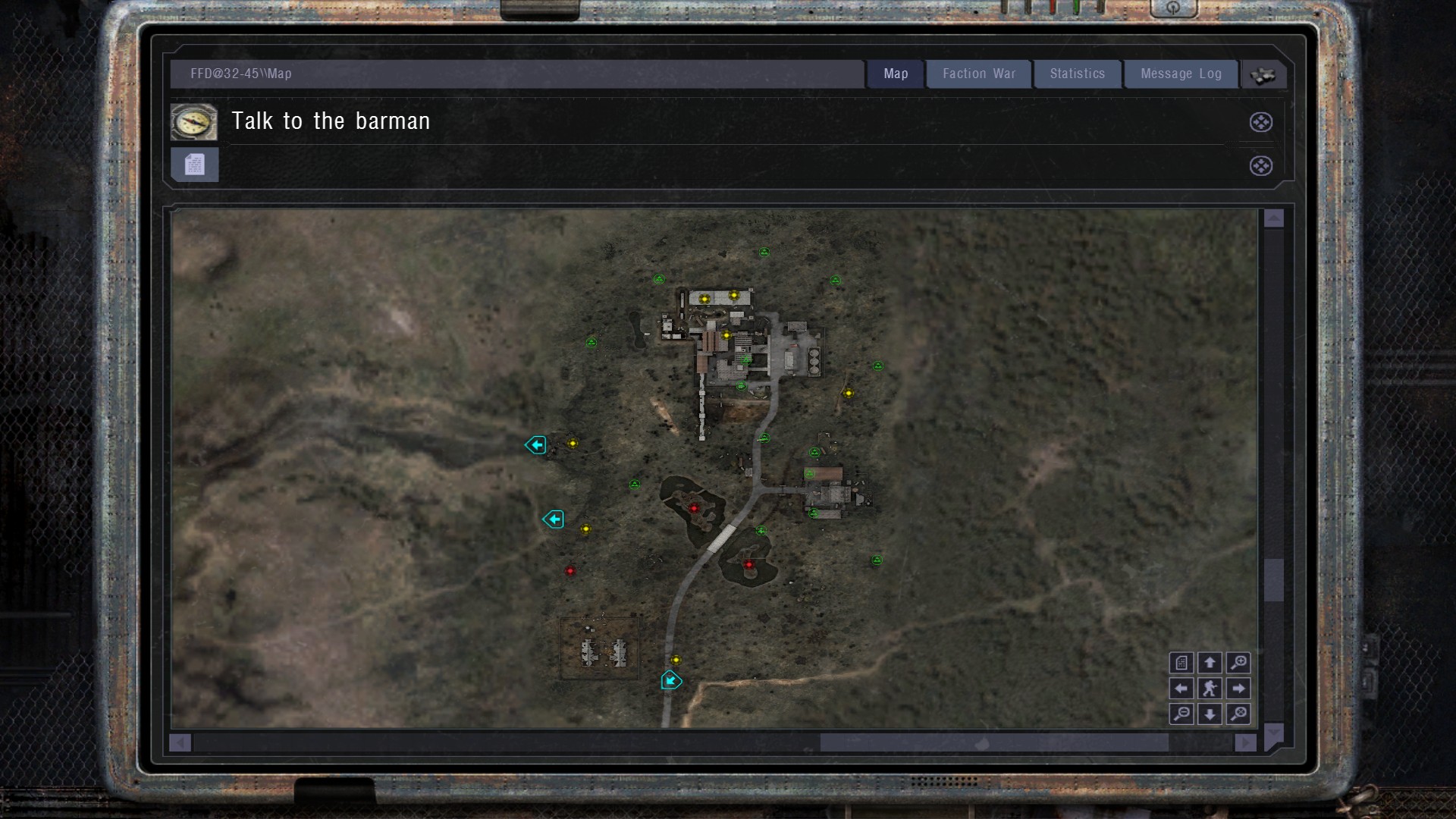 Dialog window and inventory textures were upscaled, some icons were changed to be more COP like. New icons or weapons, artefacts, armours and everything were made: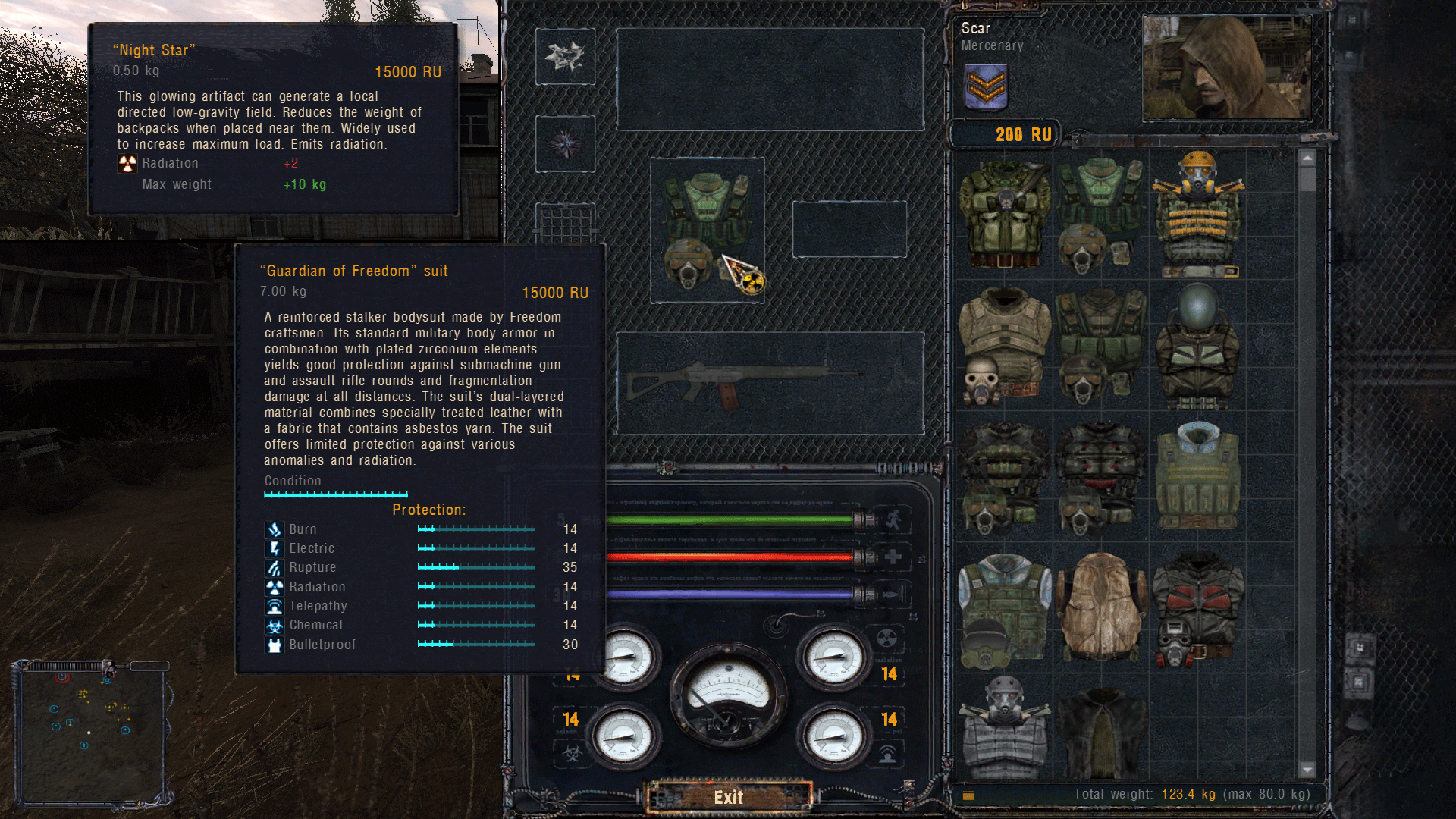 Some work and tests are ahead, I predict release within 6 months. May be the estimated date will be doubled, if there will be some serious problems while testing.
New ambient tracks as an expansion of original ost:
Anyways, stay safe, have a good one.