Geography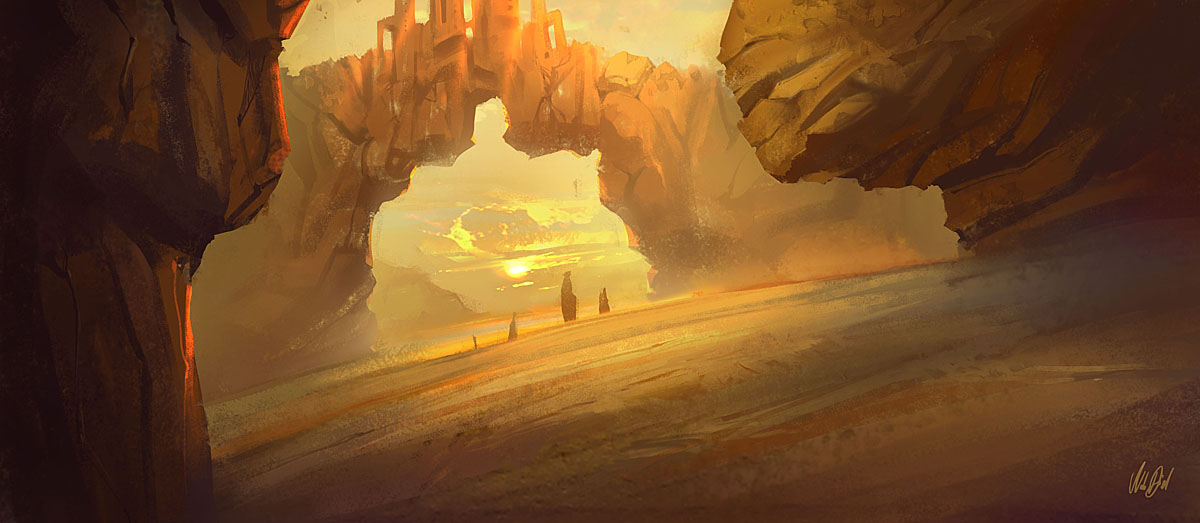 The world of Zaeam is primarily desert, rock and barren wasteland with some great lakes which breathe in life with lush green pastures and forest terrain. The cold mountains hide settlements of high, dark, twisting spires where those wishing to get closer to the gods dwell. Nestled rarely in these peaks are small hot lakes with lush jungle land encased within a prison of mountain and ice. The last place of interest on this world is the marshland where death lingers, it is the gateway into the barren, burning land of black stone where evil makes its home, its very ground breathing fire.
Materials and Technology
Naturally gold and silver is used as coin as well as for luxurious goods, bronze and copper are the main materials used in most things ranging from weapons to plates, wood is scarce in most regions save for those around the great lakes, steel is a rare commodity and relatively new technology, used exclusively by elites and nobility, Elvish steel is used by the Elves, Blood Stone is the rarest material known, extremely resilient and known to posses magical properties, having been harvested from the origin shards the dragons cast at the world when it was created.
Technologically the most advanced equipment tend to be made of bronze and copper since steel is rare and new. The sword, shield and bows are the main tools of war while carved stone or wood forms the basis for all else. The most innovative contraptions, such as siege weapons, are developed solely where there should be use for it. Few need a catapult in the desert or mountains just as the people who live around the great lakes have no use for sand/rock-based masonry techniques.
Civilization
The people living the the deserts have a Egyptian and Babylonian style to them well reflected in their architecture, military and culture. Due to the harsh life on the deserts there are few large cities so most tend to live in tribal societies where skill with weapons and honor is praised above most else.

Along the coastlines and in the forests of the great lakes cultures prosper and take after Greco-Roman styles. With it comes a rather lax attitude towards everything due to the wealth. Thus lords will squabble over the land in complicated political plots while ignoring the poverty stricken whom are raided by pirates.
In the mountains there are few settlements and despite their bleak and evil look the people who dwell here are actually good natured albeit distrustful of outsiders. Most devote themselves to the arcane and worship of the gods, tradition takes precedence. That is not to say these people are not strong, living in perpetual cold and starvation does wonders for your resilience.
Life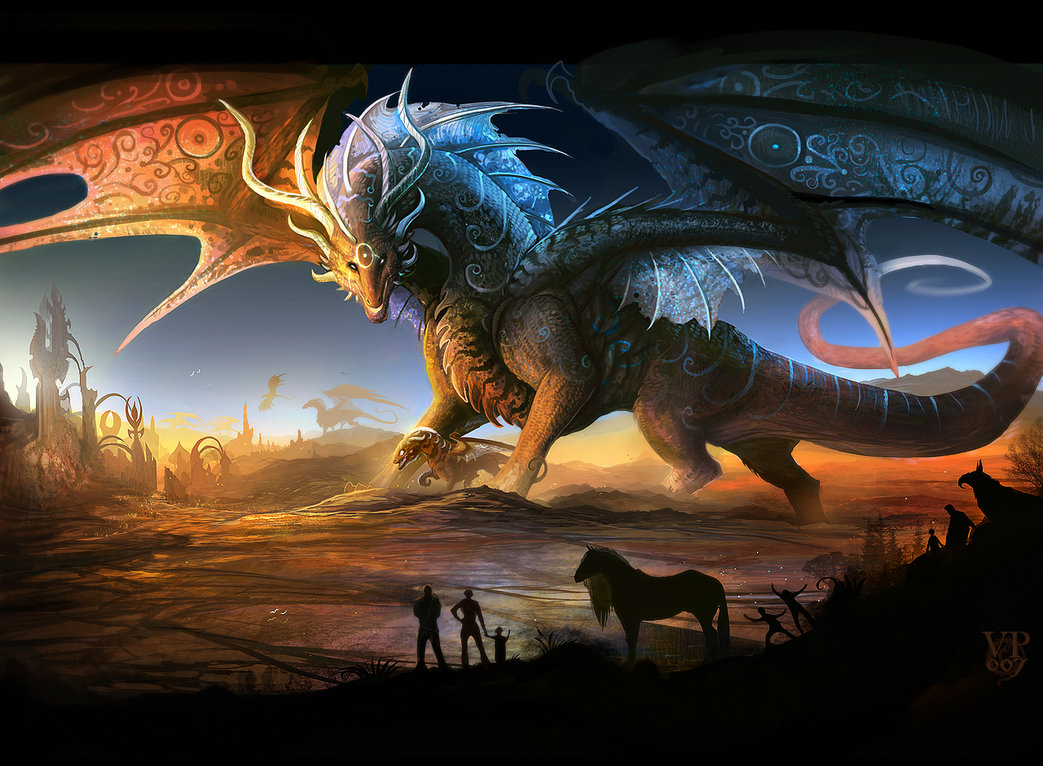 In the beginning the dragons created the world. These massive creatures are few in number and scarcely seen despite their size, equaling to great human cities. The dragons grow accordingly to their life time and tend to hibernate for extended periods of time so it is a possibility that a landmass may vanish along with all inhabitants. Typically dragons do not care or meddle into human affairs but they certainly have an interest in the world they shaped and will observe all that dwell under the sun.
Giants typically appear as extremely large men with a pale or dark white or grey skin and make their home in the coldest regions of the world. They are preferably alone, with the exception of the mating season, and adapt, albeit primitive, hunters. Rarely an issue for human populations safe when their hunting grounds draw closer to cities as giants will not shy away from hunting men as well. They dwell in dark, cold and damp crevices of the mountains such as caves or valleys and prefer to travel by night or shrouded times where the sun's light isn't as strong.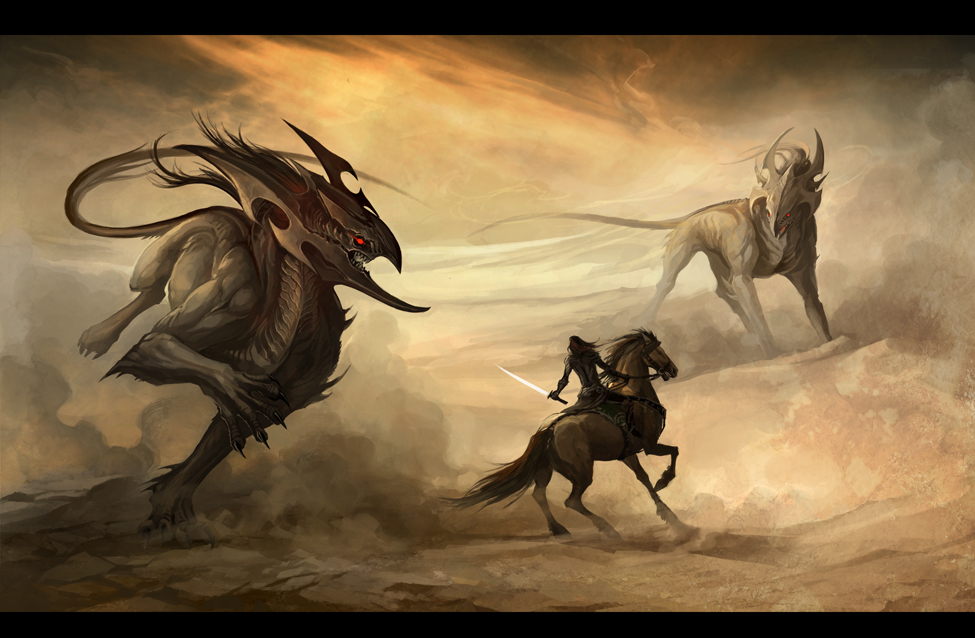 Desert demons can appear at any time when traveling across the dunes. They nest and breed in deep cave networks and once they reach adulthood each bull demon will leave and search for prey in solitude, however should it face massive adversity it will call upon other nearby demons to come to its aid quickly, faster than horses but never docile. Every desert demon is incredibly resilient in terms of its survivability. It is able to withstand the searing heat of the desert easily and can last without food for weeks. Their appearance is a mockery of horses although bigger and broader with a dull brown color, more defined muscles, elongated jaws, claws, a greater mane and powerful, thin tail.
The Silva are angelic maidens of pure unblinding blue-white light whom are born after a heavy lightning storm. Fated to die within a few hours the Silva are generally benevolent beings capable of both healing and great destruction. Typically caring with a sense of justice and extremely curious.
Notes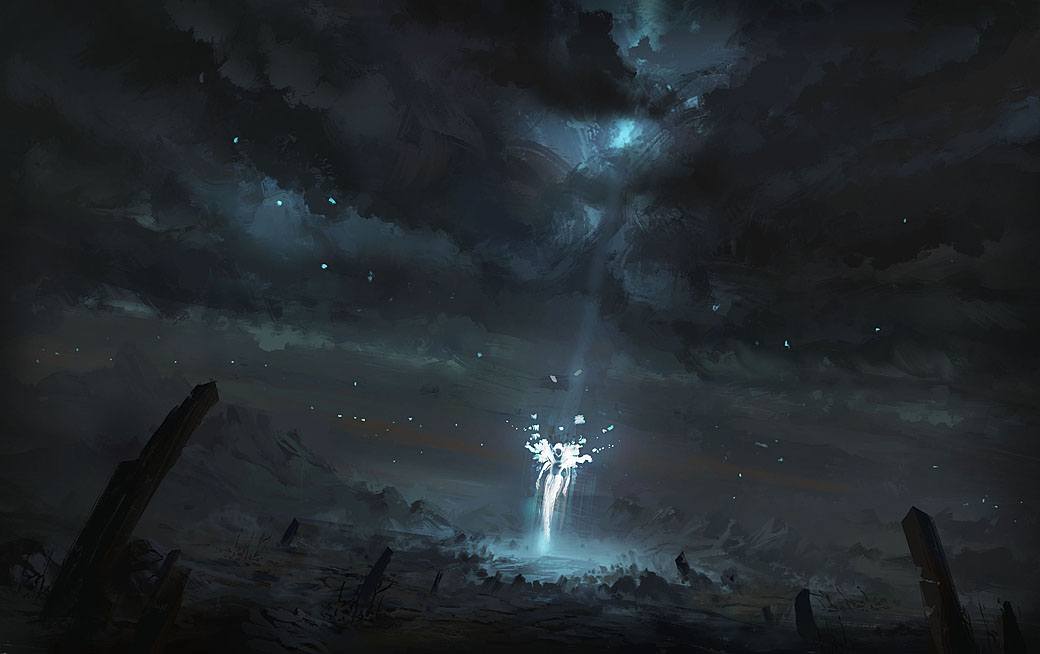 There are sorcerers in the world but they are very few in number. Whilst many lords and nobles have a court magician the majority of the wizards live in seclusion, particularly in the mountains. Magic is quite potent as both a means of creation as well as destruction and it takes a long time to learn even the basic abilities therefore many specialize themselves in a particular area of skill, power or even element.
The sun is in reality the original moon of Zaeam but lit with an eternal fire whilst the moon was created from the cold gales and ice, appearing like a crystal teardrop in the night.