Hi all! While people are playing with the new update, Olvand violet, I have of course already started with the next one. But before I start to talk about it, let's give it a name. I've decided to always pick the two most popular flowers from the last poll, and include three new ones.
Olvand lily
Olvand rose
Olvand daffodil
Olvand sunflower
Olvand buttercup
[Help me pick a new name here!]
Adding the fun stuff to caves
As a lot of you will know, I always add new features to the game in the same order: core first, fun stuff later. For example, the first update with the new graphics engine Glux was actually a step backwards, with some functionality that worked originally being broken... but after that followed a bunch of smaller update that fixed these and added all kinds of fun things that made use of Glux, like beautiful lighting, floating text when you enter an area, an aiming circle and fire animations.
For caves, I will again work this way. What we got in Olvand violet is a pretty bare bones integration of my cave generator into the game; it's a collection of rooms and corridors, and sometimes there are monsters that don't move and shoot if you get to close, and at the end there are new Olbs to put in your gun. That's it. Well, not any longer in Olvand [insert name here] ! Among other things, I'm planning to add more Olbs for you to discover, a L4D-inspired AI director to keep caves interesting, bosses, boxes for you to open that can contain either something useful or an enemy, and monsters with randomly generated appearances. Here are some mock-ups of how things will look: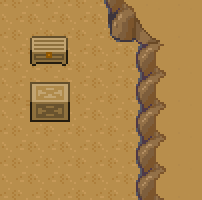 You can see a whole series of blogposts coming with these topics, can't you? I can't wait to continue working on them, in any case, and as always I'll keep you updated on what I'm doing :).
If you want more development, see [twitter] or [facebook]. If you want to be a tester, you can subscribe on [olvand.com].