Dear Ninja,
It's been more than a year since my last Development log. I usually refrain from writing one of these since I'm really bad this. But due to the long blackout of information here I thought why not..
Introduction
For the last few months we haven't told you anything about the progress of the game. We've not written any dev logs nor have we shown any proof of work being done and on behalf of the entire Nin team I'd like to apologize for this. I hope this Dev log is one of the many to come within the next few weeks.
Preview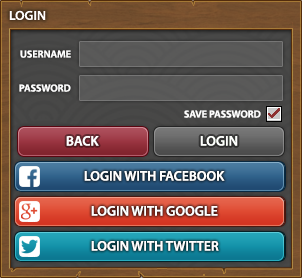 We added in Facebook, Google and Twitter login to the forum but we didn't have Social Network Login implemented into the game. Due to this many people who registered through their social network account couldn't login to the game during tests without tweaking at their account settings. Social Network Connection was in our list but we didn't prioratize it enough. During this long break I finally got some time to implement this into the game. You can now login without having to enter in through Facebook or Google or even Twitter.
Conclusion
This may not seem much of a big update but at least it's something. Many of you complain that we aren't do any work but you've got to understand that our team is a team of mainly just 2 programmers, Seth and me. Seth is usually the only person who works on the game like almost everyday. All the negative feedback puts a lot of stress on him and the more the stress the less he works.
I hope you guys don't stress him out too much your you can Nin Online, goodbye.

Regards,
Abhi2011