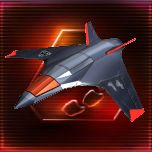 Function:
Hit'n'Run Attacks;

Long range Anti-Air Unit;
Equipment:

HellRay RV-15 Plasma Engines;

Plasma Micro-Reactor;

"The Redeemer's Anger" Plasma Cannon;

Long range air-to-air 163 Stingray Missiles;

Light Aircraft Armor;
Description:
Banshee Mk II Assault Version is the first one of two Tacticus Prospectors' airships. It is equipped with long range anti-air missiles and one, but very powerful Plasma Cannon which can easily destroy any light vehicle at one shot.
This is a very light armored unit, however, its speed and maneuverability allow to avoiding some of the enemy's missiles and bullets. Also the firepower of the Banshee Mk II terrifies enemy forces. Considering the small number of Banshee's on the battlefields we can find only only one reason of this situation – this airplanes are very expensive toys.
Price: 2600$
Special Abilities:
Avoiding 33% of enemy's Missiles and Bullets;
Advantages:
Great Firepower;

AA-attack Range;

Speed;
Disadvantages:
High production Cost ;

Very Light Armor;
Upgrades: